ActivTrak's Alarms feature helps organizations get alerted in real-time about risky events such as file sharing, user deletion, and more so they can take immediate action. Leverage out-of-the-box alarms for common scenarios or custom-create your own based on any combination of conditions. Alarms are available in all paid plans.
Use this guide to learn about:
Privacy, security, and access
ActivTrak is committed to safeguarding customer and user data through enhanced measures that ensure compliance with business policies, industry regulations, and applicable laws. ActivTrak's privacy-first approach empowers organizations to leverage the transformative power of workforce analytics without compromising data privacy and trust with employees.
That's why we offer several privacy, security, and access controls with our Alarms feature.
Custom role-based access to Alarms, including each individual subpage, is available to all paid plan types. For example, an Admin can provide a manager with read-only access to the Alarm Log but block the manager from accessing the Alarm Configuration page.
The user role types that can access Alarms are Admins, Configurators, and Power Users. Viewers are unable to access any Alarm pages.
To update access permissions for Alarms, navigate to Settings > Access > Role Access.
Click the down arrow in the Alarms row to expand all sub-page access options. Then, select or deselect access to each page by role type, as shown in the screenshots below.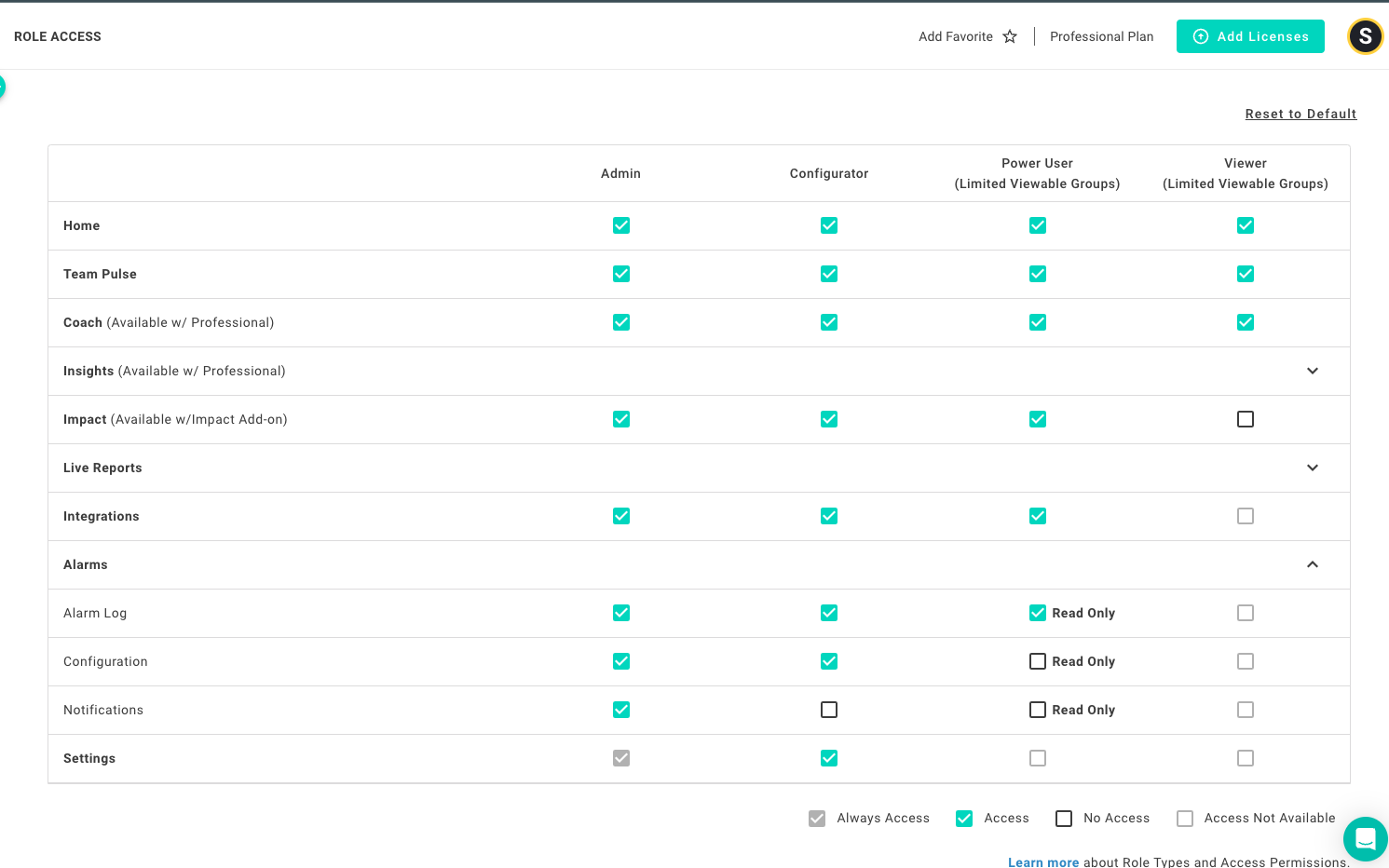 Updating Alarms access permissions (for accounts without Screen Details)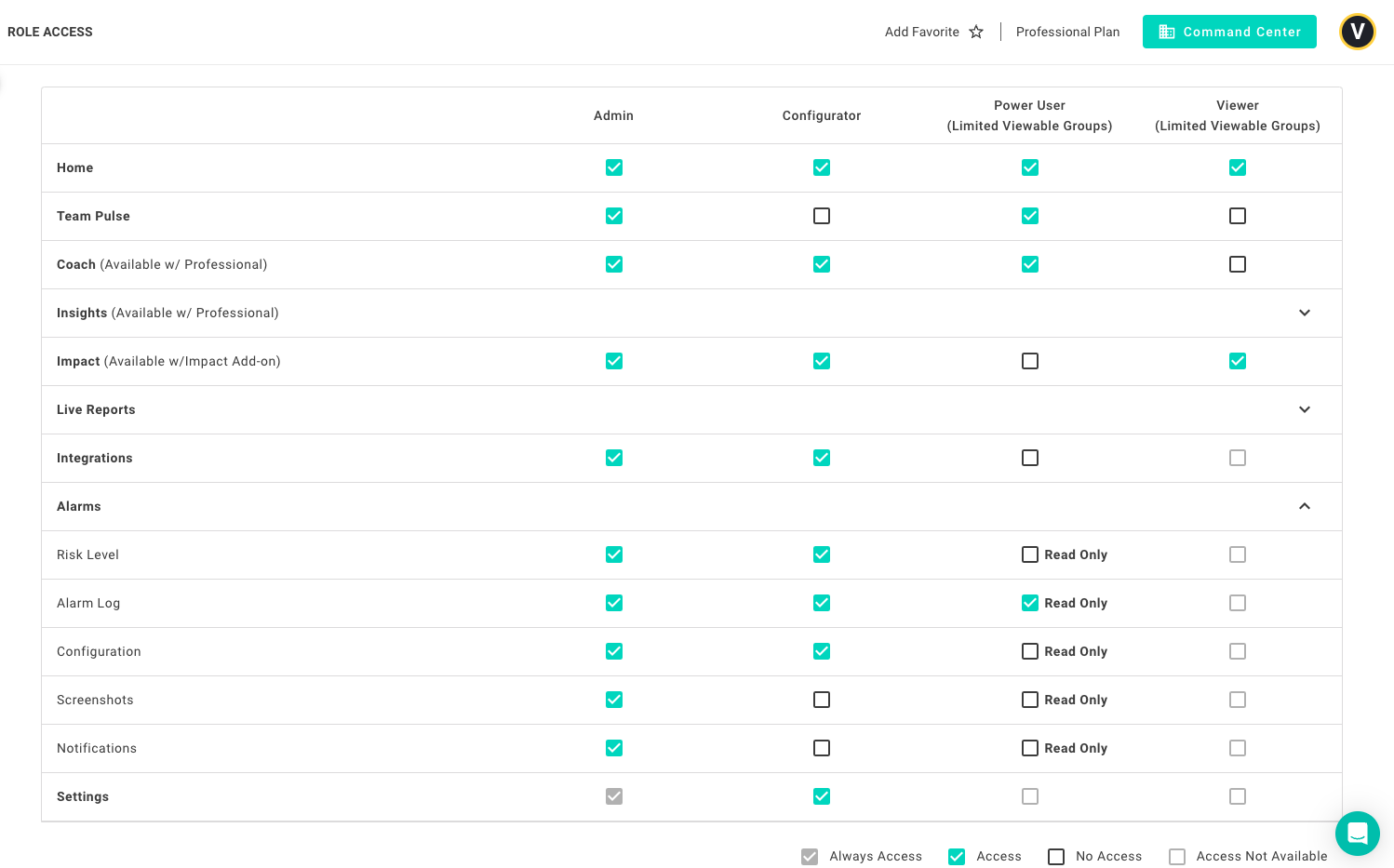 Updating Alarms access permissions (for accounts with Screen Details)
To learn more about customizing user roles in ActivTrak, click here.
Out-of-the-box alarms
ActivTrak's Alarms feature comes with a set of pre-configured alarms that you can leverage immediately for common scenarios. Learn more about each below.
Creating custom alarms
Setting up group-based alarms
Setting up a group-based alarm provides admins the opportunity to create alarms that apply only to specific groups. For example, if the marketing team needs access to Facebook, but the engineering team should never be on Facebook, an admin may want to create an alarm for anytime an engineering team member accesses Facebook.
How To:
1. In order to set up a new Group-Based alarm, navigate to Alarms > Configuration and select Create New Alarm.
2. Name the alarm and choose the Activity Alarm option
3. Once on the alarm configuration page select which group(s) you want to make the alarm effective for and finish the settings.
4. This will assist you in determining which users you want to be alerted for without cluttering up the conditions section and making alarms easier to read and set.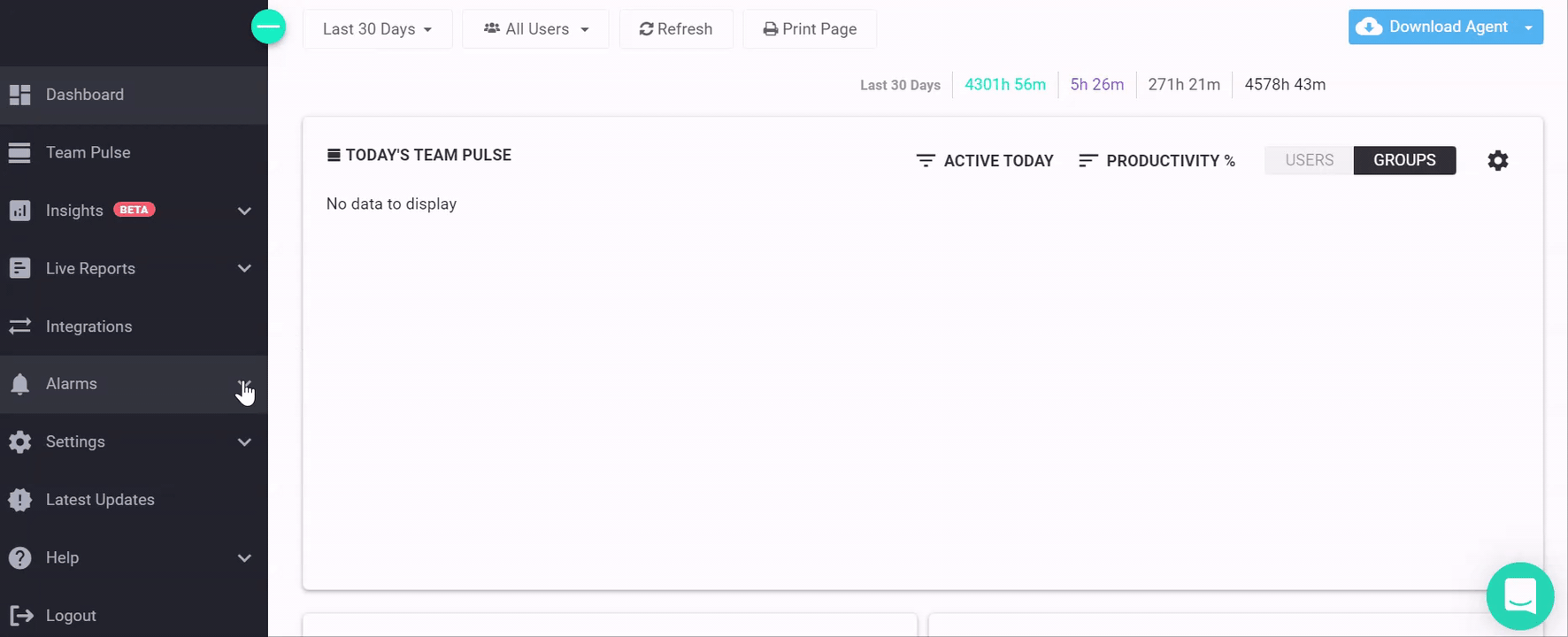 Responding to alarms
Using webhooks with alarms
The Alarm Log
The Alarm Log is a report available to Admins, Configurators, and Power Users (Read-only) that documents every triggered alarm instance. To access the Alarm Log, Navigate to Alarms > Alarm Log.
The Alarm Log will look very similar to the Activity Log. It will display data like whether or not the action was considered Productive or Unproductive, the name of the Alarm, when it was triggered, which machine was used and by which user, along with the duration of the activity, and other fields.
Each instance of the alarm being triggered has its own entry. By clicking on the screenshot icon next to an instance the screenshot that was captured will be shown.
The Alarm Log interface will also provide information about the type of alarm it is:
| | |
| --- | --- |
| | Indicates if a screenshot was taken, and if it was, can be clicked to view the screenshot. |
| | Indicates if a pop-up message was displayed (if configured to do so). |
| | Indicates whether or not an email alert was configured and sent. |
| | Indicates whether or not a webhook was utilized. |
| | Indicates whether a terminate command was employed. |
| | Shows the Risk Level of the alarm. This article covers Risk Levels in greater detail. |
NOTE: For more information on the types of alarm actions, please refer to the Creating Custom Alarms article.
Just like with the Activity Log, we can sort this view by user, group, computer, and date as well as change the columns displayed by using the corresponding boxes in the top left.
It is also possible to export either as a CSV file or to an attached Google Drive account.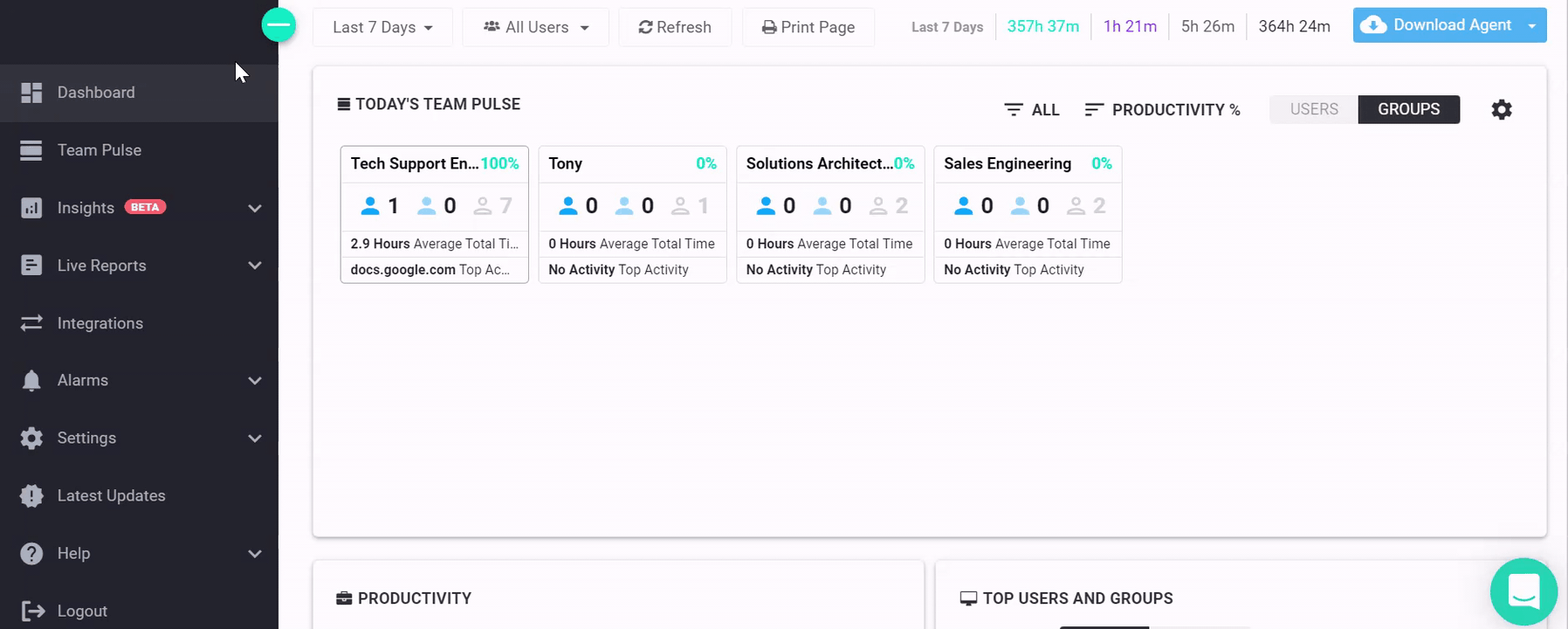 Alarms best practices
Learn more:
Was this article helpful?
0 out of 3 found this helpful