Essential Steps for Getting Started with ActivTrak
Welcome to your new ActivTrak account! You're on your way to gaining all sorts of invaluable organizational insights, backed by your own data. Setting up ActivTrak is straightforward, but we've made it even easier to get started with this guide of essential account setup steps. If you need additional help, feel free to reach out to our Support team at any time.
1. Complete Guided Account Setup
The first time you access your account, you'll be prompted to complete Guided Account Setup to customize the ActivTrak app according to your organization's use cases and privacy preferences. Your selections will determine which dashboards and reports are displayed in the left app navigation and the level of data displayed in reports.
Learn more about Guided Account Setup here.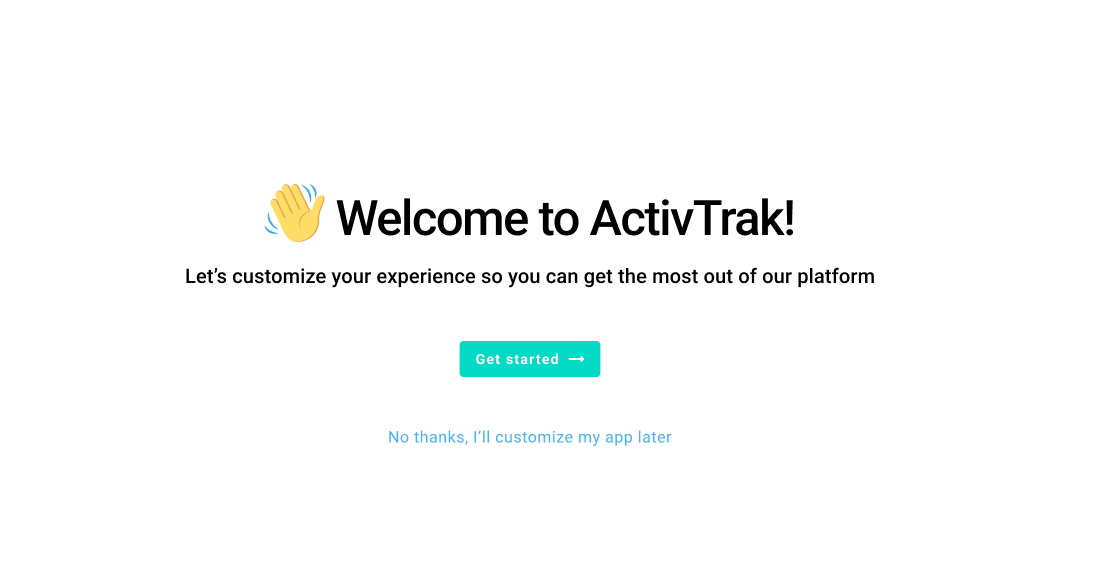 2. Download and Install the ActivTrak Agent
The entire data cycle begins with the ActivTrak Agent. Without at least one installed Agent, ActivTrak is unable to collect and analyze any data.
Downloading the Agent is simple. After completing Guided Account Setup, you will land on the Agent Activation Page, which includes links to install the Agent on your own computer and to share the installation file and install Agents on other devices.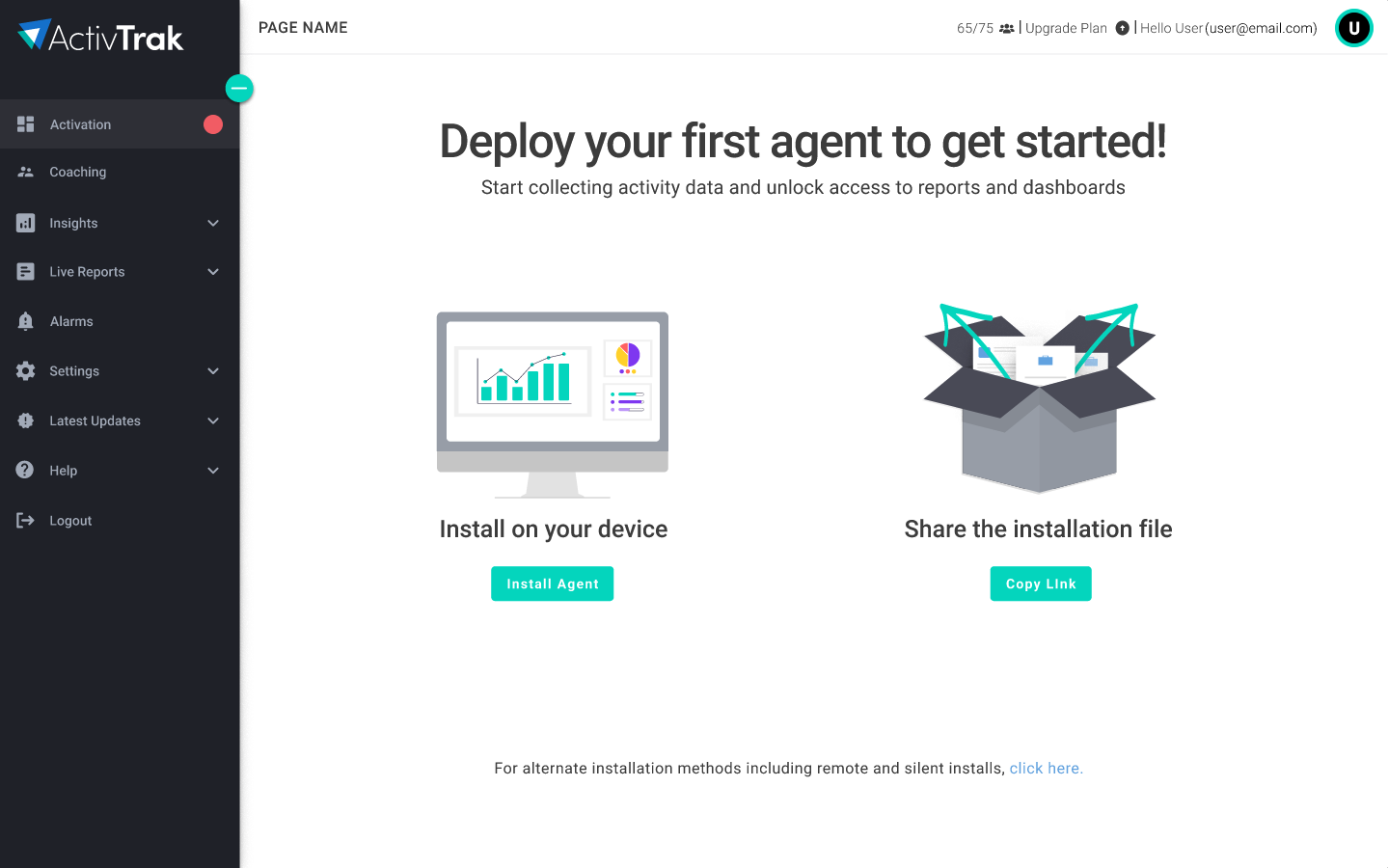 When installing the Agent on your own device, the app detects your workstation's operating system and automatically pushes the appropriate Agent version. When sharing the installation file, you will be prompted to select the operating system for the device where the Agent will be installed.
You will see the Agent Activation Page each time you log in until you have deployed at least one Agent.
You can also download and install an Agent at any time from the ActivTrak Dashboard by clicking the blue "Download Agent" button in the upper-right corner of the screen. This will initiate the download process. The app knows which operating system you're on for that workstation, and will automatically push the correct Agent for you to download.

There are multiple methods of deploying the Agent on another workstation. See our Deploying Agent Guide for detailed instructions on each option.
IMPORTANT NOTE: Please ensure that you place the ActivTrak Agent on the whitelist of your antivirus and/or firewall so that your Agent does not get blocked. Failure to do so tends to be one of the major reasons new users experience Agent issues. Click here to follow a step-by-step guide on how to place your Agent on the whitelists.
3. Create User and Computer Aliases
Change the viewable name of a computer or user with an alias. When the Agent is installed on a computer, it shows the registered name of the computer on all associated computer data. You can also use aliases to change the names of users in dashboards and reports as well as combine variations of user names into a single alias. Learn more about creating and changing aliases here.
4. Organize Users Into Groups
Organizing Users into Groups is essential to ensure accurate reporting and the responsible sharing of employee data. Typically, Groups are aligned to teams within an organization, enabling managers to determine which activities should be classified as productive or unproductive, set goals, and assess team health and performance. When inviting users to access your ActivTrak account (see Step 7), you'll select their Viewable Groups to determine whose data they can access. This ensures that employees' activity data is only visible to the appropriate people — typically their direct manager. Learn more about creating and managing groups here.
5. Classify Applications and Websites
Activity classification is essential to ensuring your reports and dashboards accurately reflect how users spend their time. ActivTrak's intelligent Auto Classification feature uses crowd-sourced data to automatically categorize commonly used websites and applications and classify them as productive or unproductive.
You can override automatic productivity classifications and create custom categories (e.g. chat & messaging, project management, accounting tools) to meet your organization's unique requirements. Classifications can be assigned at the Group level to account for differences in roles and responsibilities — for example, social media may be unproductive for the Accounting team, but productive for the Marketing team. Learn more in our step-by-step guide to activity classification.
6. Define Custom Working Hours
You can define custom schedules to prevent the Agent from collecting user activity data outside of working hours. Unique schedules can be applied to individual users to align with each employee's standard working hours. Learn more about using the scheduling feature to reflect employee working hours here.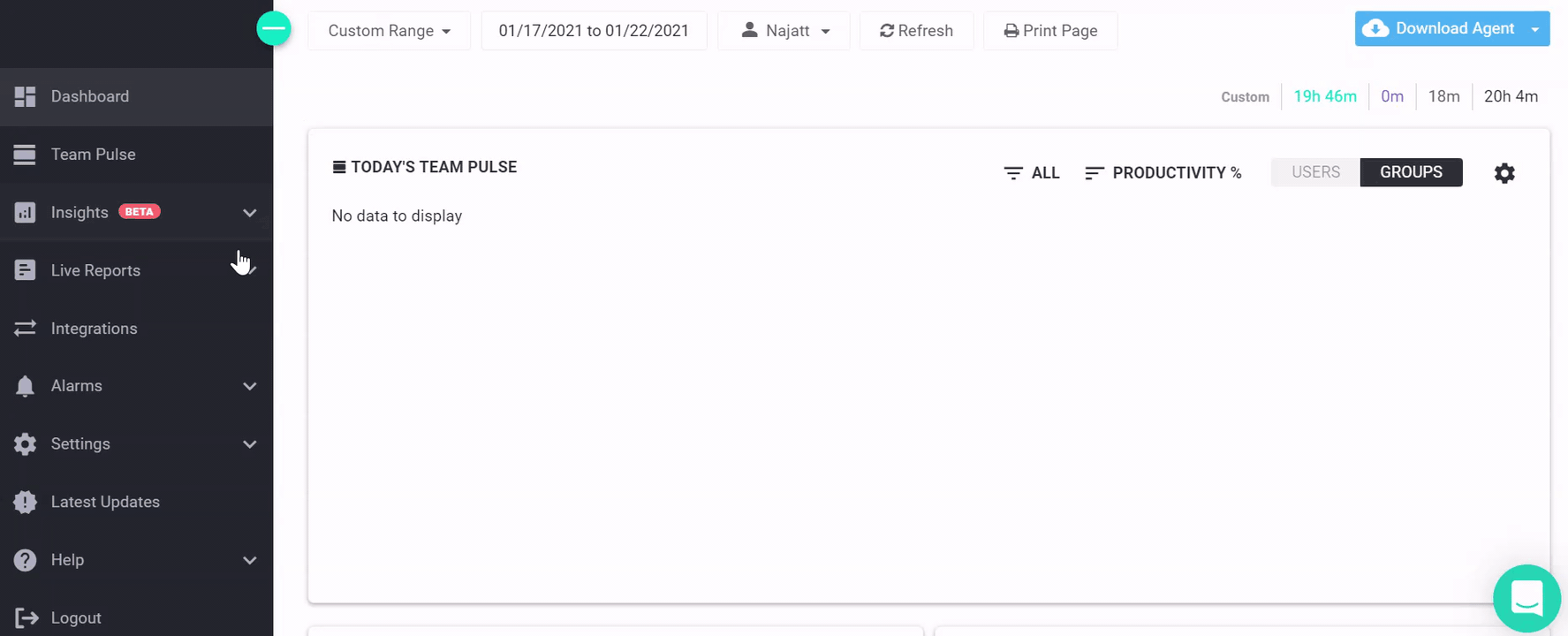 7. Create Activity Triggers and Actions
Alarms can be used to trigger a notification in response to user actions, like unauthorized file-sharing or installing a new application, that may violate compliance policy or introduce a security risk. Notifications can be sent through messaging apps, like Slack and Microsoft Teams, or a custom webhook URL. Choose from a set of out-of-the-box, pre-configured alarms, or create new alarms to meet your organization's needs. Learn more about creating alarms here.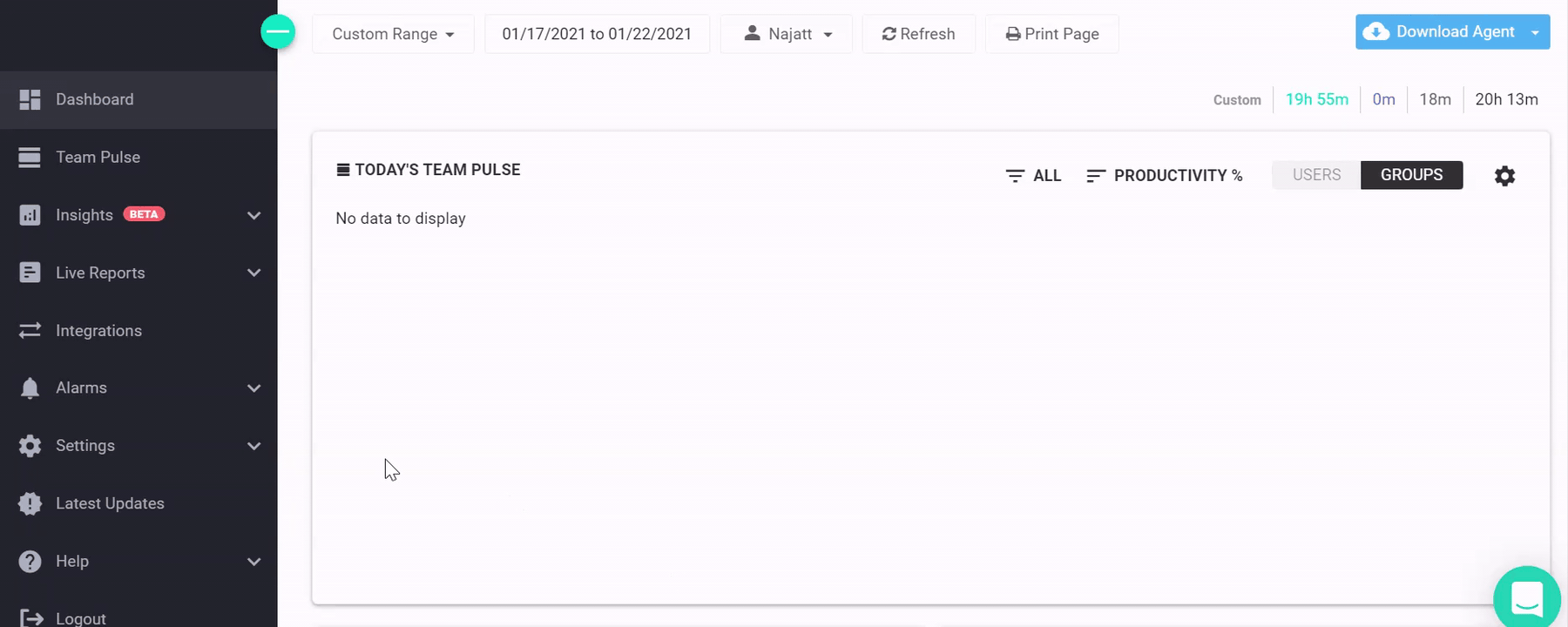 8. Customize User Roles and Invite App Users
Many people in your organization — from team managers to executives to HR and IT leaders — can benefit from the workforce insights in ActivTrak. With configurable User Roles and Viewable Groups, you can give each app user access to the specific insights they need without compromising employee privacy or providing access to administrative settings within your account.
User Roles:

When inviting new app users to your account, you will assign them one of four user roles: Administrator, Configurator, Power User, or Viewer. Each role can be configured to provide access to the appropriate dashboards and settings.

Viewable Groups:

Assign Viewable Groups to each app user to determine whose data they can see in dashboards and reports. Users can be part of multiple Groups, so it's easy to create cohorts to suit a variety of needs. For example, you might have a Group for each department within your organization (engineering, sales, finance) which is viewable to the department head, and separate Groups for smaller teams within a department, which are viewable to the respective team manager.
Learn more about roles and permissions for access to your ActivTrak account here.
9. Explore Dashboards and Reports
Once you've recorded about a week's worth of activity data, it's time to dive into the findings! Check out our advice on the reports to review daily, weekly, and monthly to keep a pulse on your organization's productivity and identify teams or individuals who may need support.
Easily stay on top of trends by creating email subscriptions for Insights Dashboards and ActivTrak Coach reports.
The ActivTrak dashboard displays key summaries of the extensive and more detailed reports available in other areas of the app. If you just want a quick snapshot of your organization, the dashboard is the place to go. Learn more about navigating the dashboard here.
Multiple analytical reports help you discover valuable insights and increase team productivity. All reports contain powerful filters — some universal, some report-specific — to help you discover trends more quickly. Learn more about ActivTrak reports here.
10. Get Additional Guidance
There's lots to explore in ActivTrak - which is why we've put together a curated list of resources in the ActivTrak Academy.
Interested in workforce productivity research, best practices, and trends? Explore our Productivity Lab.
Need technical support with your account? Reach out to our Support team.
NOTE: If you are on a paid plan, you can reach out to your Customer Success Manager to schedule customized onboarding training and support.
Was this article helpful?
138 out of 170 found this helpful