Technology Usage - Overview
Rely on these insights to better understand technology usage over time. Gauge where further promotion of productive technologies must occur and where limitations on distracting and unproductive technology may be useful.
| | |
| --- | --- |
| Key Questions: | Considerations |
| Is technology being leveraged to execute our goals? | Understanding technology usage can highlight whether it is being adequately leveraged for its intended purpose. All too often, businesses invest in technology that goes unused as a result of not properly driving adoption throughout the user group. When viewing this report, consider whether more communication is needed around specific tools and applications or if training would promote better usage. |

A. Usage by Category
Top 10 Categories by Allocation %

:

View the top 10 categories in which employees are spending their time. Based on a team's function and daily responsibilities, category allocation will vary. Managers are able to identify deviations from the norm given their understanding of team roles and the tools critical associated for fulfilling them.

Top Changes in Category Allocation

:

Despite knowing the roles within a team and the tools they are likely to require, understanding deviations from the norm provides additional insight into when team members could be struggling with the process, tool adoption, or role alignment. View the

Top Changes in Category Allocation

to understand how category allocation has changed over time (date comparison set at the top).
Productivity Lab Tip
Use these reports for a deeper understanding of where subscriptions and licenses go used vs. unused. Refer back to training data and change management plans to explain adoption complications.

B. Application & Site Usage
Applications/Sites Trending Up & Down:

Within categories of work, dig deeper to understand applications and sites trending up and down over the course of time. Drastic upticks in site or application usage may reflect strong project emphasis or, conversely, distractions or disengagement when compared to the previous week.
Productivity Lab Tip
Emphasis on new projects can shed light on shifts in usage. When this happens, it can be helpful to provide training that promotes efficient and accurate usage of tools.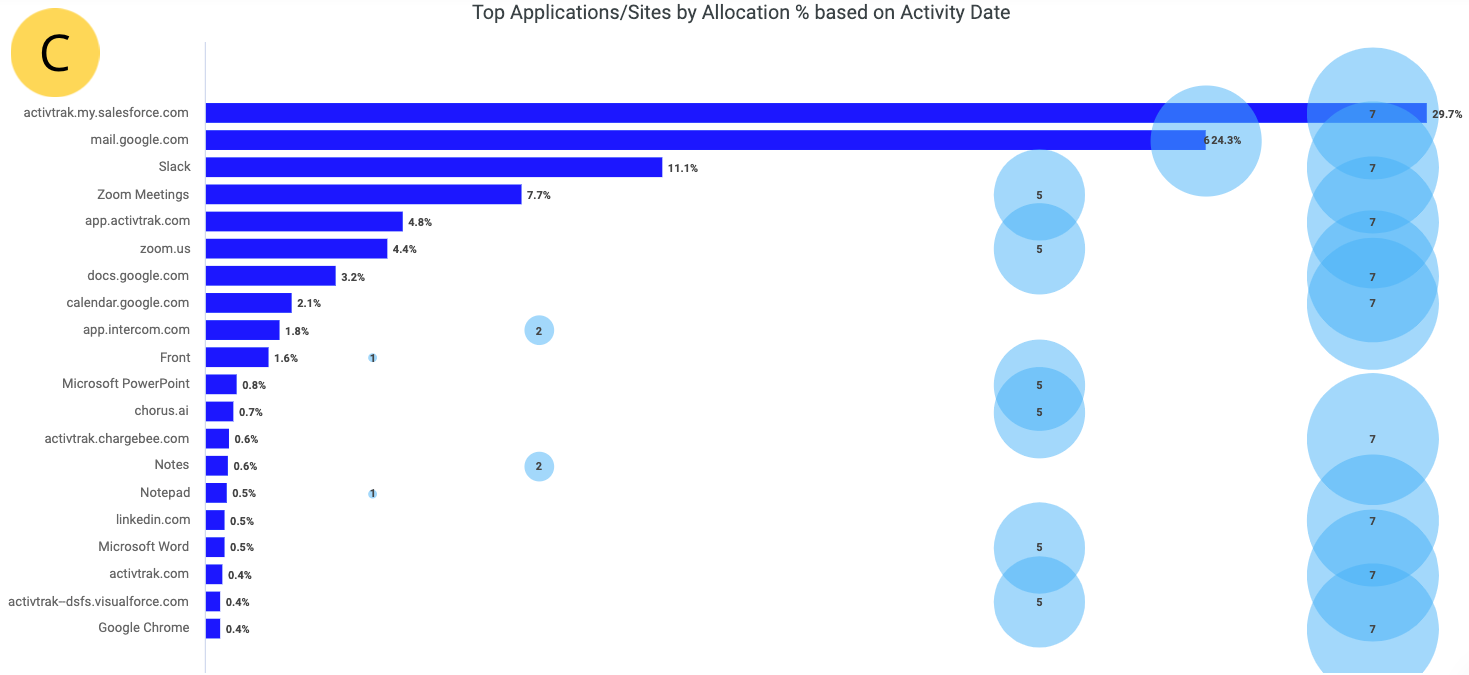 C. Top Applications / Sites by Allocation % based on Activity Date: Understanding an organization's top applications/sites provides useful intel when gauging whether tools are being fully leveraged. The purpose of this analysis is to help understand the number of users across each application. For insights into user activity, access the Activity Breakdown Analysis.
Was this article helpful?
0 out of 0 found this helpful