Insights provide valuable productivity insights, coaching opportunities, and recommendations for managers, as well as goal-setting capabilities that help you and your teams work wiser. This article outlines the dashboards in Insights that help you optimize focus time, workload balance, and technology usage across your team.
To learn more about enabling Insights on your account, click here.
Click the link in each section below for detailed information on the associated dashboard or feature.
Insights for Executives
Keep a pulse on organizational health with a 30,000-foot view of productivity goal attainment and utilization levels. Quickly assess the balance between productivity and well-being to identify teams that need support.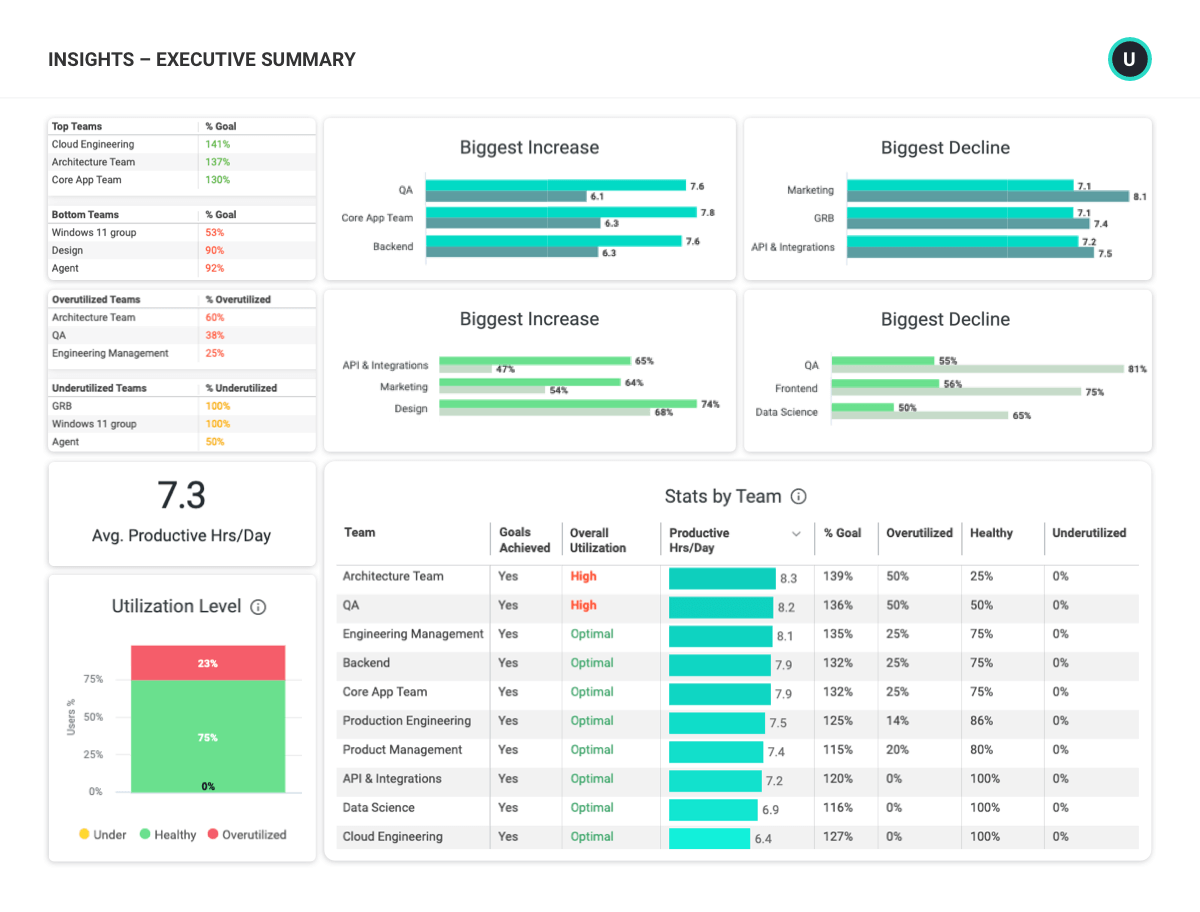 Team Comparison - Productivity
Compare key productivity and focus indicators vs. goals across teams. Identify opportunities to learn from teams' best practices.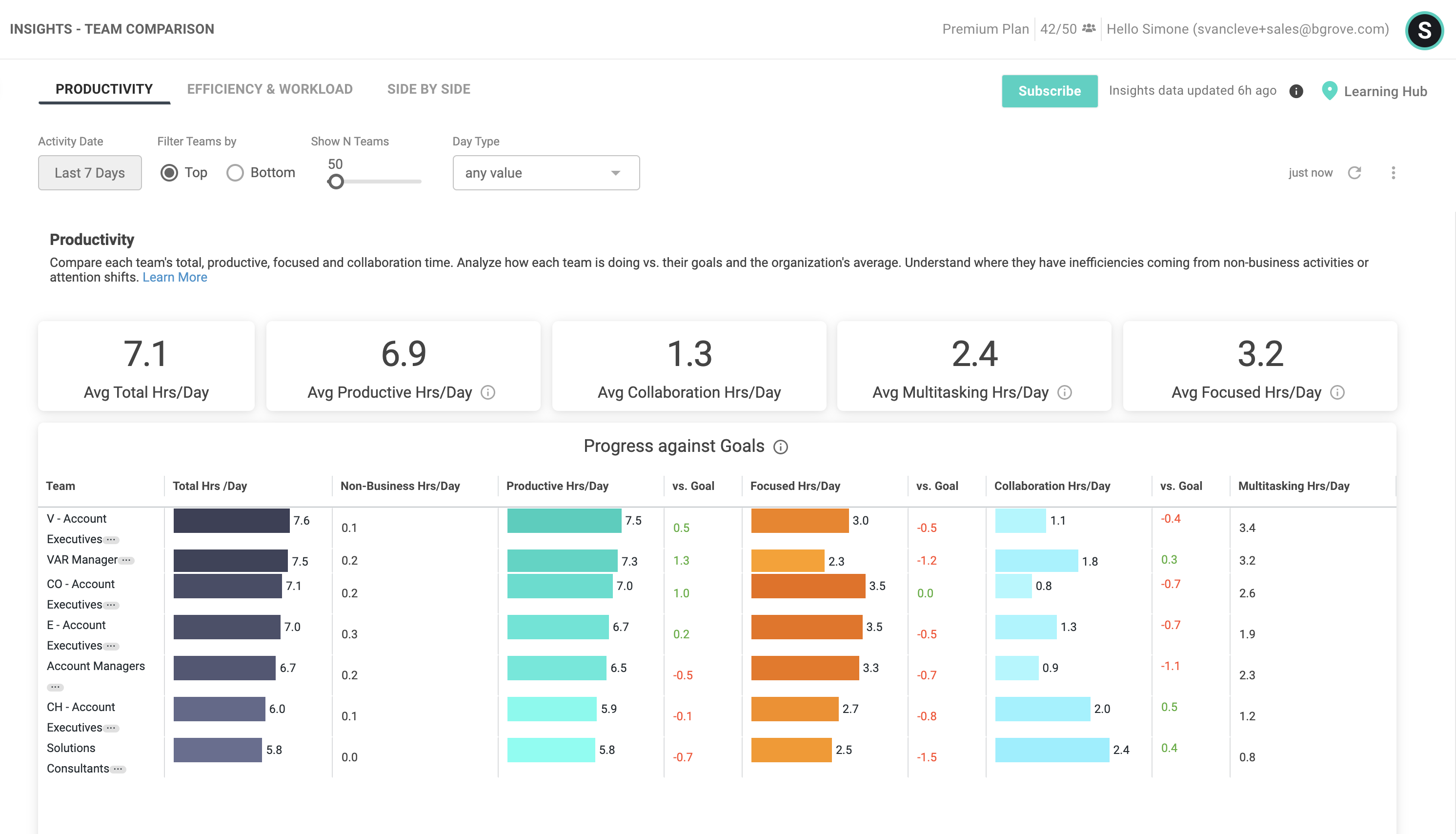 Team Comparison - Efficiency & Workload
Compare key organizational efficiency and health indicators across teams. Identify opportunities to reallocate resources to meet company goals and boost productivity.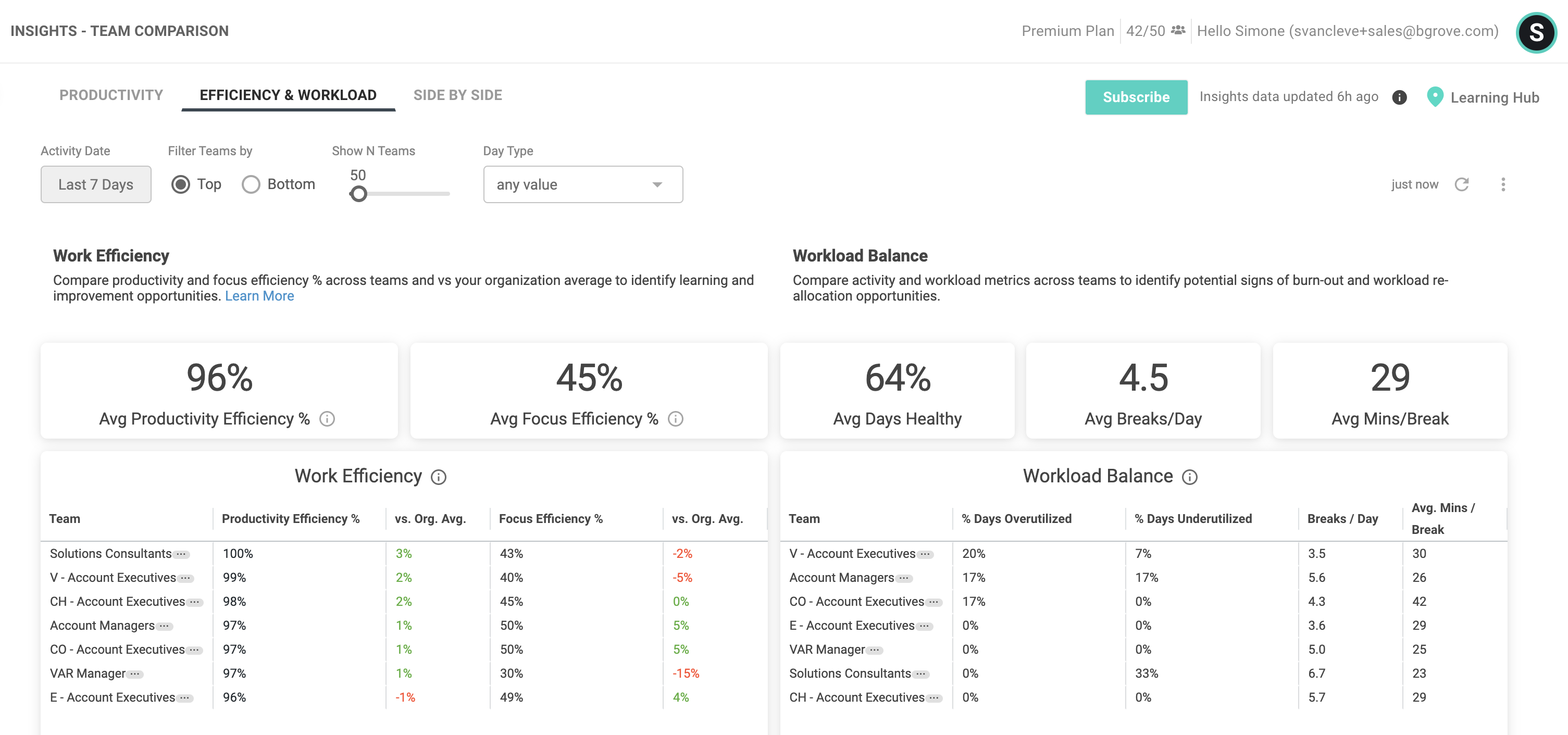 Team Comparison - Side by Side
Understand how your team is working in comparison to other teams. Identify best practices and opportunities to improve.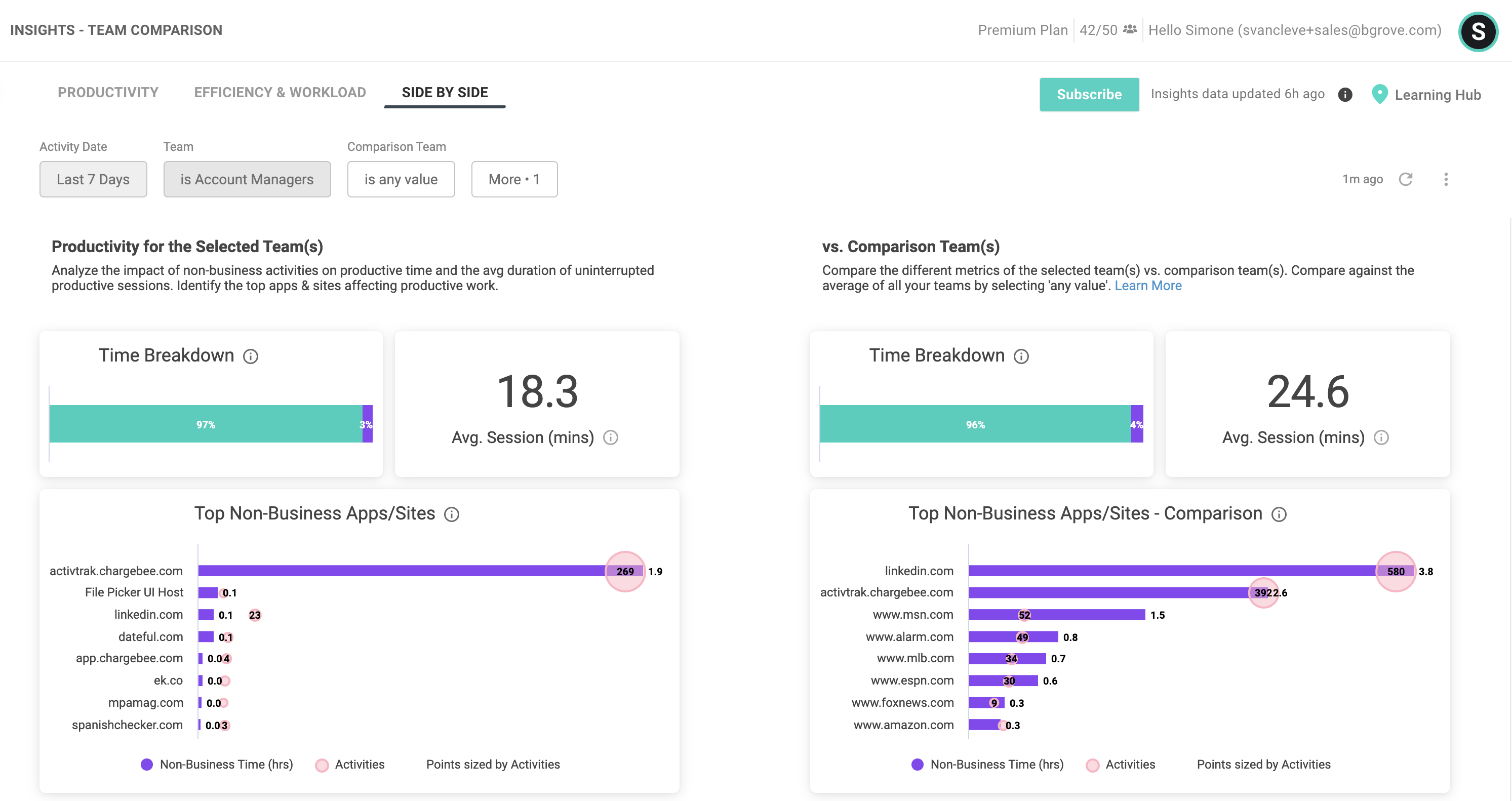 Insights for Managers
ActivTrak Coach makes it easier for managers to focus on meaningful trends and take action to increase team productivity, boost employee engagement, and promote healthier work habits.
See Coaching Opportunities — trends in team members' work activities that suggest an employee could benefit from manager guidance. Coaching Opportunities are grouped into three categories: Utilization, Efficiency, and Focus. Drill down into each category to see which team members have Coaching Opportunities.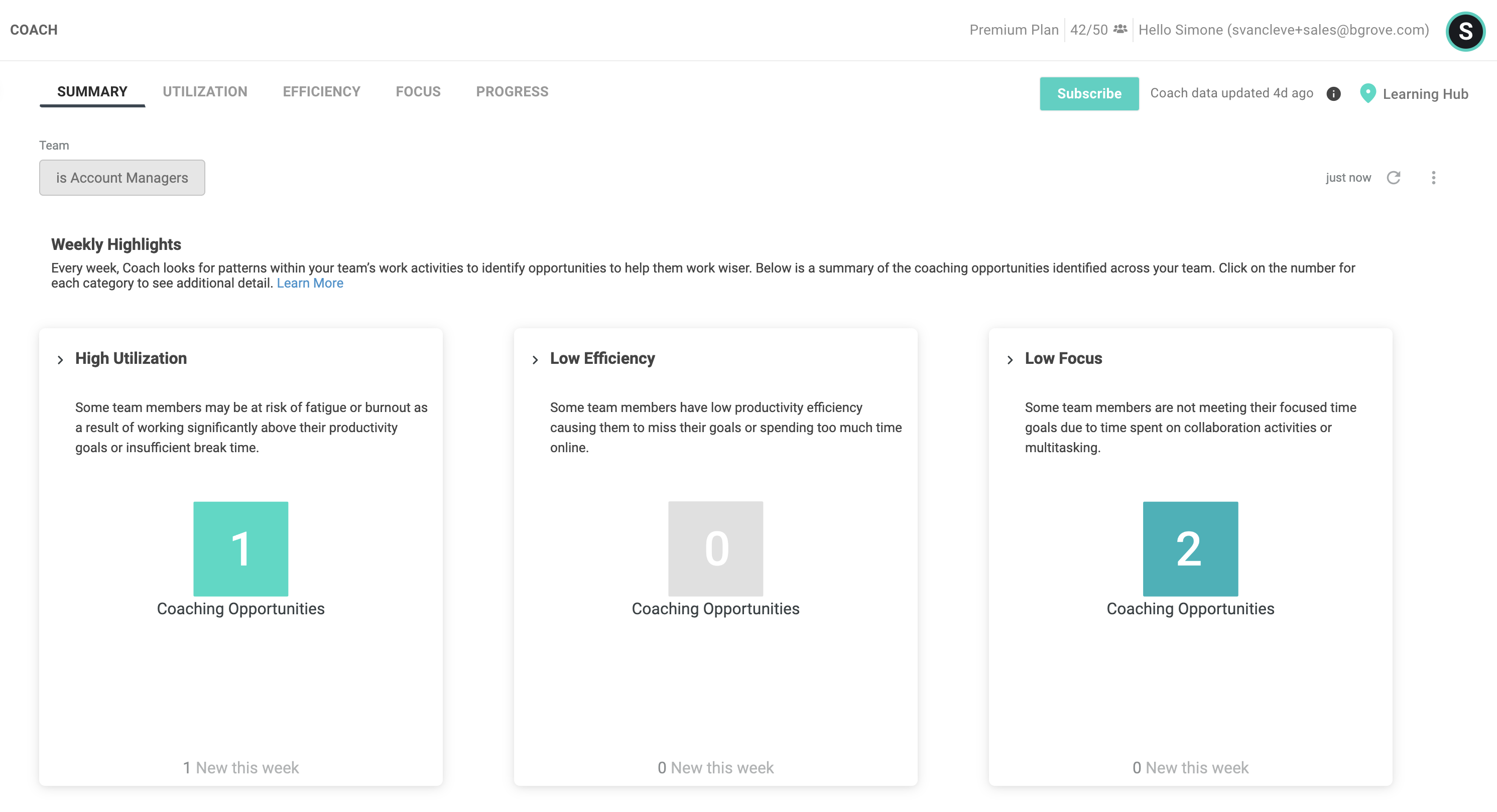 Review detail on team members who display signs of burnout risk, along with Coaching Advice — specific actions managers can take to help their team maintain a healthy work-life balance.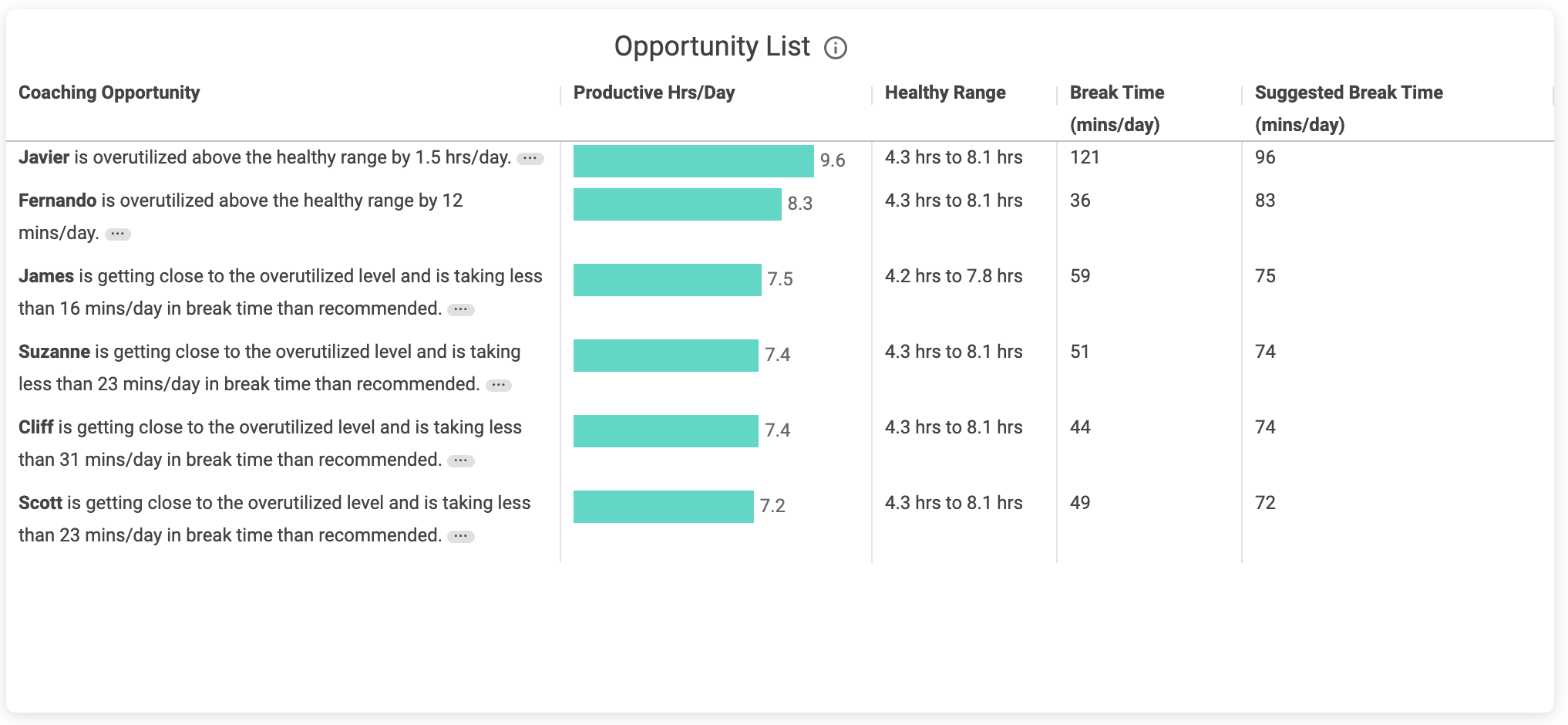 Identify team members who may be able to gain back personal time and achieve better work-life balance by working more efficiently. Get guidance to help employees remove common efficiency blockers and reduce screen time.

Identify team members who are unable to spend time on focused work due to excess meetings, distractions from messaging applications, or frequent multitasking. Leverage recommendations to help employees reduce multitasking time and reclaim time on their calendars for focused work.

Evaluate the impact of your coaching by viewing trends in team member behavior over time.

Activity Breakdown - Activity Type
Analyze how total time is being spent for teams and individuals. Using goals, you can quickly evaluate how your team's behaviors compare to the optimal state defined.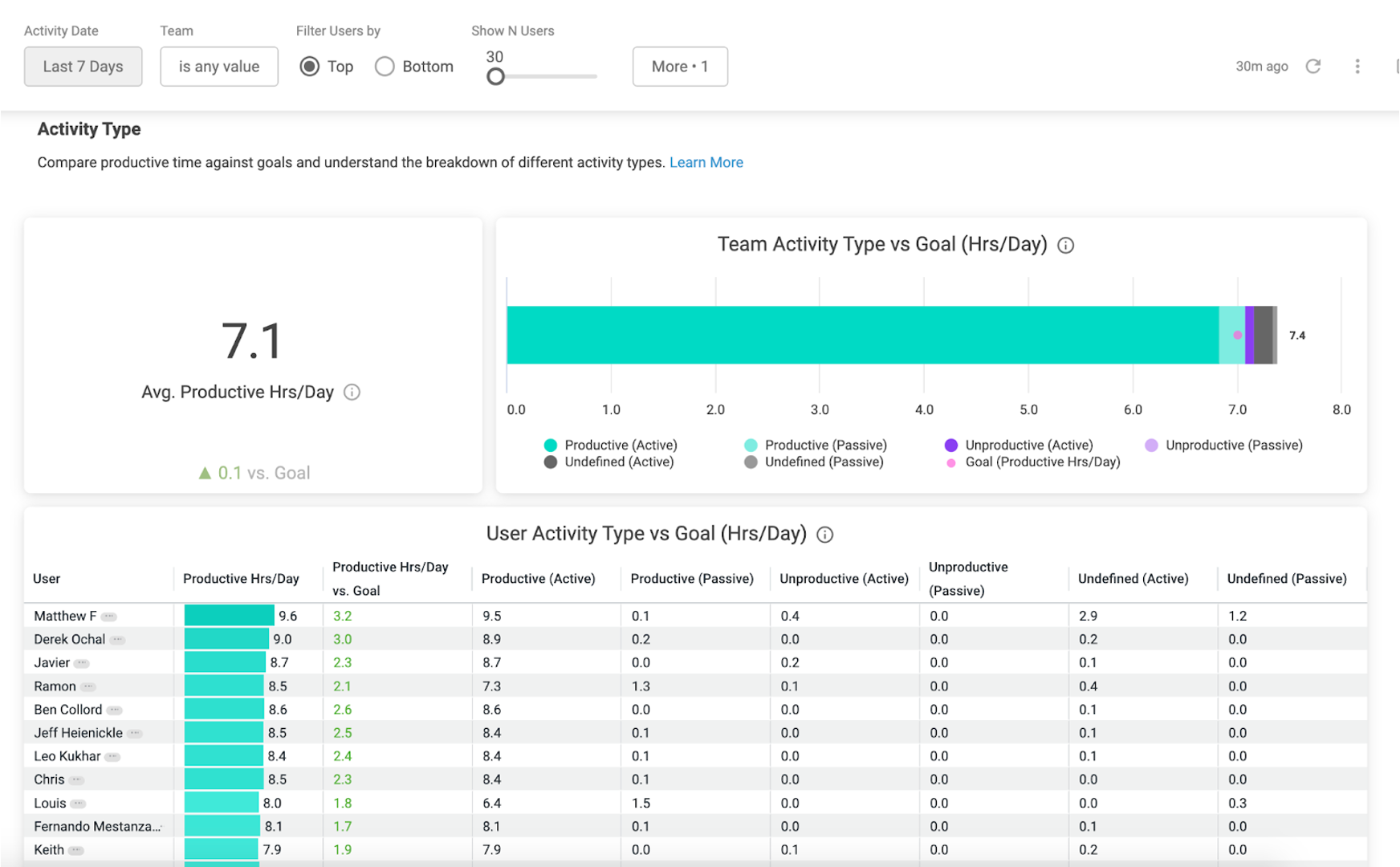 Activity Breakdown - Activity Category
Analyze the category breakdown of activities by team and individual to understand alignment to team function and goals.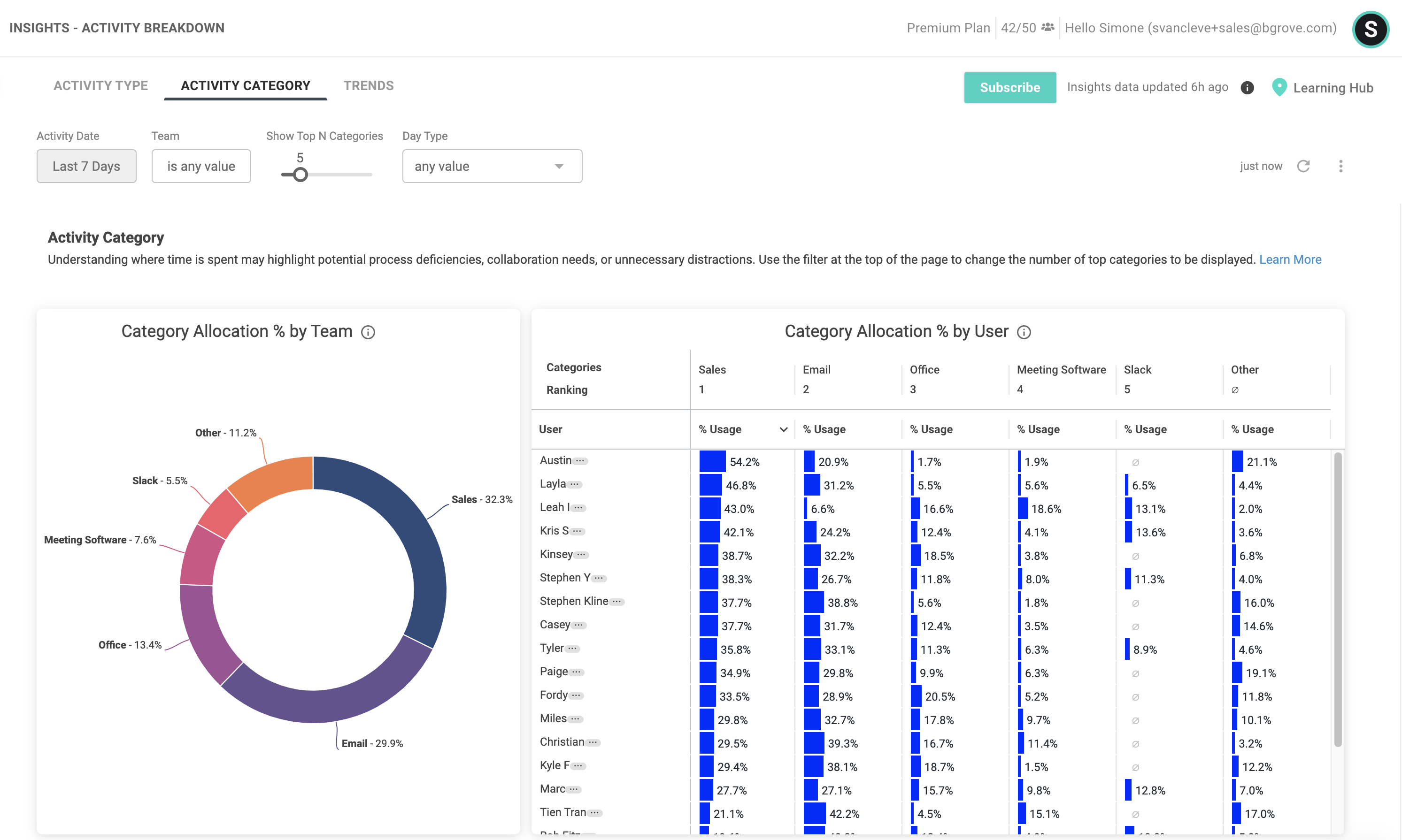 View your employees' habits over time to identify patterns of productivity by week and day of the week. View how internal changes to your organization or external events may impact your team's activity habits.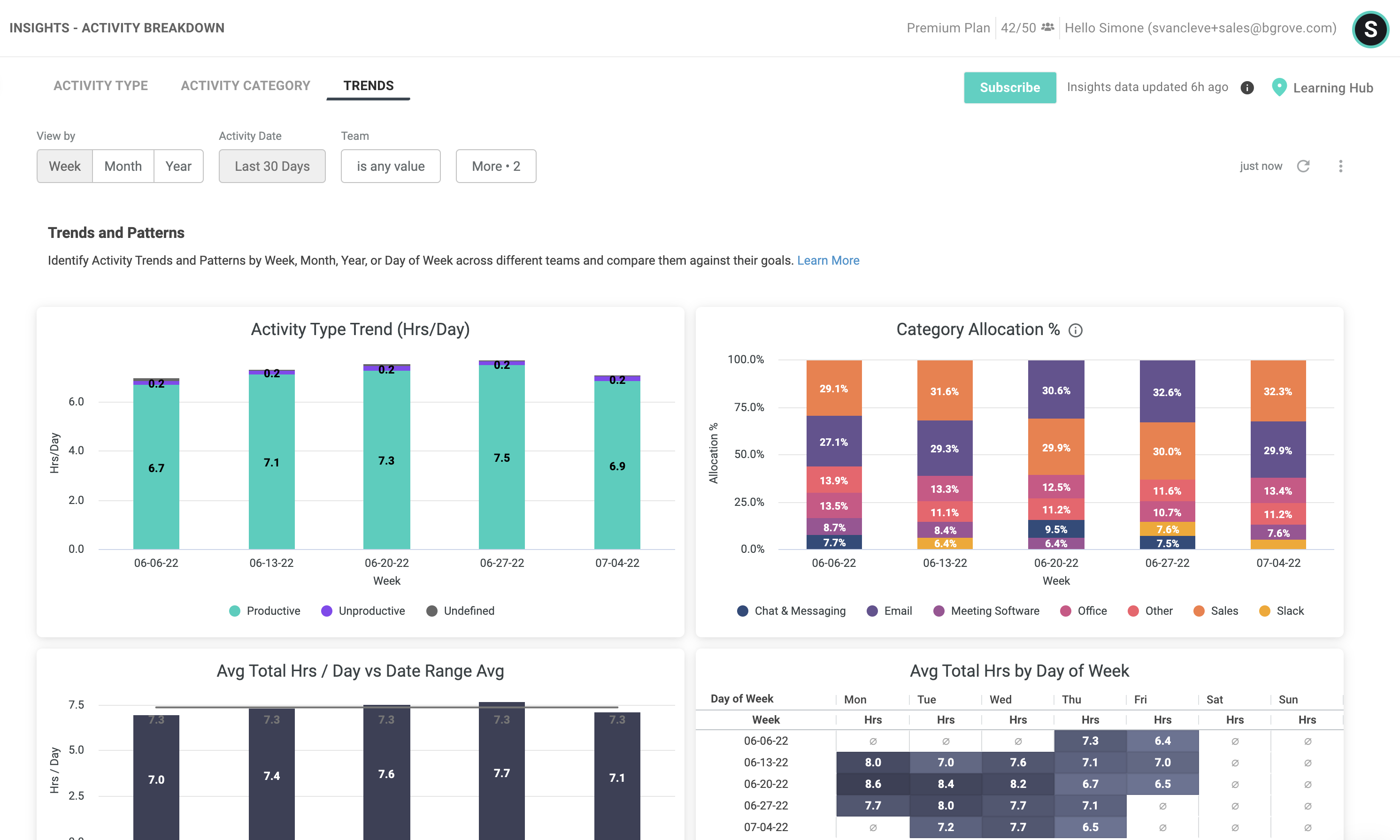 View metrics for productive and focused hrs/day to understand how your team works and compare against team goals.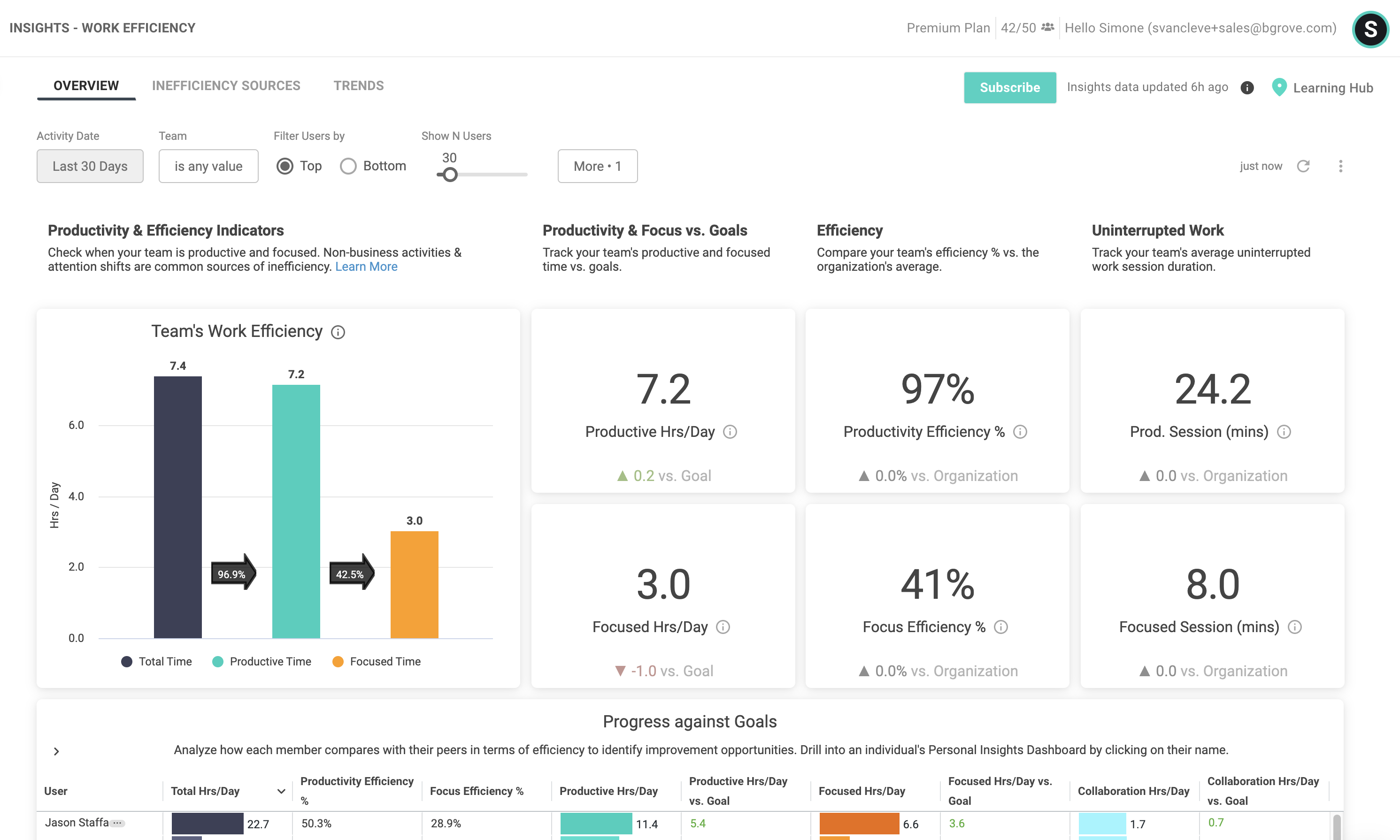 Work Efficiency - Inefficiency Sources
Identify inefficiency sources contributing to leaks on productive time and focused time.
Analyze uninterrupted work patterns and the effect on focus and efficiency.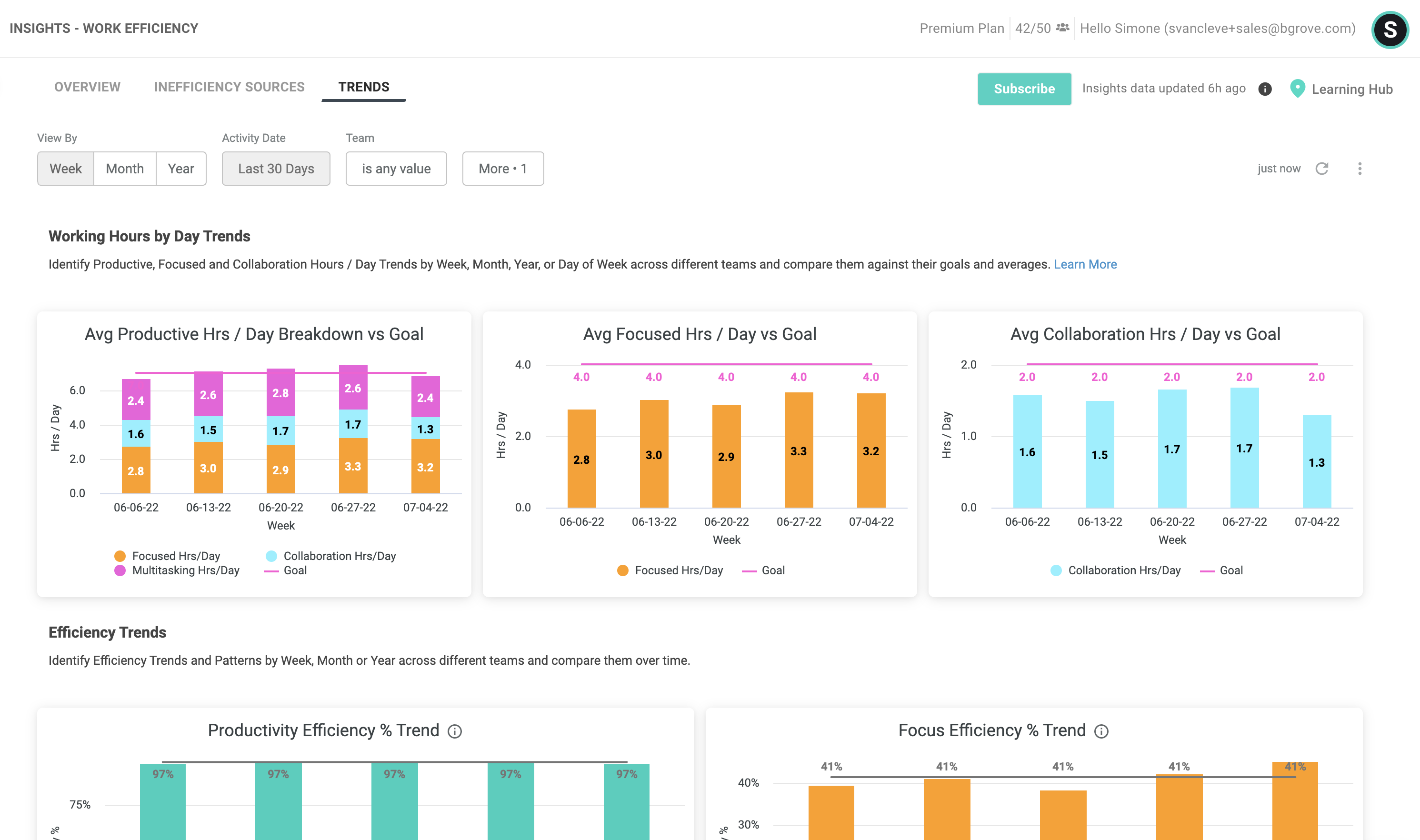 Understand work habits across teams and identify who is working long hours and off-hours on a consistent basis.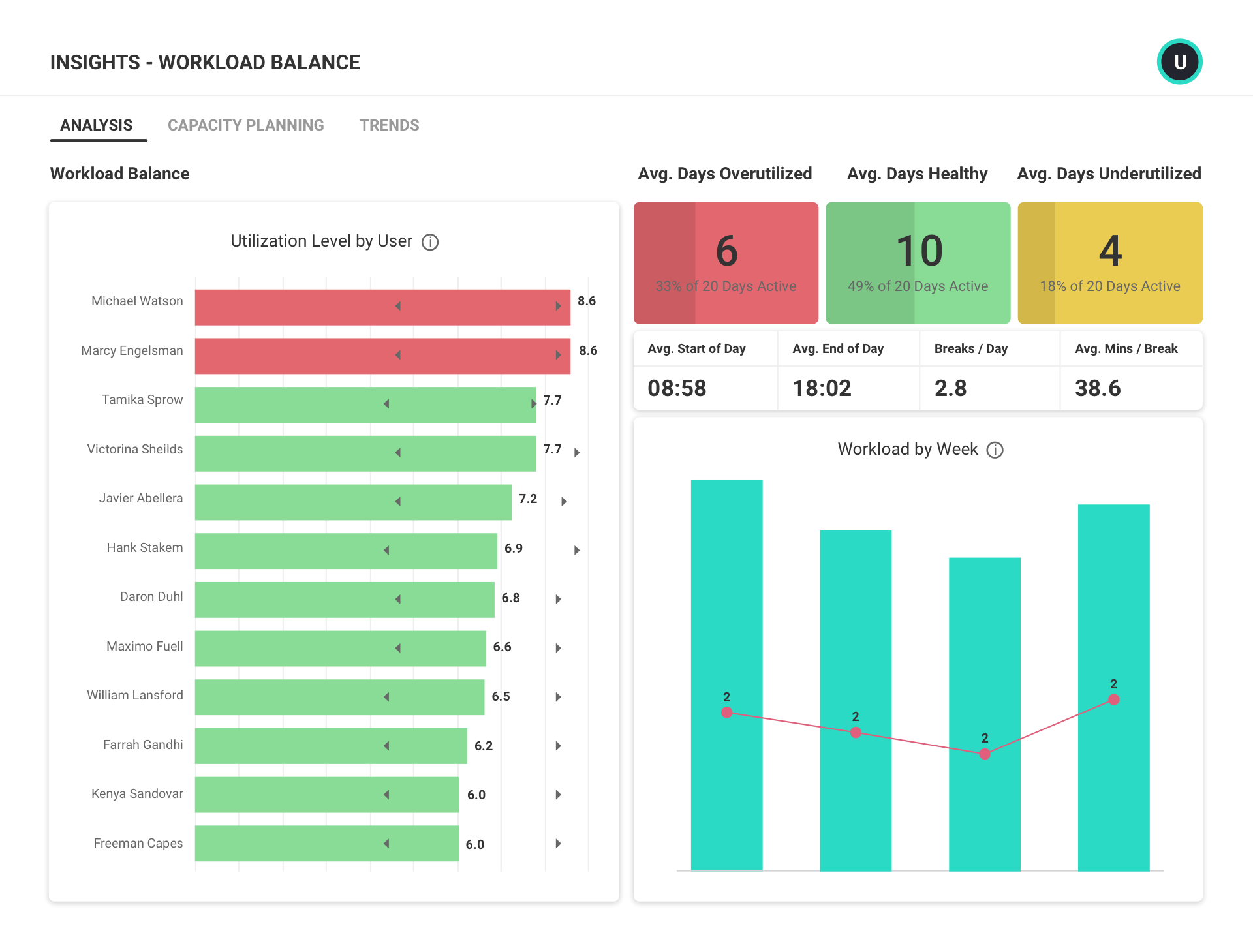 Workload Balance - Capacity Planning
Make data-driven decisions about headcount allocation and resource distribution.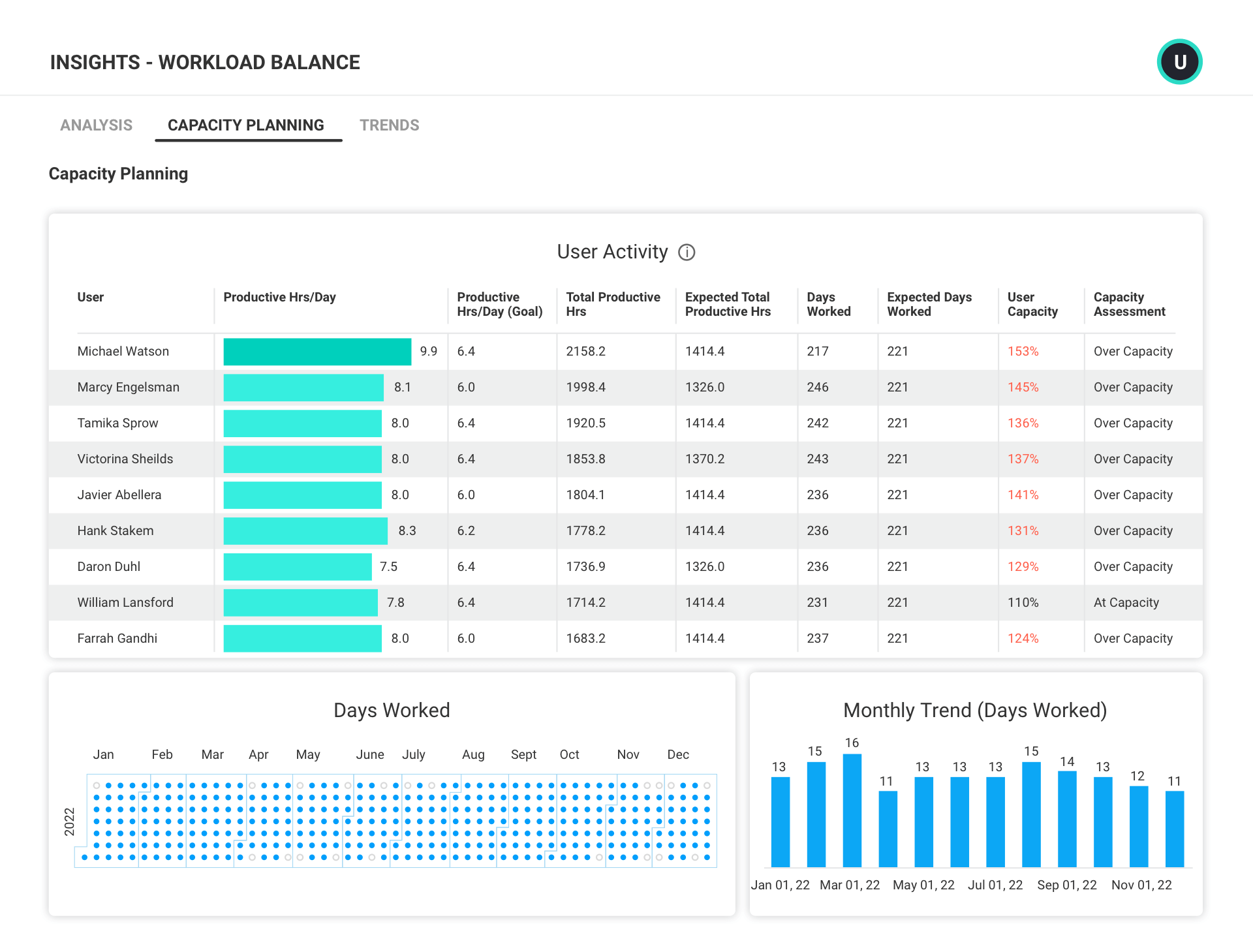 Stay out in front of burnout and promote a sustainable work culture.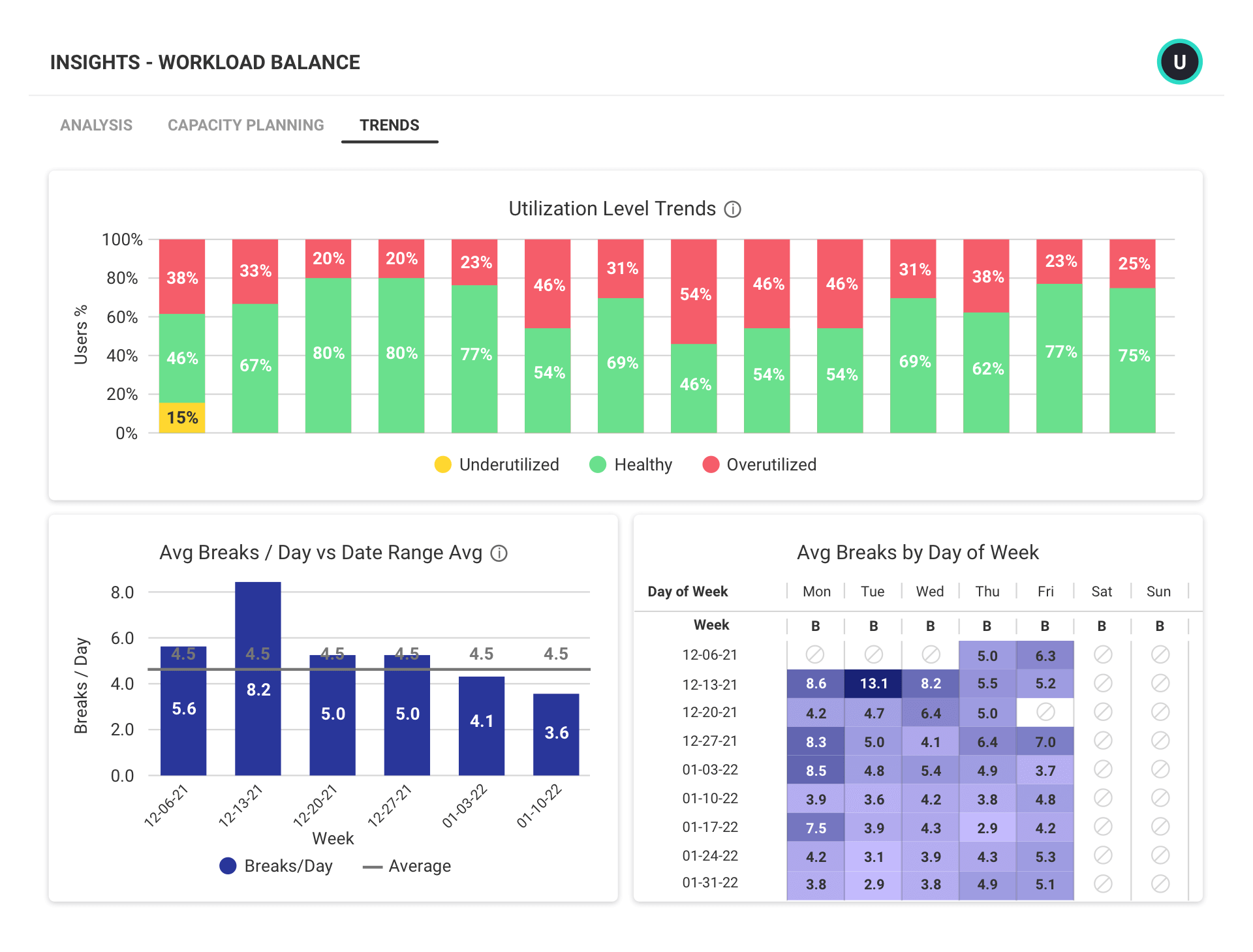 Understand allocation % for top categories, applications, and sites.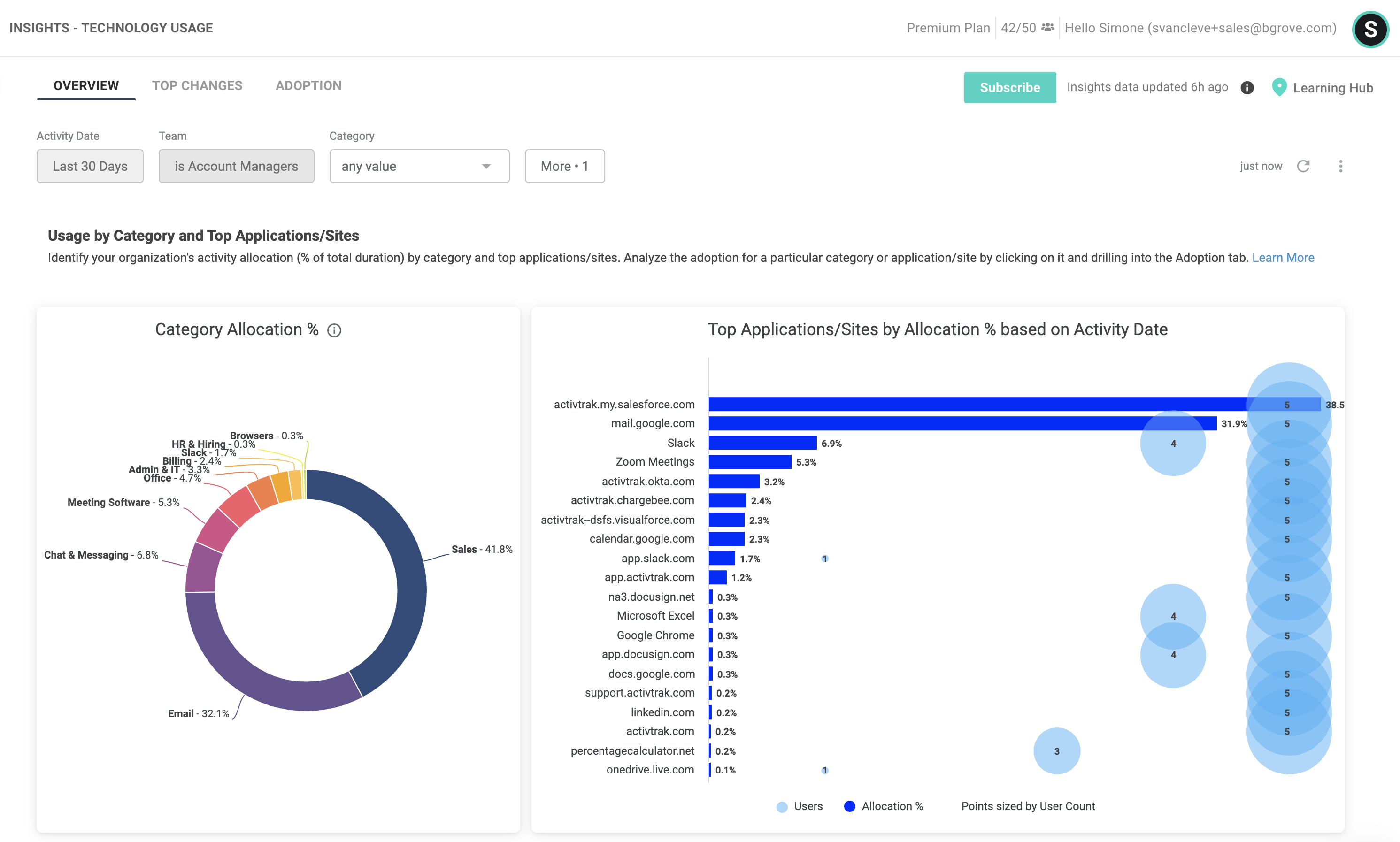 Technology Usage - Top Changes
Identify changes in allocation % for top categories, applications and sites by comparing different time ranges.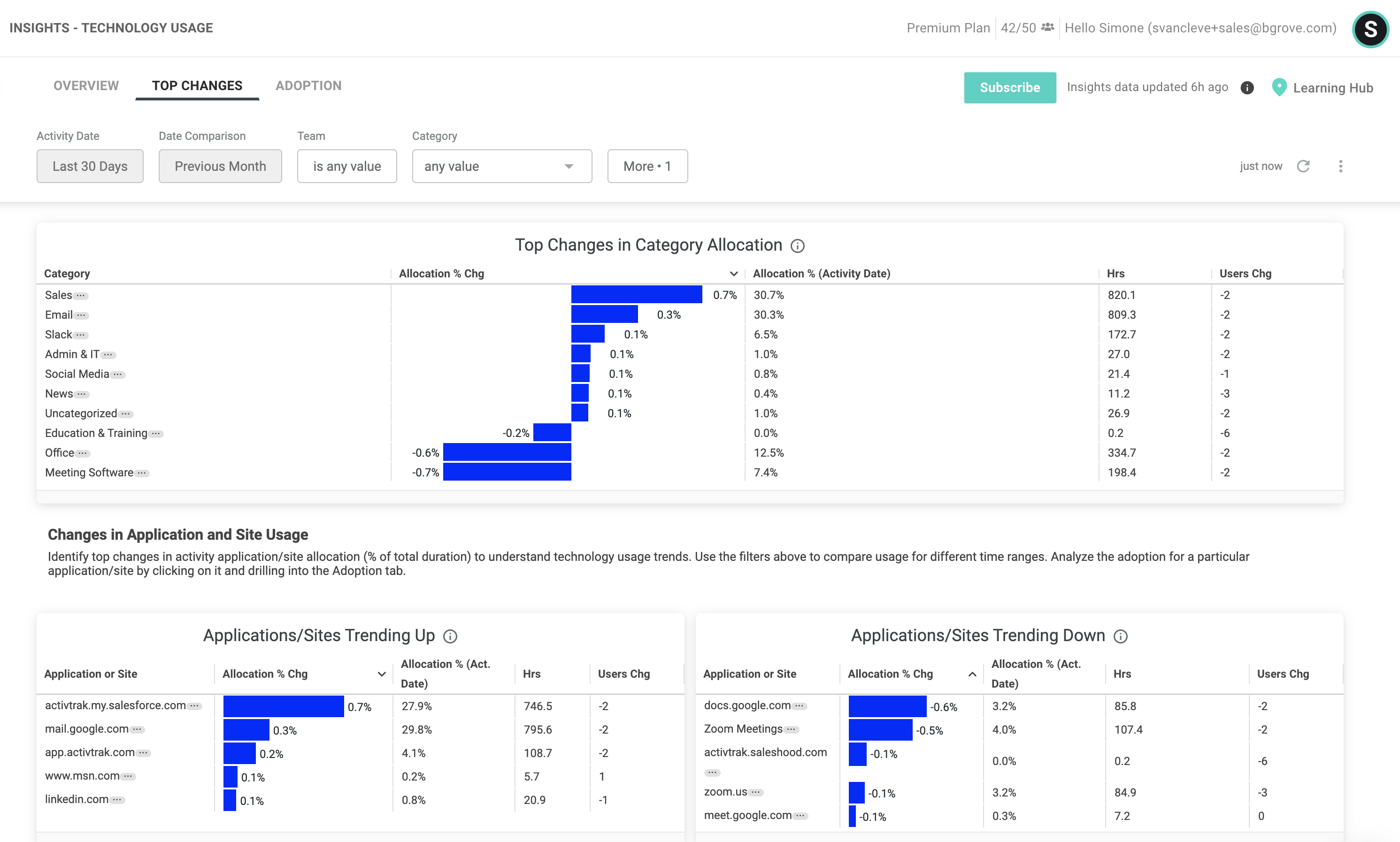 Understand how technology is utilized to measure user adoption changes across different teams and categories.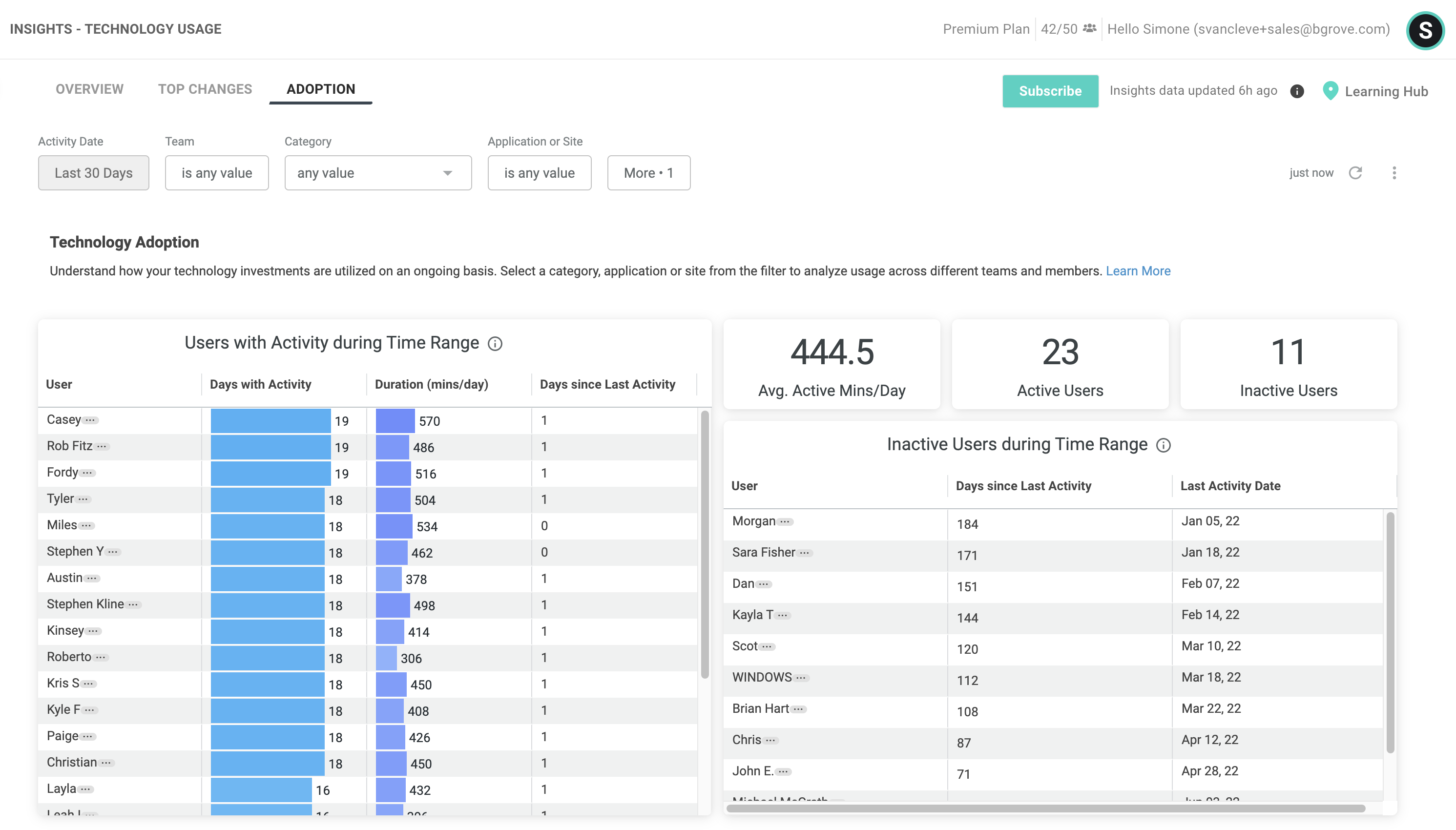 Compare productivity and focus against team historic benchmarks and set future goals based on historical data to help establish a culture of continuous improvement.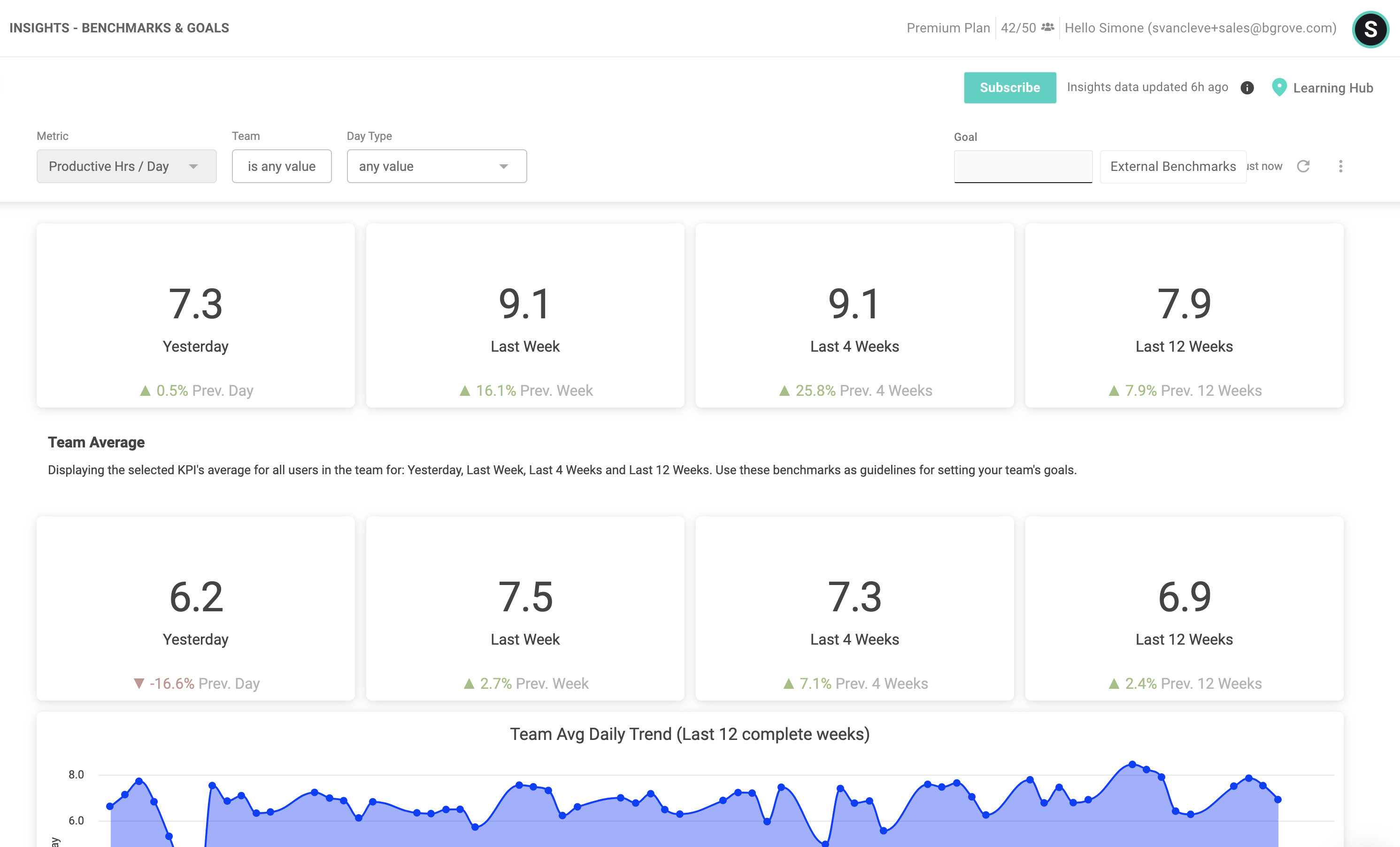 Understand where teams and individuals work best to make data-driven decisions about remote, office and hybrid work policies.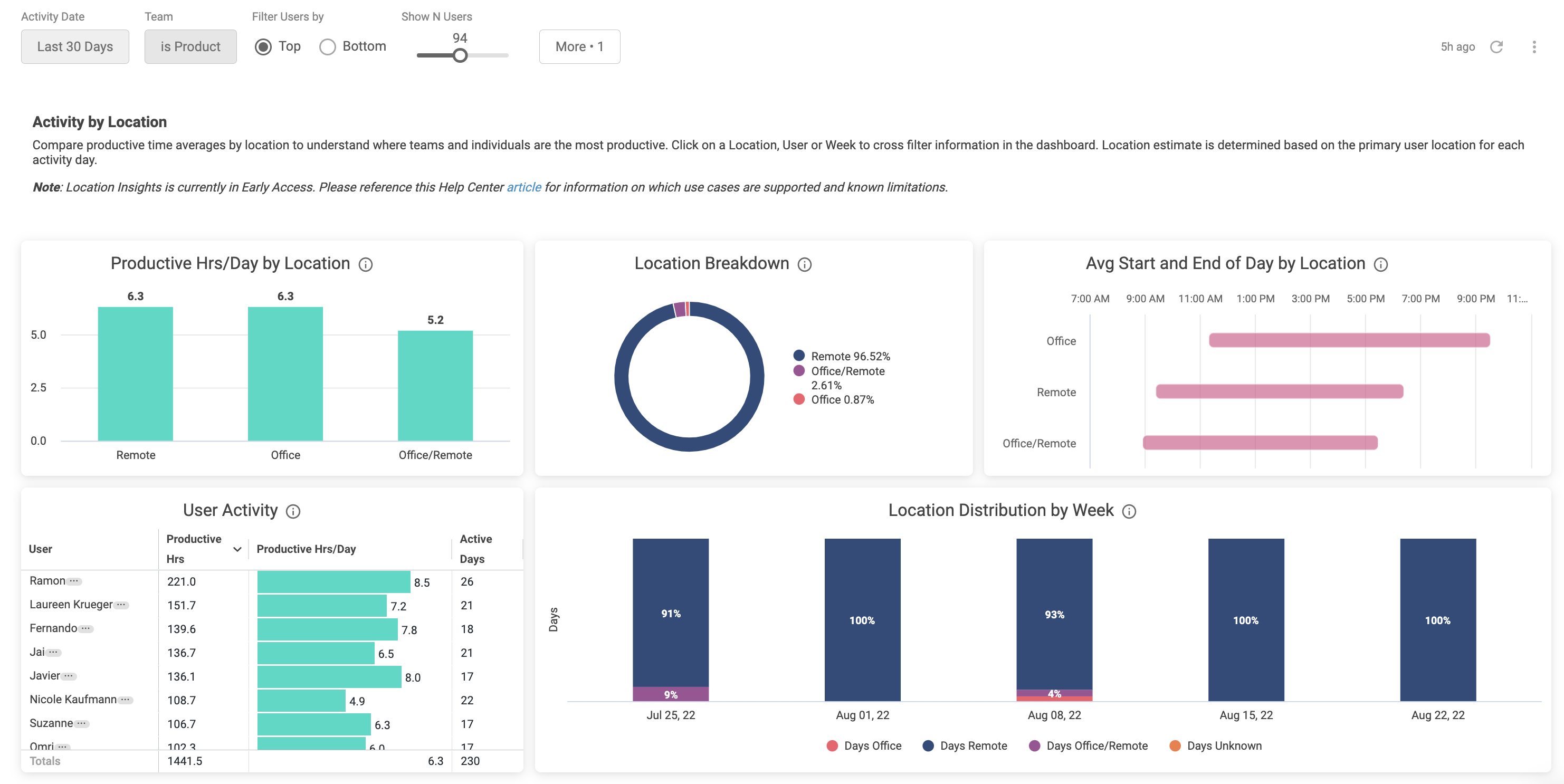 Insights for Individuals
Get insights into your personal work habits to help improve your workplace experience and develop critical skills for personal development. Using this visual representation of the digital workday, individuals can make informed decisions in areas that can dramatically reduce fatigue, stress and inefficiencies, and provide a path to higher productivity and sustainable outcomes.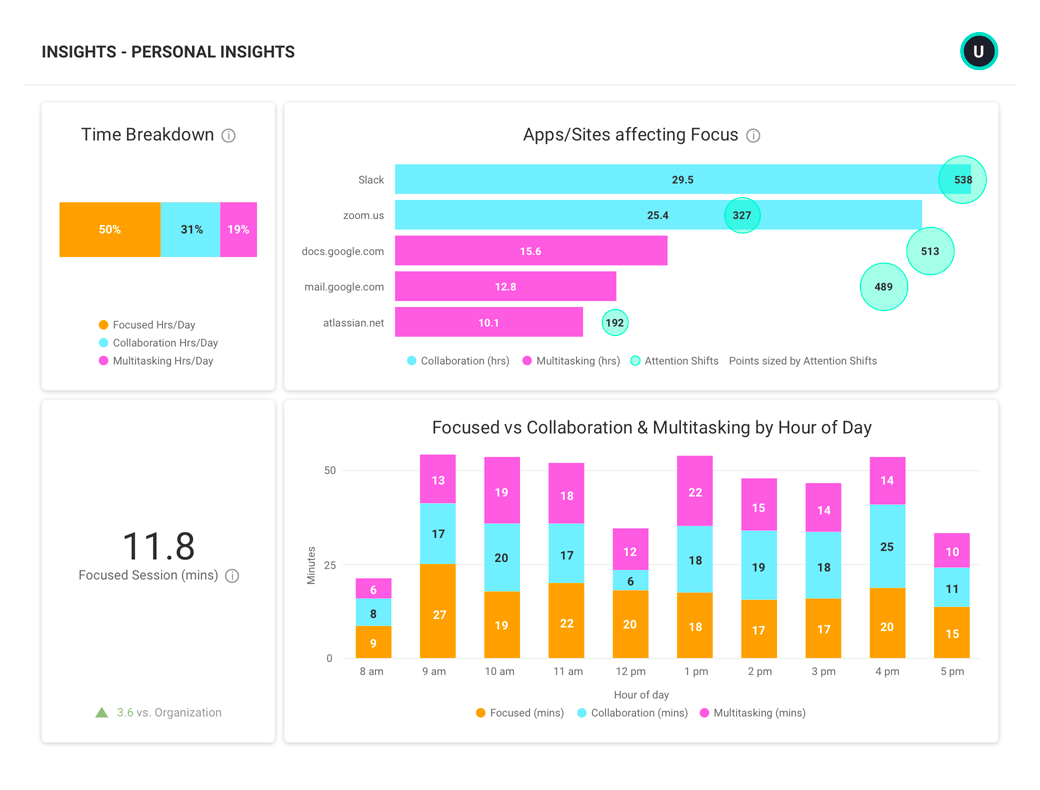 Share Personal Insights with Team Members
Leaders and managers can now share the Personal Insights Dashboard with employees to help them design their day and improve work habits that lead to improved work experience and well-being. You can enable this by switching on the Subscriptions & Sharing toggle on the Insights -> Configuration page.
General Configuration
Ensure insights are relevant and applicable by setting configurations specific to your organization.
Create email subscriptions for yourself and other app users to share a snapshot of Insights dashboards on a daily, weekly, or monthly basis.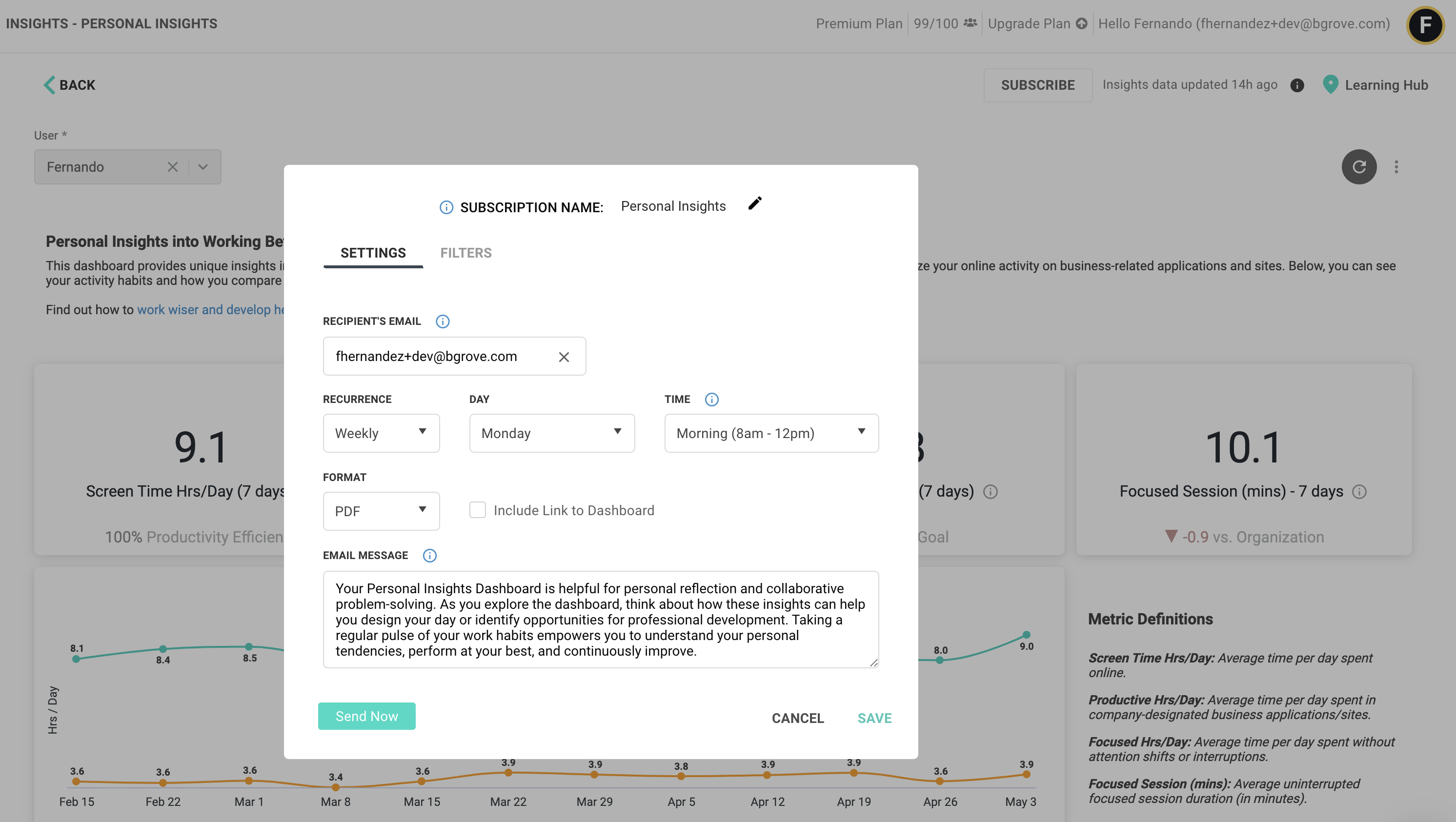 Learn more about the different metrics included in ActivTrak Premium by accessing our data glossary.
Was this article helpful?
5 out of 5 found this helpful