A Manager's Guide to Using Insights
This guide explains how people managers can understand and interpret the Insights dashboards and Coach features, and leverage these insights to drive measurable and sustainable improvements across various use cases, including:
While managers are likely to identify with several of the use cases covered in this guide, working to address too many obstacles at once can be disruptive and overwhelming to your team. To start, we suggest identifying the two or three use cases that have the greatest potential to drive results across your team. Oftentimes, the mitigation of these can have a positive impact on the other use cases as well.
In assessing which use cases to prioritize, consider which are most likely to yield "quick wins" so you can build immediate momentum and demonstrate the value of these insights to your teams (and garner their buy-in). Below, view the reports associated with each use case to collect your data-based insights before devising an action plan to communicate and coach your team.
Please Note: Users' access to dashboards and features may vary based on account configuration. ActivTrak Admins can adjust access settings from the Role Access page. Learn more about roles & permissions for access to your ActivTrak account here.
Preventing Employee Burnout
Dashboards & Reports

Explore

Is burnout a team-wide problem or only impacting certain employees?

Who is currently at the greatest risk for burnout?

How efficiently is work time being spent?

Are employees taking enough breaks?

How long and how frequent are the breaks?

Is there a specific project or initiative creating temporary burnout?

For how long have individuals been approaching burnout or appeared in the overutilized state?
First, refer to Workload Balance Dashboard to understand which team members are underutilized, overutilized, or healthy. ActivTrak Coach also alerts you to employees who are nearing overutilization. Explore these Coaching Opportunities on the

Coach: Utilization tab

.

Zero in on team members who are overutilized to get a better understanding of their working habits. (You can see more detail by clicking on a team member's name within the report.) Consider questions for greater context: Was there a specific deadline that required additional hours? Is the employee onboarding or upskilling? Have they expressed stress or difficulty keeping up with their workload?

The Progress tab

within ActivTrak Coach can help you differentiate between long-term patterns and anomalies.

Next, zero in on those who are underutilized. Consider questions for context: Were they on vacation? Are they onboarding or upskilling? Have they expressed experiencing issues lately?

Additional hours may be a result of training gaps, especially related to technology. View an individual's

Personal Insights Dashboard

to help answer questions like: Are team members leveraging the appropriate technologies? Are they distracted? What could be leading to the distractions or lack of focus? What do their work habits look like?

When burnout is pervasive throughout a team, it can indicate broader issues. If you are seeing burnout across a team, refer to the

Work Efficiency Dashboard

to understand time allocation and

Inefficiency Sources

.

To guide a team to a healthier workload balance, refer to the

Benchmarks & Goals Dashboard

. Within Benchmarks & Goals, you can adjust Productivity, Focus, and Collaboration goals and track the team's progress toward a healthier workload balance.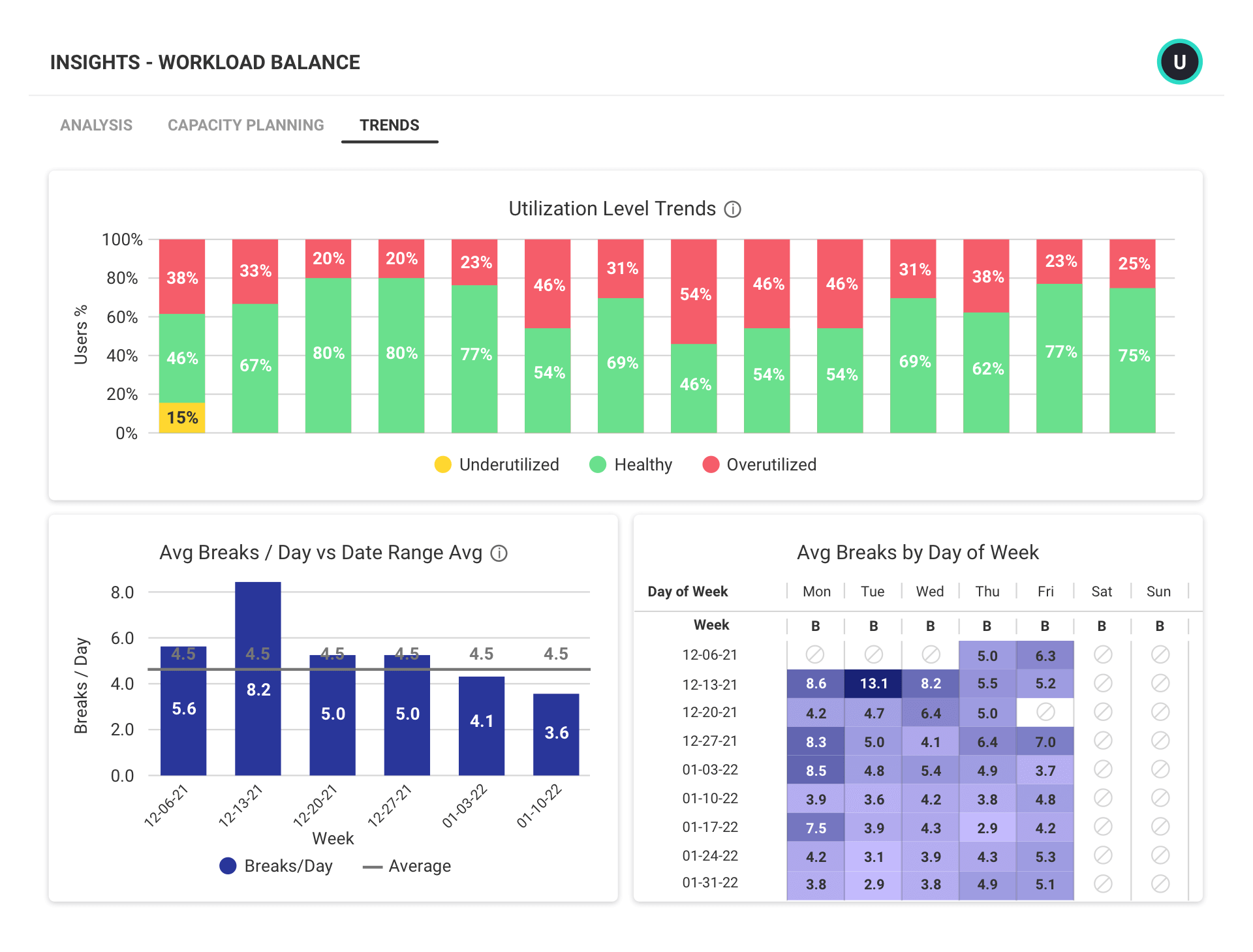 Screenshot of the Workload Balance Dashboard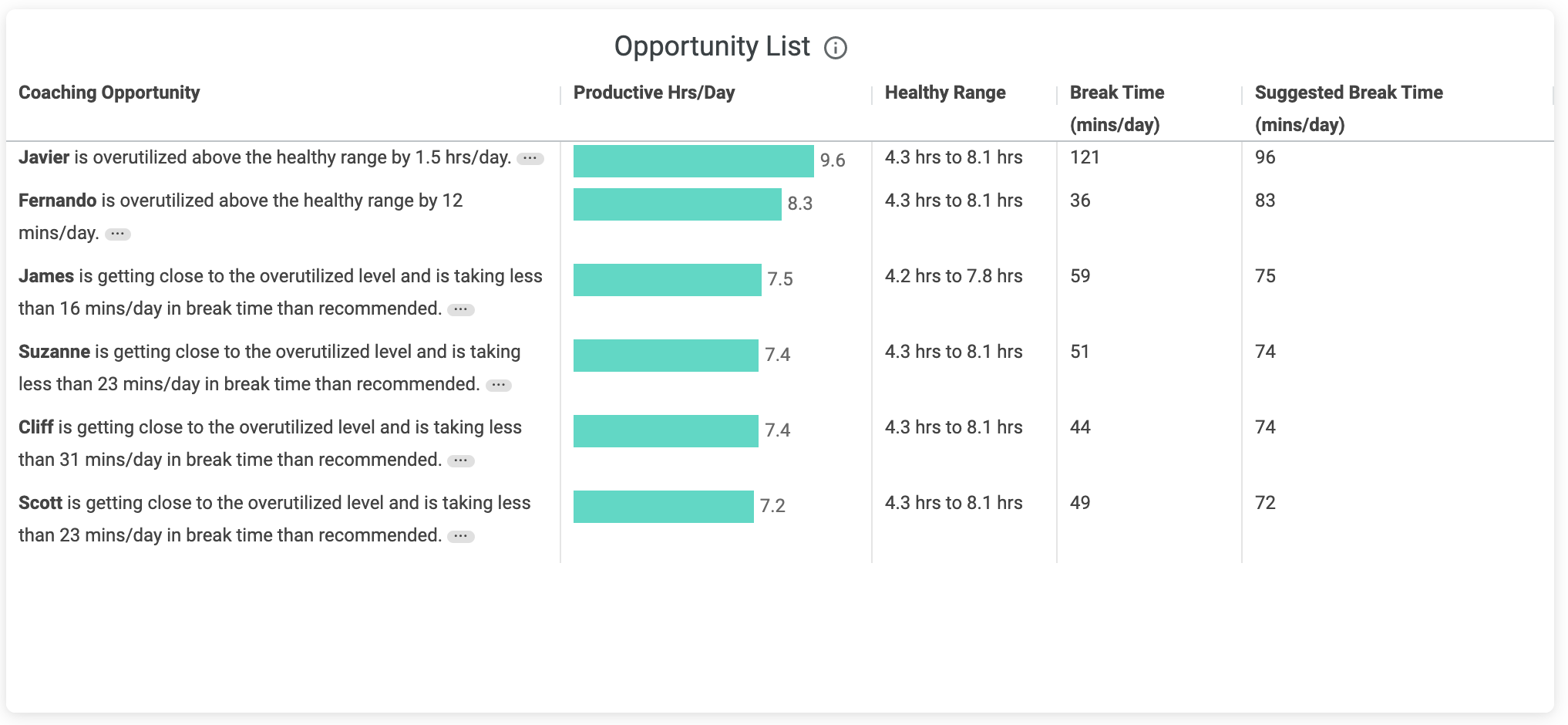 Screenshot of Coaching Opportunities related to workload balance in ActivTrak Coach
Managing a Remote or Hybrid Workforce
Dashboards & Reports

Explore

How does the team's productivity, efficiency, and focus change when working remote vs. in-office? Which technologies are most critical to remote operations?

Who needs support?

What are the team's top distractions?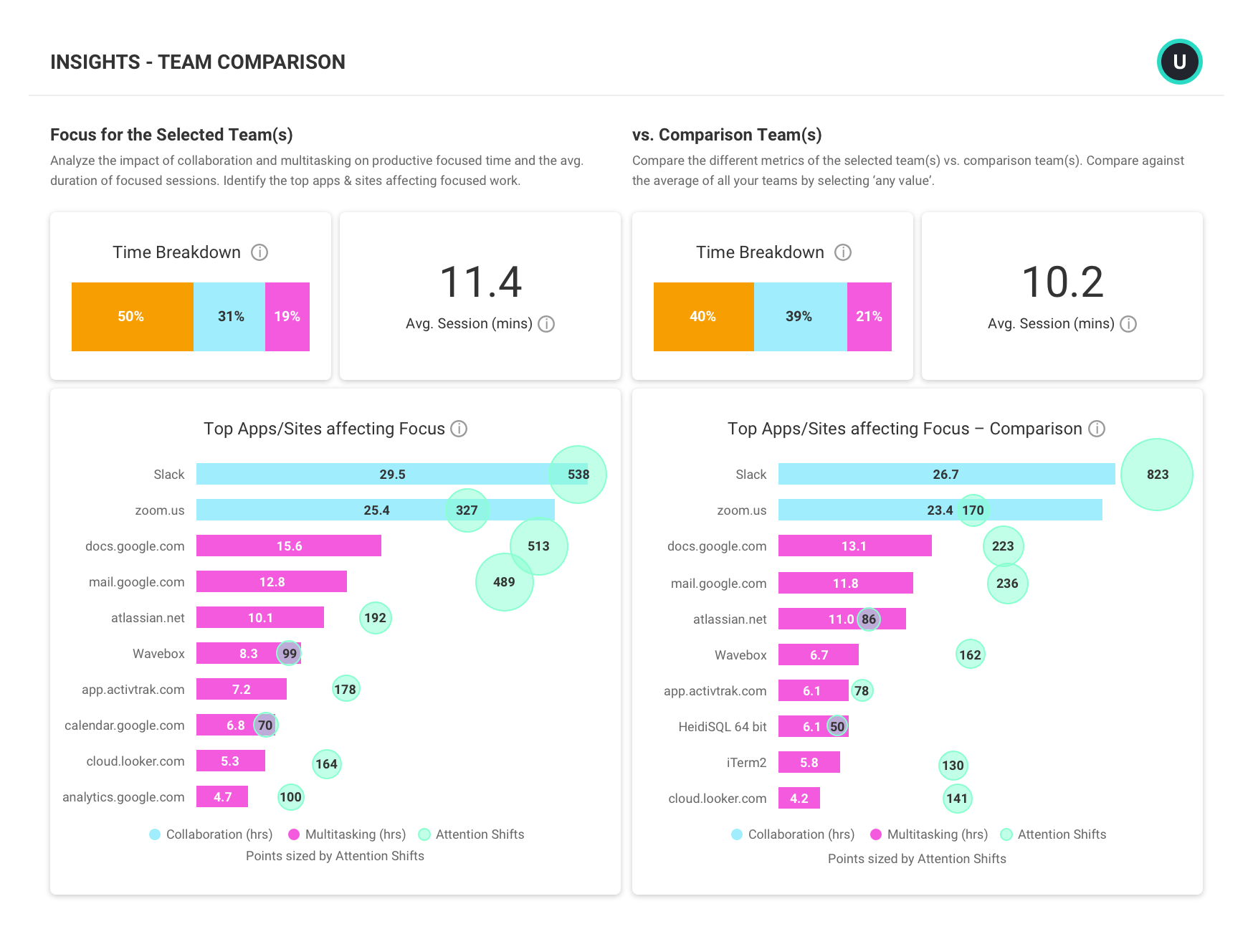 Screenshot of the Team Comparison Dashboard
Measuring and Managing Productivity
Dashboards & Reports

Explore

What are my team's work habits and how have they shifted over time?

Where is unproductive work happening?

Are my team's behaviors meeting or exceeding goals?

How does productivity compare across teams?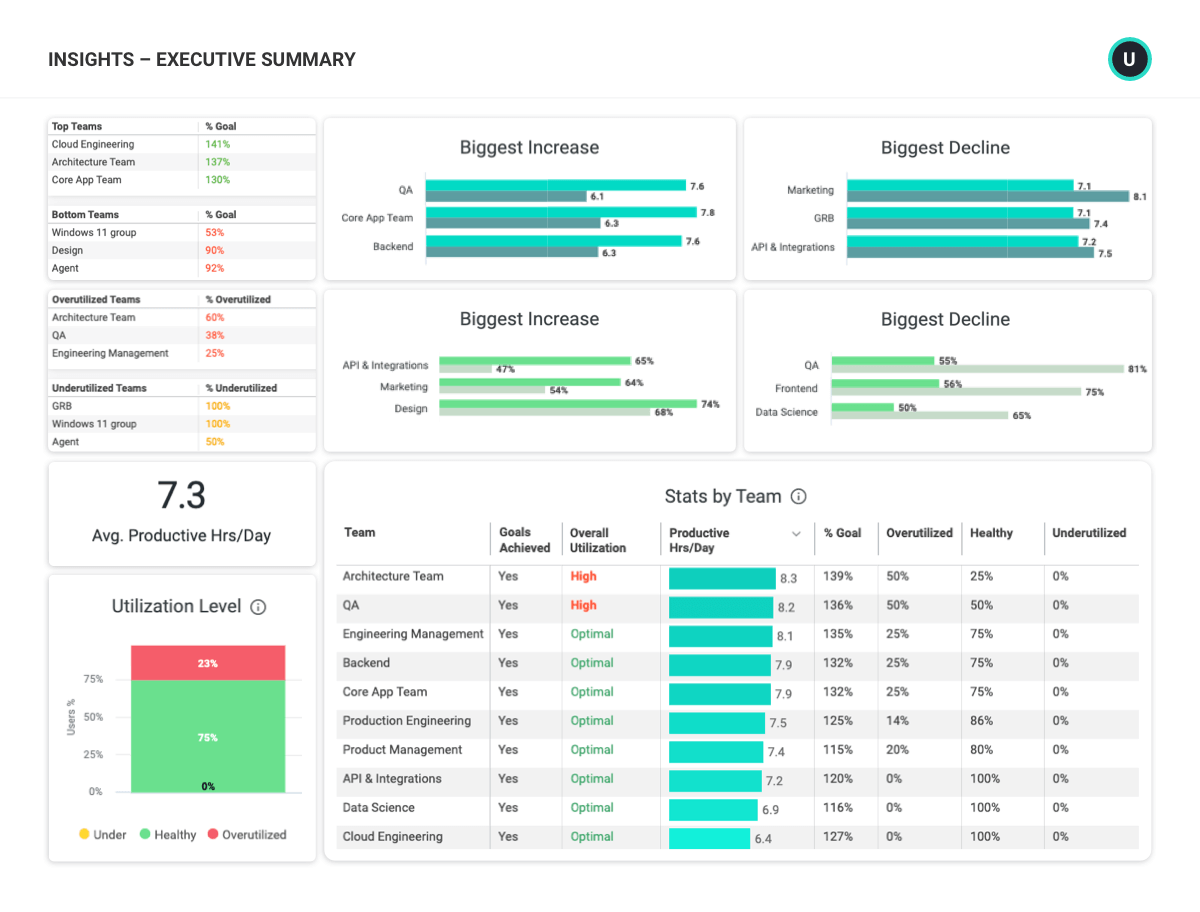 Screenshot of the Executive Summary Dashboard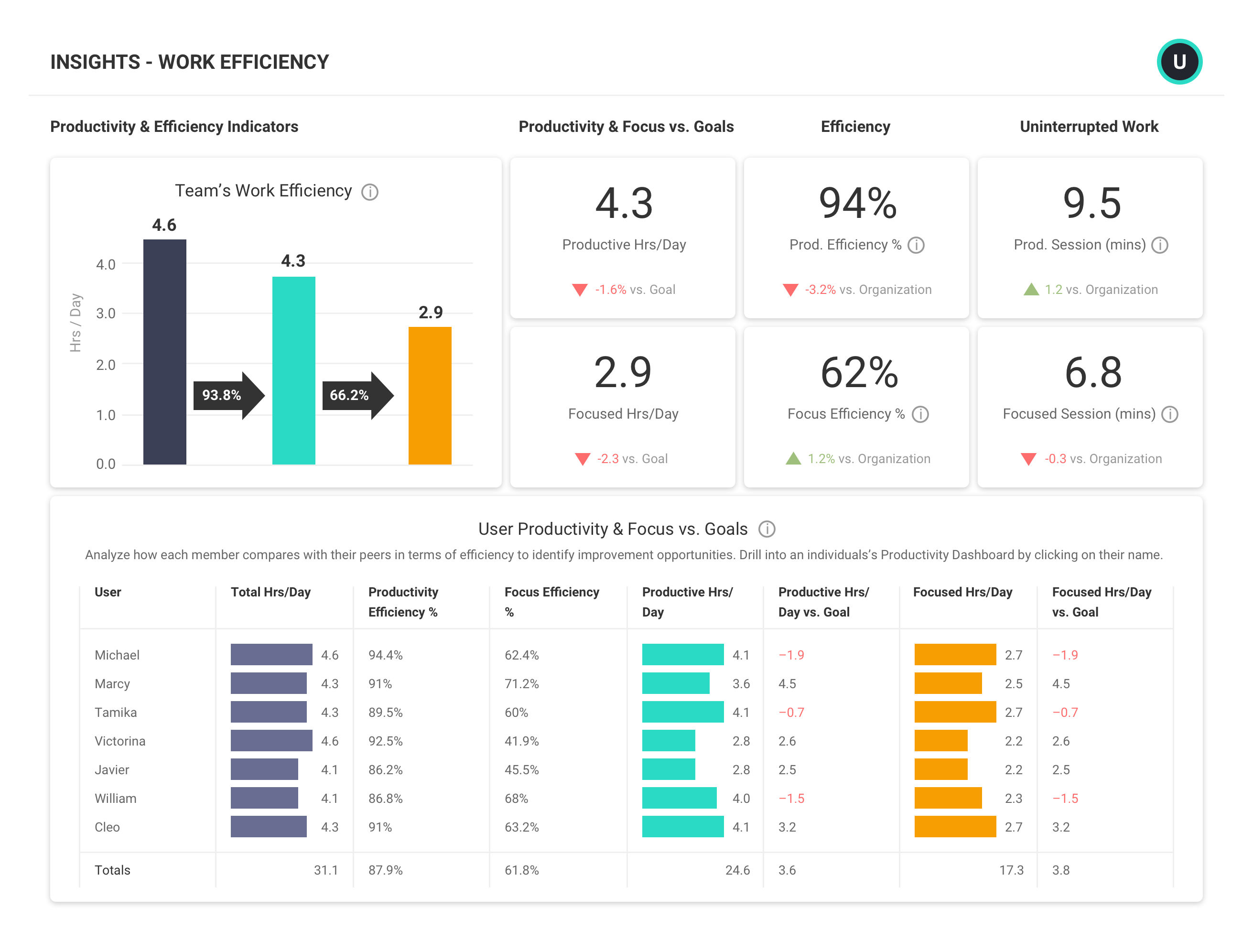 Screenshot of the Work Efficiency Dashboard
Balancing Workloads
Dashboards & Reports

Explore

Who is over or under-utilized?

For how long have employees been over or under-utilized? Is there a specific deadline or project impacting workloads?

How do we absorb work among the existing workforce?

Which teams need additional support or headcount to deliver results?

Are employees efficient with their time? What could be contributing to an uneven workload balance?

How are attention shifts impacting those who are under-or over-utilized?

Which tools are employees using? Are they helping or hindering their productivity?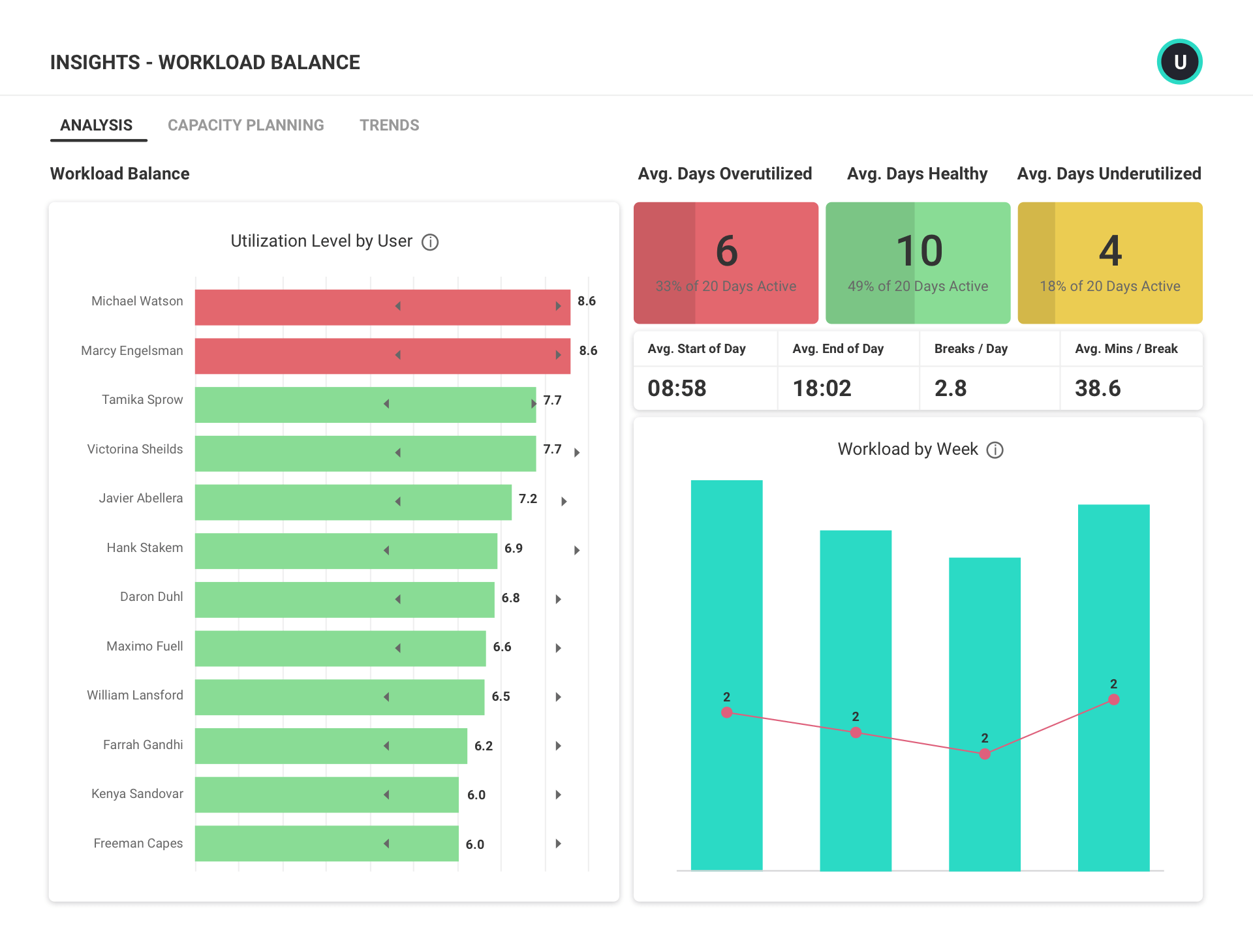 The Workload Balance Dashboard

The Progress Report in ActivTrak Coach
Streamlining Technology Usage
Dashboards & Reports

Explore

What digital tools does my team use most frequently?

Which apps/websites do employees use the most? How much time are they spending on each app/website?

Do we have paid tools we aren't using?

Are any tools not being used as intended?

Are there applications with overlapping functionality?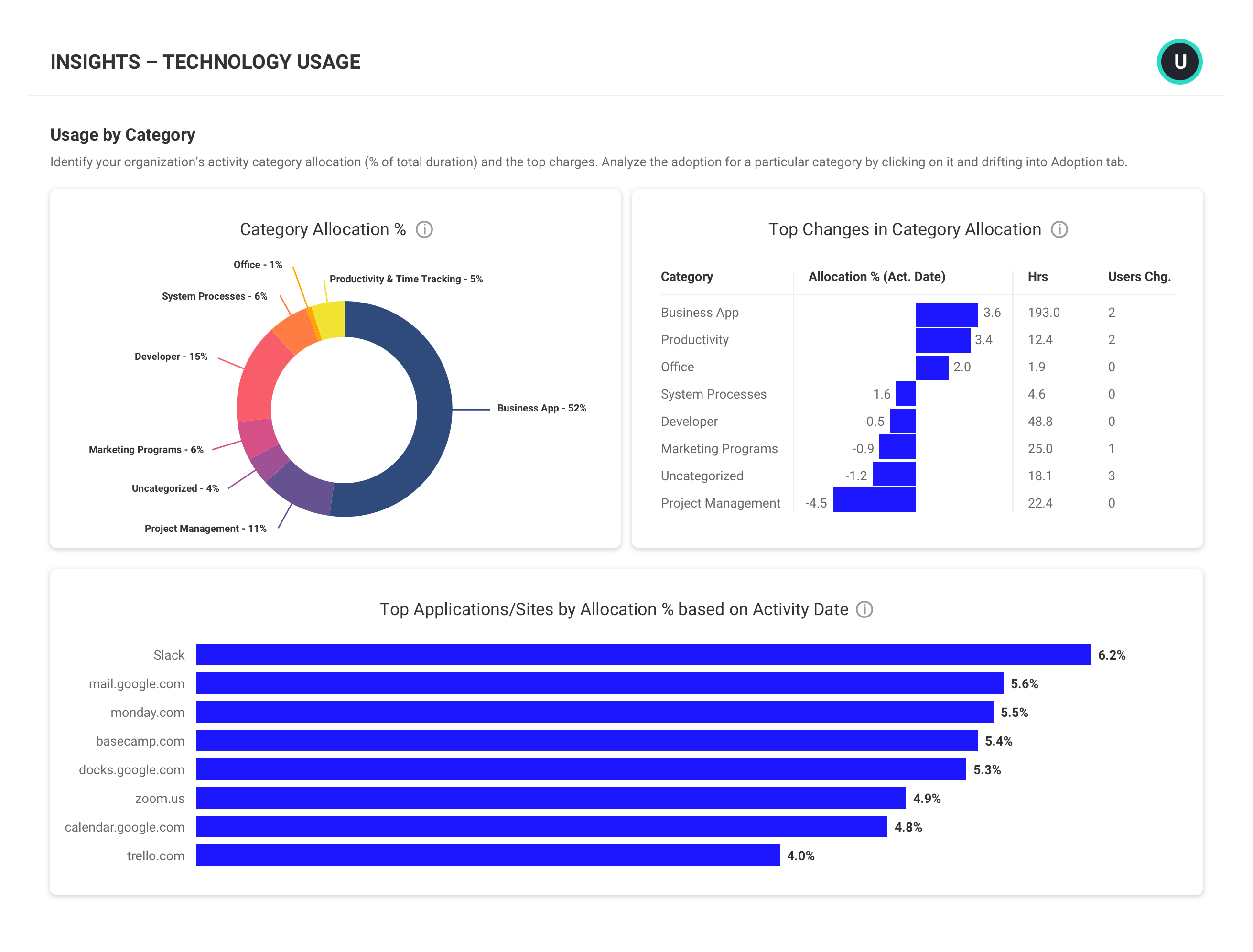 The Technology Usage Dashboard
Ensuring Operational Efficiency and Compliance
Dashboards & Reports

Explore

How much time is spent on productive vs. unproductive activities?

Are there unnecessary bottlenecks in existing processes or technology adoption issues that are negatively impacting productivity?

Which tools are used the most and the least?

How do I prevent access to distracting websites and unapproved applications?

How can I be alerted to an individual deviating from standard operating procedures?

Are there risks to our operational compliance or security policies?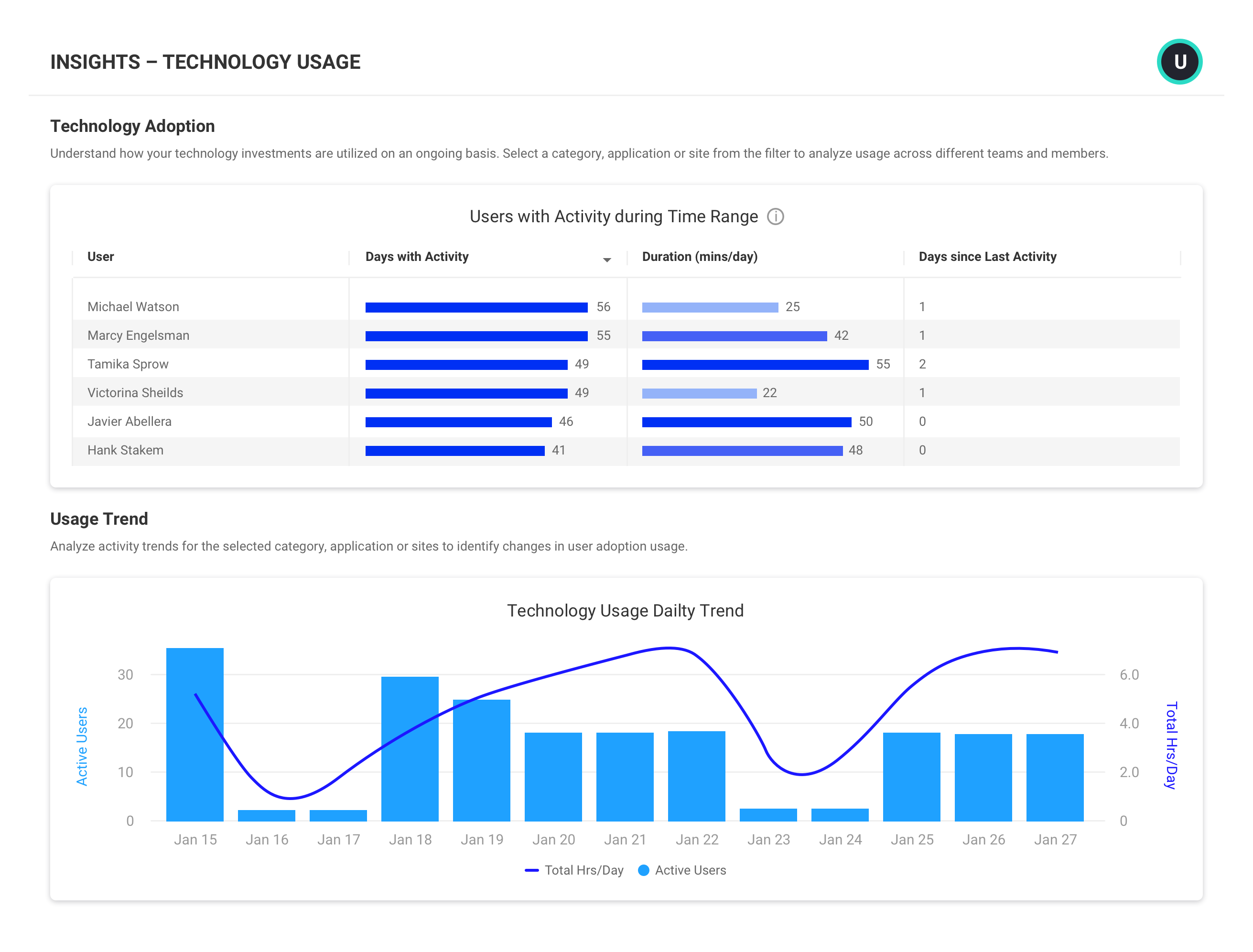 The Technology Usage Dashboard
Improving Team Focus and Communication
Dashboards & Reports

Explore

What is negatively affecting the team's ability to focus?

Which tools are used for collaboration? Are they being used effectively?

What is causing frequent attention shifts?

How is the team's (or individual) productivity changing over time?

Are there sudden changes in activity compared to baselines?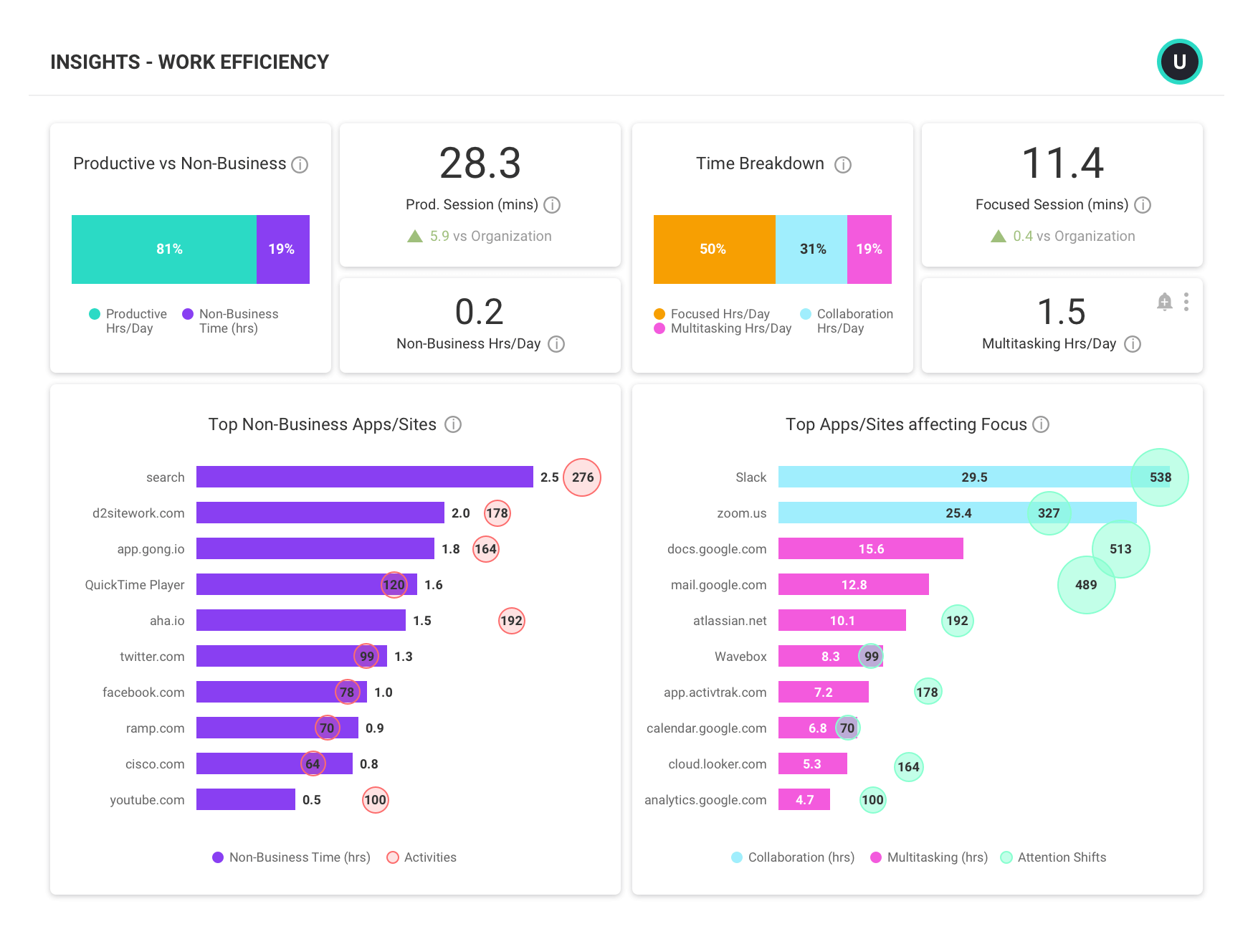 The Work Efficiency Dashboard
This article has provided frameworks for people managers to interpret and act on the data insights in Insights dashboards and features to help address several common use cases. For additional guidance on navigating the product or understanding the workforce analytics in your account, please explore the resources in ActivTrak Academy or reach out to your customer success manager.
Learn More:
Was this article helpful?
7 out of 9 found this helpful