ActivTrak for Google Workspace Setup Guide
Overview
ActivTrak for Google Workspace enables users to embed personal work insights into Google Workspace apps like Google Calendar and Gmail, empowering employees to play an active role in improving engagement, satisfaction and well-being.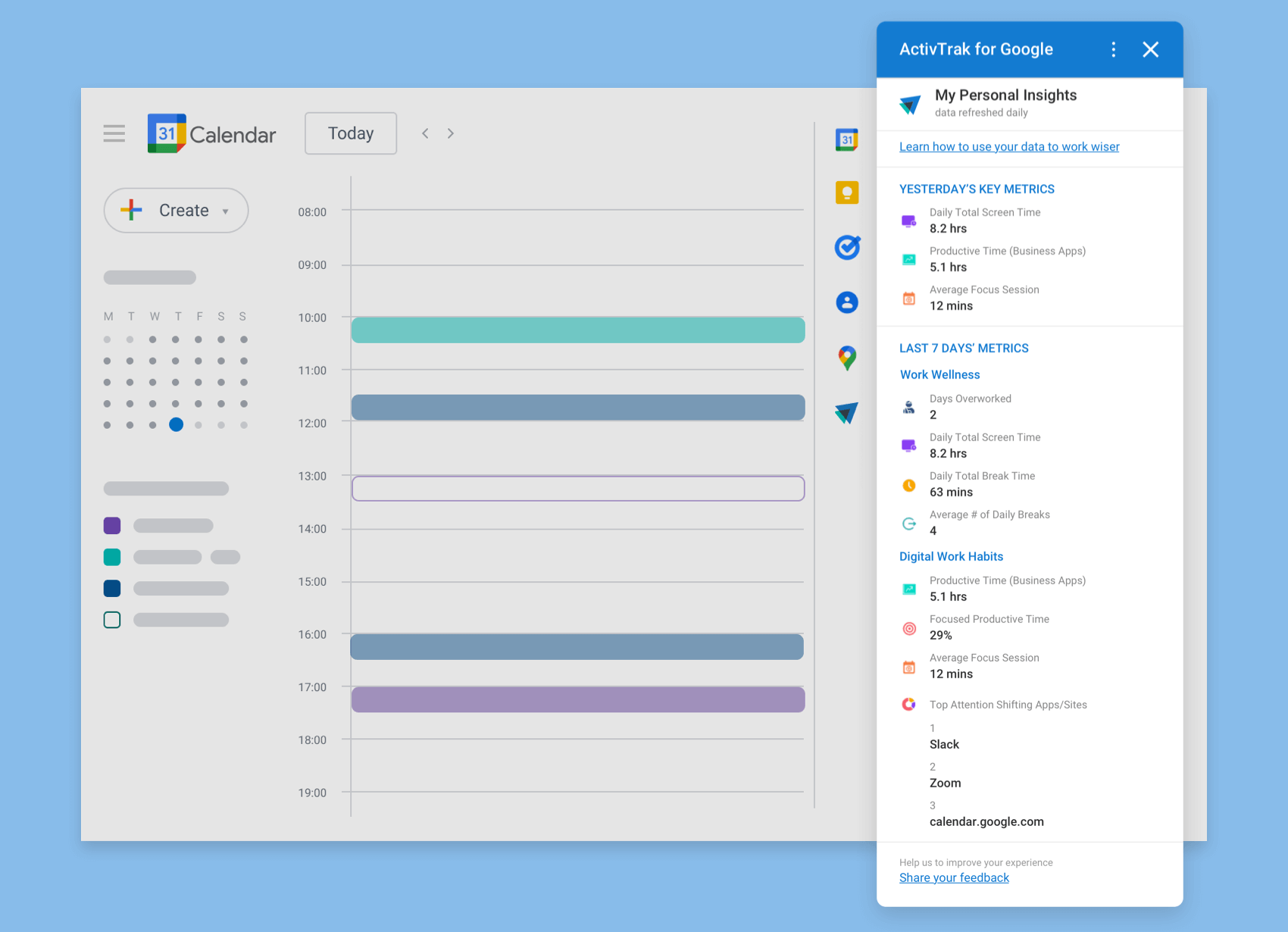 Users can gain insights into all their digital work such as screen time, breaks taken, overutilized days and app usage from within their Google Workspace environment. Users can view metrics based on the previous day or the last 7 days including:
Work Wellness
Are they at risk of burnout? By evaluating work habits, users can recognize early on when they may need to take more breaks, shorten their day or have a discussion with their manager about ways to modify their workload.
ActivTrak Metrics:
Days Overworked

Daily Total Screen Time

Daily Total Break time

Average # of Daily Breaks
Digital Work Habits
Are they able to focus? What tools are helping or hindering remote or in-office productivity? Focus time is critical for problem-solving, task completion and individual strategy work. Users can view how focused they are able to be on a daily basis, while also understanding common distraction sources.
ActivTrak Metrics:
Productive Time (Business Apps)

Focused Productive Time

Average Focus Session

Top Attention Shifting Apps/Sites
Employees can also leverage guidance from our Productivity Lab experts on how to maintain work balance and wellness.
Requirements
There are specific requirements you will need to meet in order to access ActivTrak for Google Workspace in the Google Workspace Marketplace and embed the add-on into the Google Workspace app of your choice. Requirements include:
Administrative role access to your Google Workspace account
Initial Setup: Enable the Google Workspace Add-on
1. Within the ActivTrak app, navigate to the Integrations tab, then to the Integrate page.
2. Click the "Integrate" button on the ActivTrak for Google Workspace card, as shown below.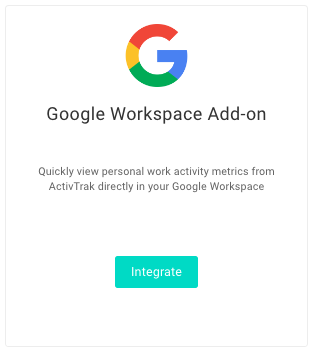 3. A popup window will appear that will prompt you to confirm the Google Workspace integration. Click 'Finish', as shown below.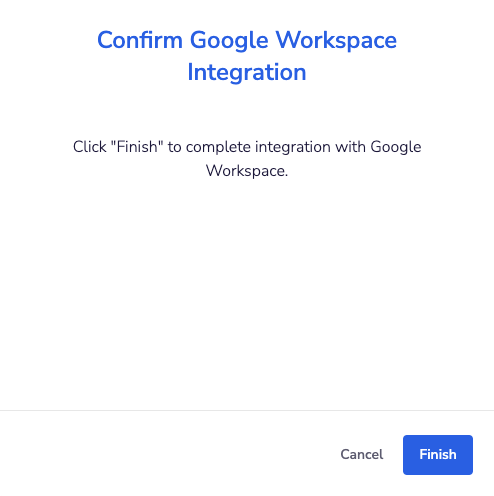 4. Follow the Google add-on installation procedures
The ActivTrak add-on will be accessible from any Google application that your company uses
Discovery & Setup via Google Workspace Marketplace
Once you install the ActivTrak for Google Workspace add-on, your users will be able to click on the ActivTrak logo located in the right nav to enable the add-on. You will then be asked to give the add-on access to your Google Workspace account, click 'Authorize Access', followed by 'Allow'.
You will see the screen below to verify that your installation was successful.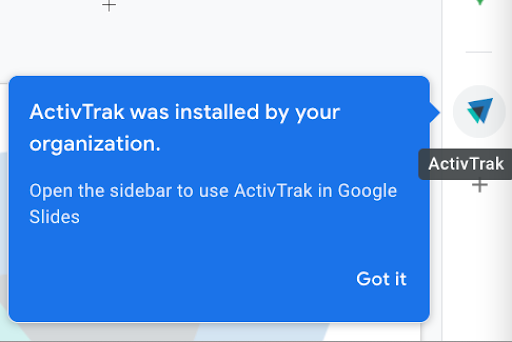 For helpful tips on using ActivTrak for Google Workspace, read this article. If you need additional help, please reach out to ActivTrak's Support team.
Was this article helpful?
2 out of 2 found this helpful