End of Sale: Screenshot Redaction
NOTE: Screenshot Redaction is currently only available to legacy accounts who have previously had screenshot redaction enabled on the account. We no longer provide screenshot redaction as an add-on option but we encourage new customers to explore the Screen Details add-on for additional insight.
What is Screenshot Redaction?
Screenshot Redaction is an Add-on Feature that sends captured screenshots through an algorithm that redacts sensitive information by category using InfoTypes. An InfoType is a type of sensitive data, such as a name, email address, telephone number, identification number, credit card number, etc. When redacted, this type of information will appear with a black line marked through it, restricting its visibility, and improving sensitive data protection.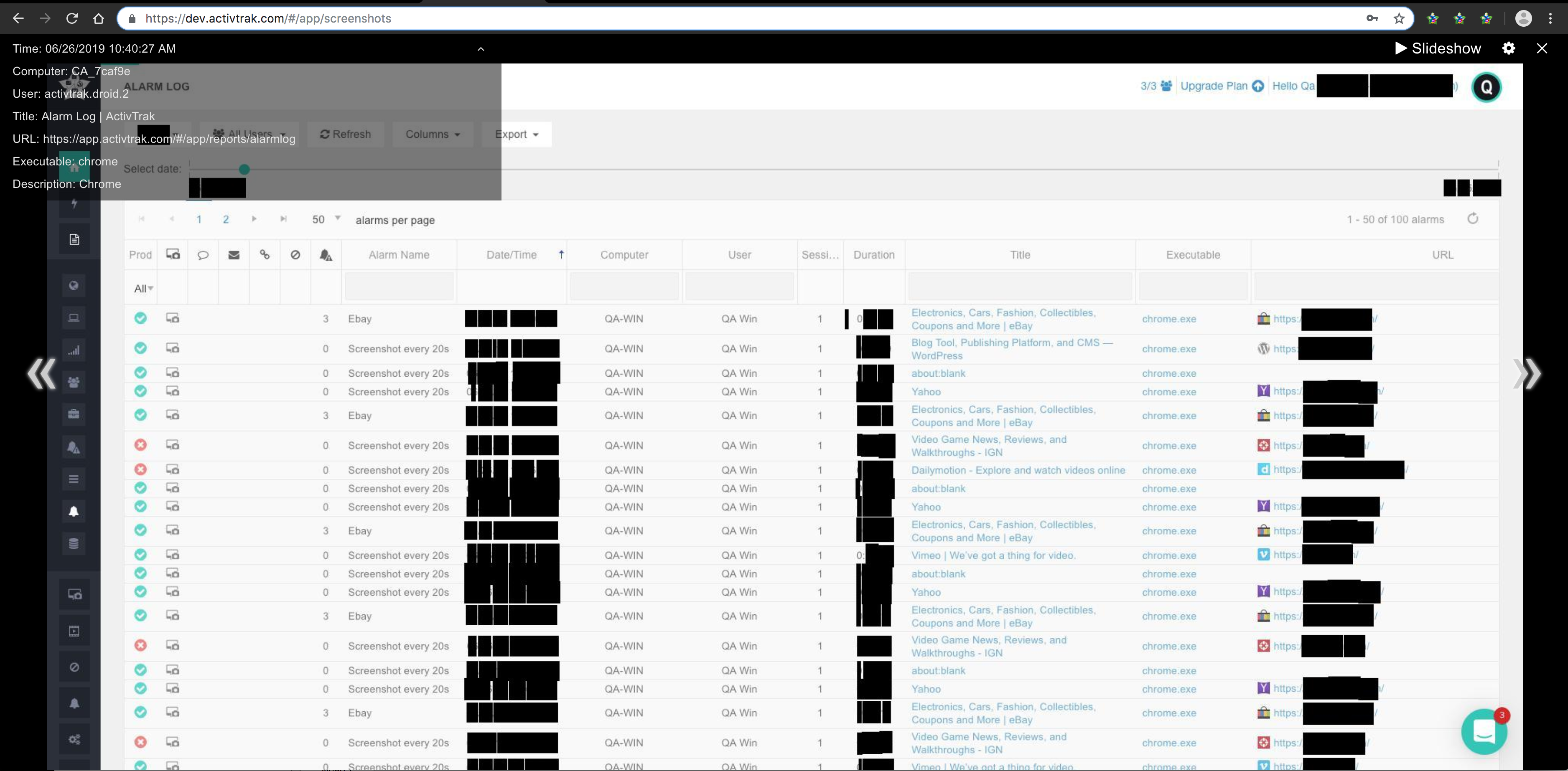 An example of a redacted screenshot, where data/time and URL have been obscured.
The Screenshot Redaction feature is customizable and can be enabled for almost any type of sensitive information you'd like hidden when a screenshot is taken.
To get started with using Screenshot Redaction, navigate to the Screenshot Redaction page within the ActivTrak app by selecting Alarms > Screenshots > Redaction. By selecting the "Edit Settings" button at the top of this page, Administrators can configure selected Global information to be redacted, as well as information specific to the United States.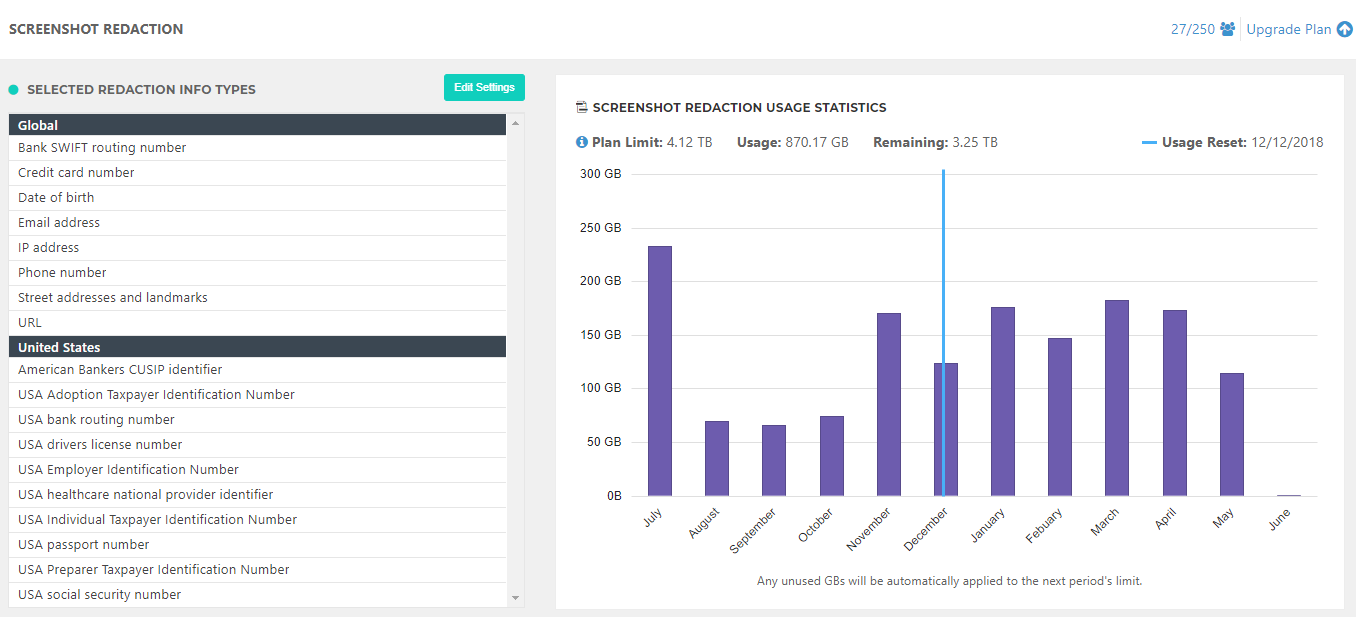 The Screenshot Redaction page within ActivTrak
Screenshot Redaction Limits
ActivTrak's screenshot redaction add-on includes a monthly limit. When the redaction usage goes over the monthly limit, alarm-triggered screenshots are no longer captured to prevent storing unredacted screenshots.
Redaction usage is driven by the number of screenshots captured as ActivTrak must redact all screenshots taken according to the preferences set by admins. To prevent disruption in the alarm-triggered screenshots feature and to avoid overage costs, admins must prevent taking unnecessary screenshots.
You can find usage statistics within The Screenshot Redaction page that allow you to track how much data processing you've used against your account's monthly storage limit. Read on to learn tips and tricks to stay under your monthly limit.
What information gets redacted?
There are several types of information that are available for redaction. Below is a list of the information types separated by the regions they are offered in. Screenshot redaction is done by using Google's API and is a great way to protect a company's sensitive information when using ActivTrak. This add-on is available to advanced plan users only. If you are currently an advanced plan customer reach out to customersuccess@activtrak.com to learn more about this feature.
Global-
advertising identifier
advertising identifier
Age of an individual
Amazon Web Services credentials
Authentication token
Azure JSON Web Token
Bank IBAN number
Bank SWIFT routing number
Common headers containing xsfr
tokensCredit card number
Credit card track number
Date of birth
Date or time
Domain name
Email address
Encryption key
Ethnic Group
Female name
First name
Gender
Generic ID
Google Cloud Platform API key
Google Cloud Platform service account credentials
HTTP basic authentication header
HTTP cookie and set-cookie headers
Human readable time (e.g. 9:54 pm)
ICD10 description match
ICD9 description match
IP address
JSON Web Token
Last name
Local MAC address
MAC address
Male name
Medical term
Organization name
Passport number
Password
Person name
Phone IMEI number
Phone number
Street address
Street addresses and landmarks
Top 100,000 most common weakly hashed passwords
URL
Vehicle identification number
The United States-
American Bankers CUSIP identifier
Medical drug names
USA Adoption Taxpayer Identification Number
USA DEA number
USA drivers license number
USA Employer Identification Number
USA healthcare national provider identifier
USA Individual Taxpayer Identification Number
USA passport number
USA Preparer Taxpayer Identification Number
USA social security number
USA state name
USA toll-free phone number
USA vehicle identification number
Argentina-
Argentina identity card number
Australia-
Australia driver's license number
Australia medicare number
Australia passport number
Australia tax file number
Belgium-
Belgium National Identity card number
Screenshot Redaction Best Practices
Some administrators think they need to take screenshots for each incident or even multiple times per incident to have a record of what happened, however, that is not typically the case.
Here are (4) best practices we recommend to avoid feature disruption and storage overages by configuring your alarms to only take the screenshots you really need.
Best Practice #1: Better leverage the Alarm and Activity Logs
The Alarm Log and Activity Log provides the traceability you may need when there is an incident, including when the incident happened and the duration of the activity. By leveraging the Alarm Log and the Activity Log, you can reduce the number of screenshots required. Learn more and take action:
Update your Alarm Log
Update your Activity Log
Best Practice #2: Avoid using screenshots for alarms without conditions
Avoid enabling the screenshot feature for alarms without conditions (e.g. any activity of more than 20 seconds). Learn more and take action:
Best Practice #3: Minimize the use of the multi-screenshot feature
Prevent using the alarm multi-screenshot feature. Instead, take one screenshot per incident and complement the incident analysis using the alarm and activity logs. Learn more and take action:
Best Practice #4: Narrow down conditions for using the multi-screenshot feature
When it's absolutely necessary to take multiple screenshots per incident, define the alarm condition for the alarm in question as narrowly as possible to prevent taking multiple screenshots in common conditions.
For example, accessing google.com is too general and would likely result in unnecessary screenshots that can risk exceeding your monthly usage limit. Additionally, controlling interval time can help control and limit unnecessary screenshots. We recommend setting a long interval between screenshots, ideally for 60 seconds or more. Learn more and take action:
By adhering to the best practices outlined above, you can implement smarter alarms to capture what you need without going over your monthly screenshot redaction limits.
NOTE: Screenshots are turned off by default.
ActivTrak employs an add-on image redaction feature to keep sensitive data captured by your account safe from anyone who may have access to your screenshots. ActivTrak will automatically detect and redact more than 40 standard pieces of information found in more than 15 countries.
The video below demonstrates how ActivTrak's screenshot redaction feature fits into compliance and privacy policies:
Learn more:
Was this article helpful?
0 out of 1 found this helpful