How to Customize Your ActivTrak App UI
ActivTrak can be used for multiple use cases across various industries. To ensure our customers are able to quickly and easily access the information most important to them, ActivTrak offers several UI customizations. Whether you want us to make recommendations or you'd prefer to manually make changes, this guide will help you tailor ActivTrak to your unique needs.
1. Complete Guided Account Setup
Admins can customize the ActivTrak app according to your organization's use cases and privacy preferences by answering a series of questions in Guided Account Setup. Based on the responses, we will determine which dashboards and reports are displayed in the left app navigation and the level of data displayed in reports. The account creator will be prompted to complete Guided Account Setup the first time they access the app. Learn more about Guided Account Setup here.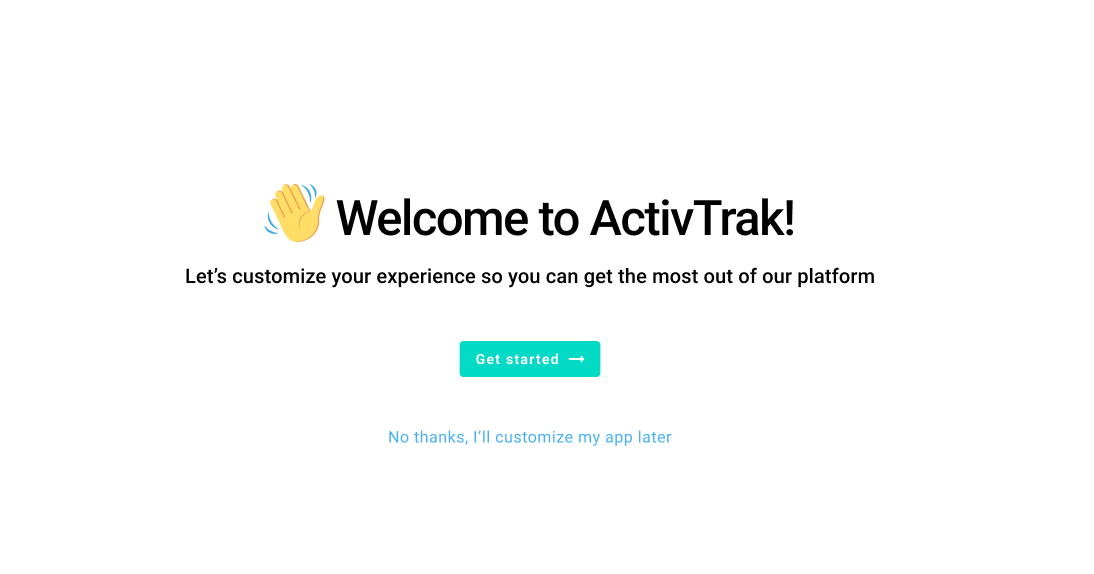 2. Configure Role Access
Admins can determine what appears in the left app navigation for other ActivTrak users based on their User Role. This makes it easy for managers and individuals to focus on the data that's important to them and gives Admins greater control over the level of employee data shared with other users.
To access this feature, navigate to Settings > Access > Role Access. You can learn more about configuring and assigning user roles here.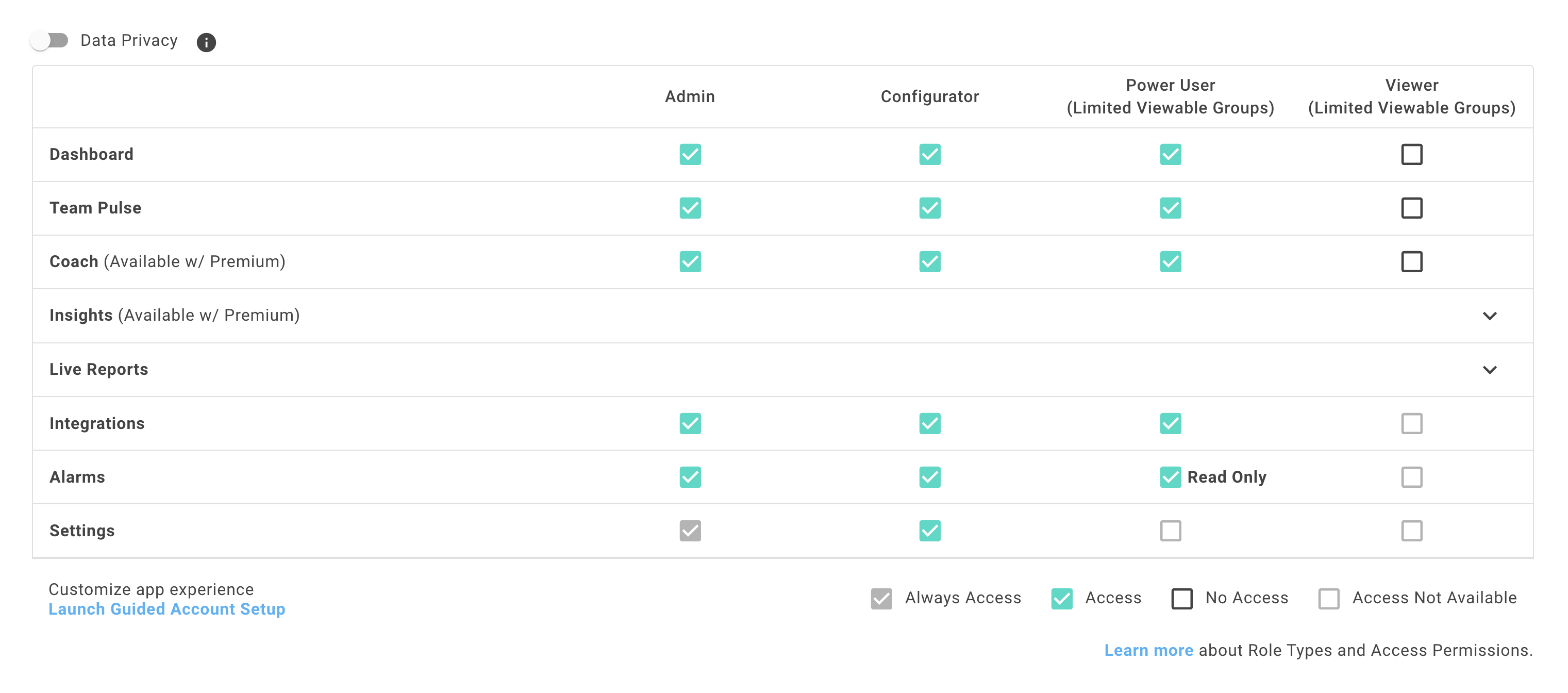 To access this feature, navigate to Settings > Access > Role Access. You can learn more about configuring and assigning user roles here.
3. Configure Your Home View
From the 'Home' tab in the left app navigation, Admins can select from two different views: the Admin Panel and the Activity Dashboard.
The Admin Panel saves your Admins time by serving as a "one-stop-shop" for all essential account configuration and management tasks and actions. NOTE: Only users designated with the Admin role can access this view. Learn more.
The Activity Dashboard displays key summaries of extensive and more detailed reports at-a-glance. Looking for a quick snapshot of your organization? The Activity Dashboard is the place to go. Learn more.
To switch between these views, click the 'View' drop-down in the upper-right corner, as shown in the screenshot below.
4. Configure ActivTrak's Landing Page
Admins can configure your account's default account landing page (home page) to the most commonly used feature or report by following these steps:
1. From the left navigation, click on Settings > Account Configuration.
2. Scroll down to Landing Page Settings, as shown in the screenshot below.
3. Select your desired landing page from the list of available options.
3. Click Save to apply your changes. Note: Default landing page changes will apply to all users on the account.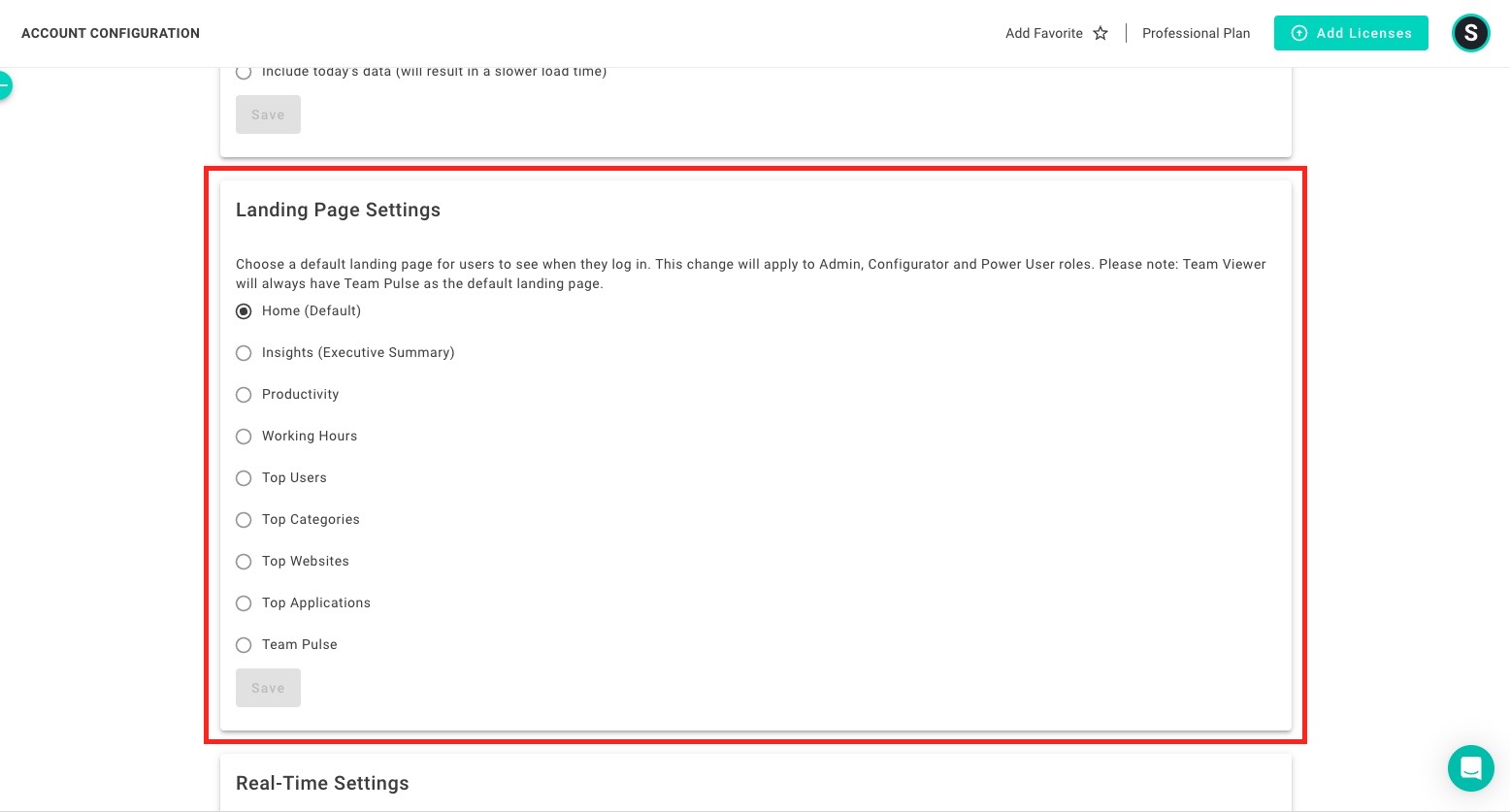 5. Create Shortcuts with Favorites
Save time accessing your most-used reports, dashboards, and pages with our Navigation Favorites feature. Favorites is a great way for all users to build out their workflows and customize their in-app experience.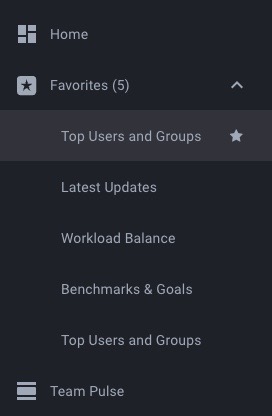 To add pages to your Favorites list, hover over the page name within the left navigation and click the star icon to the right of the page name, or click "Add Favorite" at the top of any page. You can add up to 10 pages to your Favorites.
Note: Each user can create their own Favorites list — the selections you make will not impact other users' Favorites.
Learn more:
Was this article helpful?
2 out of 4 found this helpful