Benchmarks & Goals - Team
Setting benchmarks and goals is key to understanding baselines and tracking progress to desired performance. In this report, view benchmarks and trends across your team's top quartile and average. Using the benchmarks as a guide, set team-specific goals for Productive Time, Focused Time, and Collaboration Time.
Individuals can see how their productivity, focus, and collaboration habits compare to their team's benchmarks in the Personal Insights dashboard.
For help setting goals in Insights, read these step-by-step instructions.
| | |
| --- | --- |
| Key Questions: | Considerations |
| How is my team performing on average? What's the difference between my top-quartile group's behavior and the average behavior? | It's helpful to leverage the performance of the top quartile as a means to guiding the team's behavior. Consider using these numbers as a stretch goal in the future, guiding the goals in the interim in increments if that delta between the top-quartile and the average is large. |

A. Report Configuration & Goal-Setting
Metric Filter

: The Benchmarks & Goals - Team report shows data on Productive Hrs / Day, Focused Hrs / Day, or Collaboration Hrs / Day, depending on the filter selection.

Goal

: Enter a numerical value (in hours) to set a goal for the metric and team selected. The value entered here will be reflected in the Benchmarks & Goals - Team report as well as all other Insights dashboards that display progress against goals.

External Benchmarks

: This button links to our Benchmarks Guide, which contains aggregate data for the ActivTrak customer base to provide context when setting goals. Data is segmented into lower quartile, upper quartile, and median values for productive time, collaboration time, and focus time.

B. Team's Top Quartile Average
Team's Top Quartile Average

: This section shows average productivity/focus/collaboration behaviors (depending on the Metric filter selection) for the top quartile of your team over the last day, week, 4 weeks, and 12 weeks.
Productivity Lab Tip
Understand that while some employees may be averaging these numbers, 75% of your selected team is not. These numbers are often best to understand potential stretch goals or top of ranges.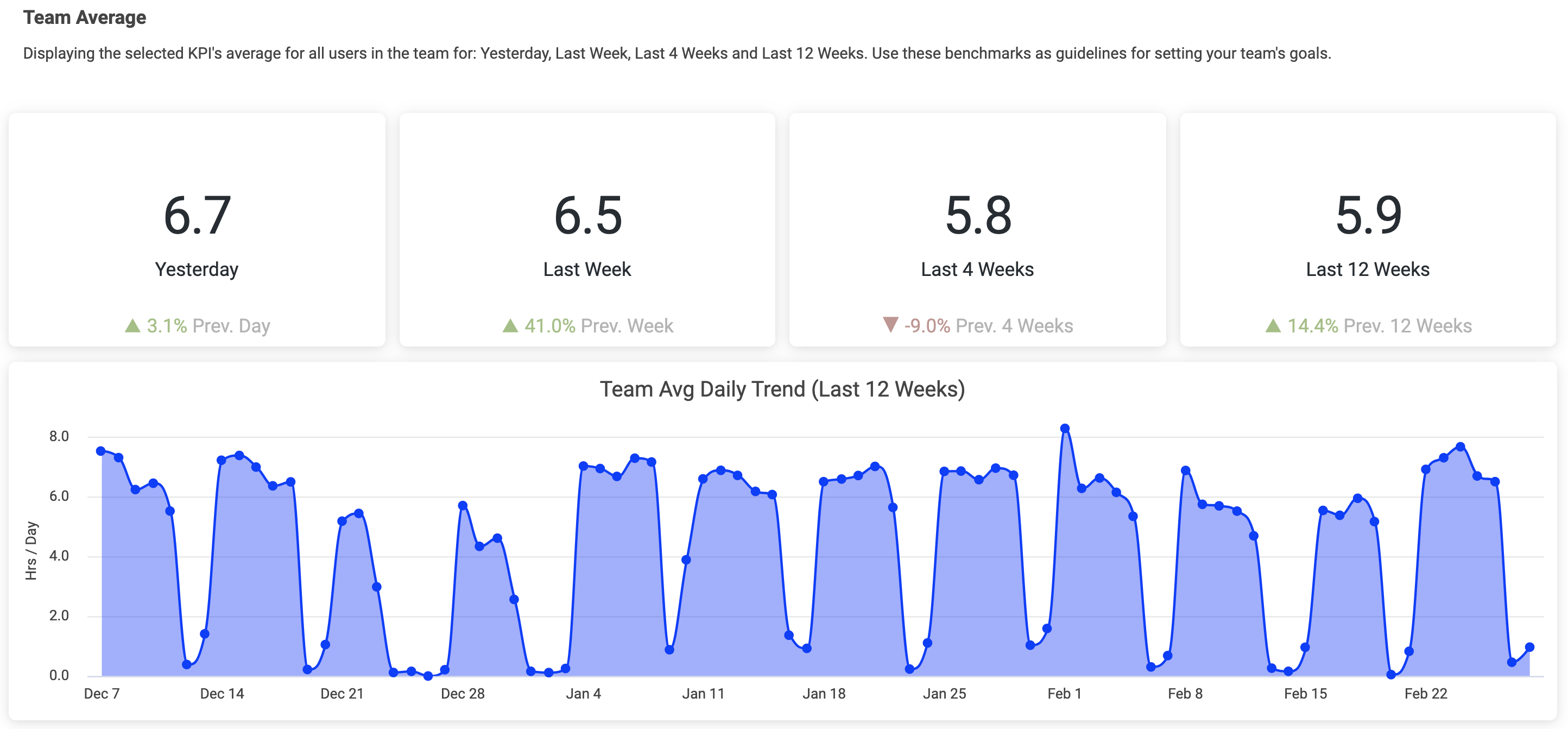 C. Team Average
Team Average

:

The team average is an indicator of current baseline numbers for productivity/focus/collaboration behaviors (depending on the Metric filter selection) across the team over time.

Team Average Daily Trend (Last 12 Weeks)

:

Reference this graph to track changes in team productivity/focus/collaboration over the previous 12 weeks.
Learn more about the different metrics in Insights by accessing our data glossary.
Was this article helpful?
0 out of 0 found this helpful