User Roles & Permissions in ActivTrak
By default, the email used to create your ActivTrak account will be assigned an Admin role.
Admins can invite new users into your ActivTrak account and must assign user roles to each to determine app access and permissions.
Each user role comes with a default set of permissions that can be customized. It's important to configure your account user roles appropriately to maintain employee privacy and limit access to account settings.
As access needs change, Admins can update user role assignments accordingly.
Learn about:
The Four User Roles in ActivTrak
There are four user roles within your ActivTrak account:
Admin

Configurator

Power User

Viewer
While you can configure and assign these roles to meet your organization's unique needs, the information below provides an overview of the default permissions of each as well as guidelines to help you determine the appropriate role for various users of your account.
1. Admin
Admins administer your entire ActivTrak account without necessarily consuming its data and insights.
Best for: IT or other trusted account owner
Key function(s):

Oversee and manage the entire ActivTrak account, invite and remove users, assign user roles, manage groups, configure settings, manage alarms and classify activities.

Limitations:

None
2. Configurator
The Configurator role is ideal for team managers who need the ability to create and manage groups that map to their teams, assign activity classifications (productive, unproductive, collaborative), and access workforce insights to improve outcomes.
Best for:

Mid-level & frontline managers

Key function(s):

V

iew data for all users and groups, create and manage groups, and manage activity classification and alarms.

Limitations: Unable to provide app access to new users, assign or change user roles, install or delete Agents, or upgrade/add licenses to the account.
3. Power User
The Power User role is ideal for team managers and executives who need insight into team-wide or organization-wide productivity and work habits but do not need to configure groups or account settings.
Best for: Mid-level managers, executives and analytics teams
Key function(s): V

iew data for themselves and team members at a high level with the ability to drill down into specific activities.

Limitations:

Unable to

see the data of users on other teams, manage users or groups or manage any account settings.
4. Viewer
The Viewer role is ideal for individual contributors who can benefit from understanding their own work habits (and those of their teammates) as well as assess progress toward goals.
Best for: Individual contributors
Key function(s):

Can view

high-level data for themselves and team members.

Limitations:

Cannot

drill down into the details of activities or access any account settings.
Default User Role Settings
*Limited to a user's viewable groups
Customizing user roles & permissions
Before inviting new users to your account, it's important to ensure that each user role allows the appropriate level of access based on your organization's unique needs.
To view and configure the permissions assigned to each role, Admins can visit the Role Access page (Settings > Access > Role Access).
From here, they can customize permissions for each role.
To grant access: Select individual dashboards and features. A green checkmark will appear, confirming your selection(s).
To remove access: Deselect individual dashboards and features. An empty checkbox will appear.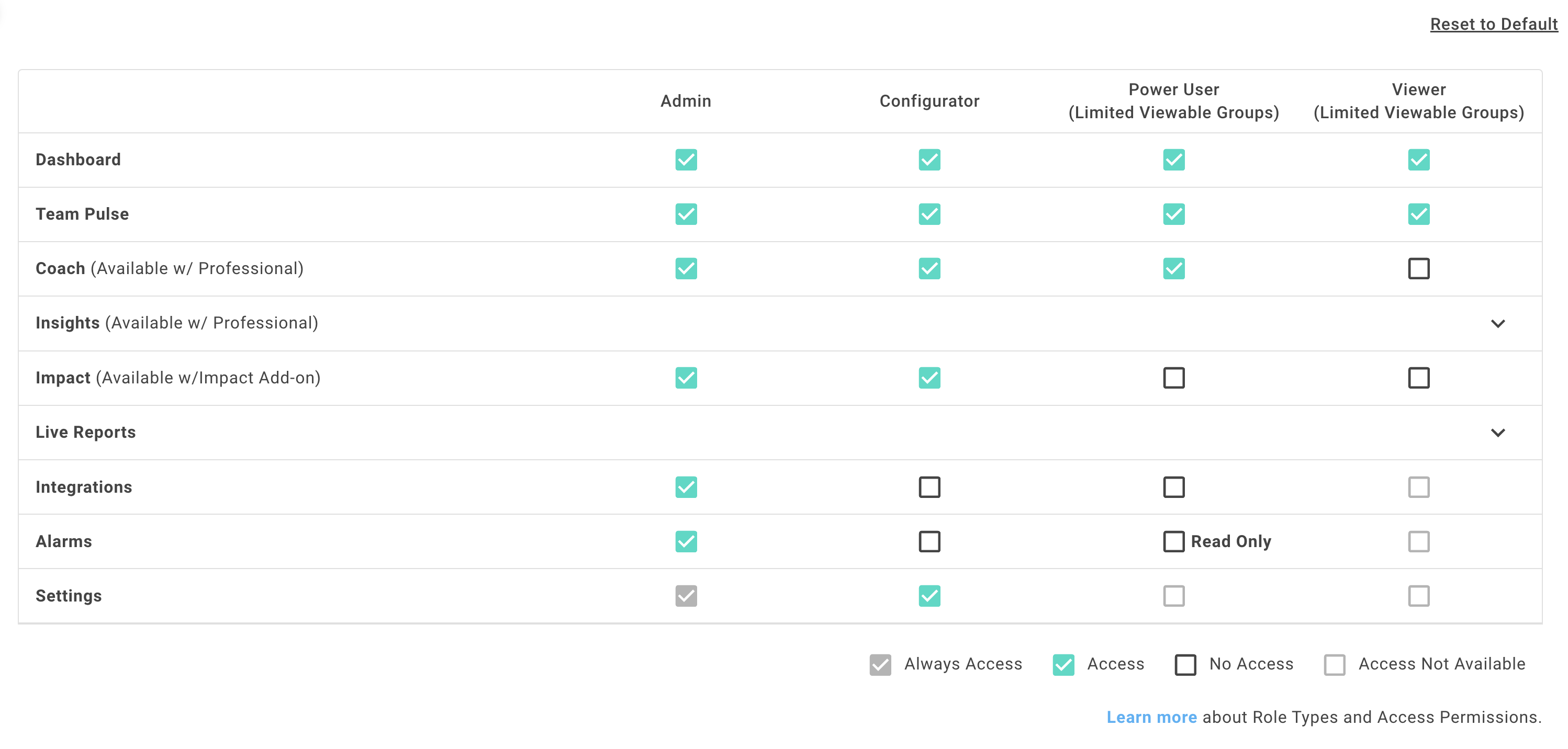 The Role Access page in ActivTrak
Changes made to user role permissions will immediately take effect for all users assigned to a given role as well as users you invite to the account going forward. If a user is logged into the ActivTrak app when role access settings are changed, the new settings will not be reflected until the user's next log in.
Note: Any Role Access configuration changes made to the 'Admin' role will apply to all Admins on an account, and changes made via Role Access won't be reflected until each Admin logs out and back in. Any report or feature that is blocked for a particular role will not appear in the app navigation or in the Dashboard (if applicable). For example, if Team Pulse is blocked for the Power User role, Power Users will not see the Team Pulse tab in the navigation, nor will they see the Team Pulse widget in the Activity Dashboard.
Note: While Power Users and Viewers will have access to any pages you choose, the dashboards and reports they view will only display data for their Viewable Groups.
Some default settings cannot be overwritten:
Configurators can only be given limited access to Settings. Selecting the '

Settings

' checkbox for the Configurator role enables access to the following tabs:

Classification

Access > ActivTrak Profile, Weekly Digest

Users & Groups > Groups

Blocking

Scheduling

Time Zone

Power Users & Viewers cannot be given access to Settings.

Viewers cannot be given the ability to export data.

Alarms access is limited to Read-Only for Power Users, and cannot be given to Viewers
NOTE: If you make changes and wish to revert back to the default settings of each user role, click 'Reset to Default' in the upper right-hand corner of the Role Access page. (See the Default user role settings matrix for a detailed breakdown of the default settings of each role).
Date filter options
If you scroll down further on the Role Access page, you will find the Date Filter Options table. Here, you can select the date filters available to users when filtering reports. Available options include:
One Day

One Week

One Month

One Year

Custom Range
Limiting filter options to shorter timeframes ensures faster load times.

The Date Filter Options table in the Role Access page
To invite and manage users, visit the App Access page (Settings > Access > App Access).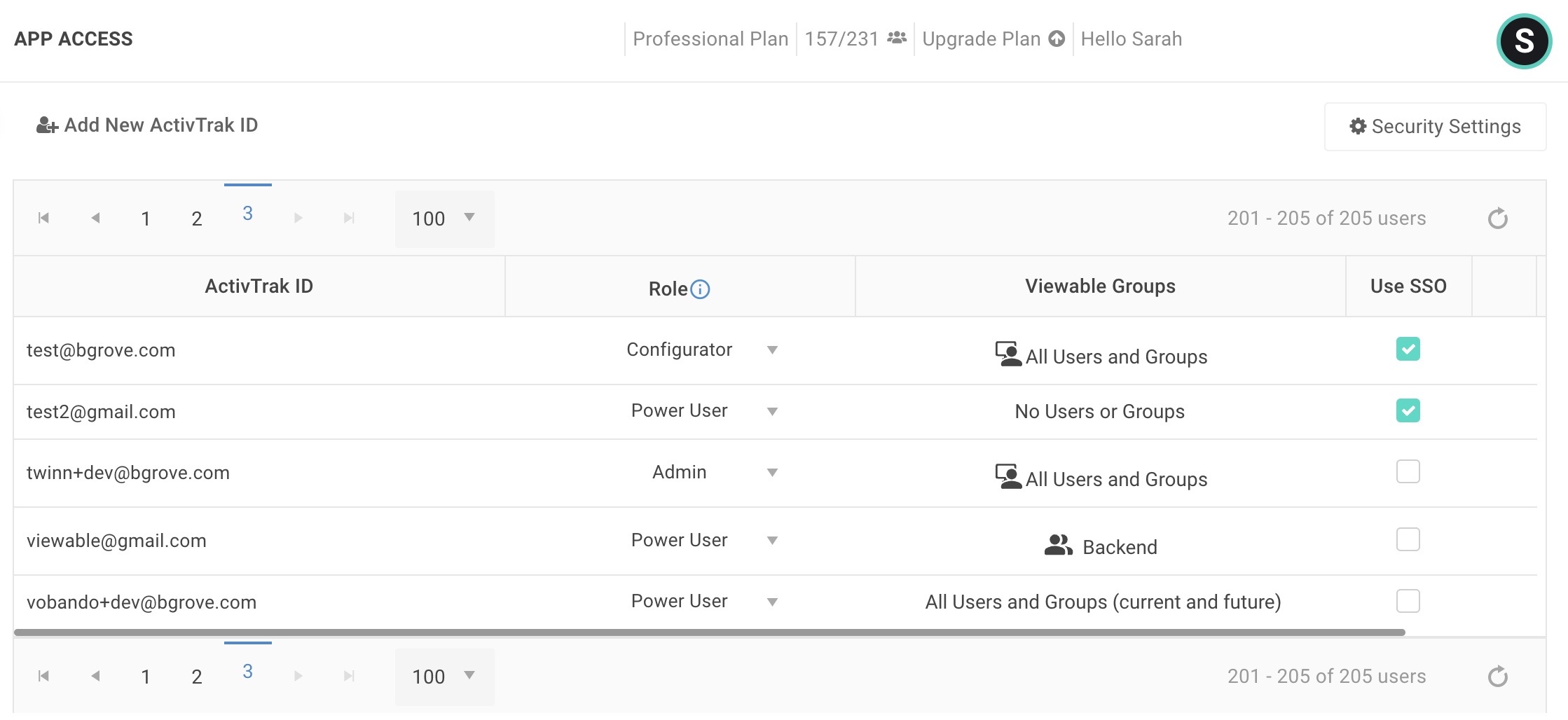 The App Access page
Here, Admins can:
Invite new users to the account

Assign user roles for new users

Change user roles for existing users

View and assign viewable groups (the groups whose data a user can see)

Delete users

Change users' passwords
Invite a new user
Click 'Add New ActivTrak ID' in the upper left-hand corner of the App Access page to invite a new user to your account. Enter the user's name and email address, then select the user role you want to assign to that user from the dropdown options in the "Role" column. You can also change a user role at any time by selecting a new option here.
View and assign viewable groups
To view or assign Viewable Groups, find a user's name in the App Access table and click the value that appears under 'Viewable Groups' in that row. Then select the groups that the user can view and/or set goals for (as shown in the screenshot below). Note: Goal-setting only applies to accounts with Insights enabled).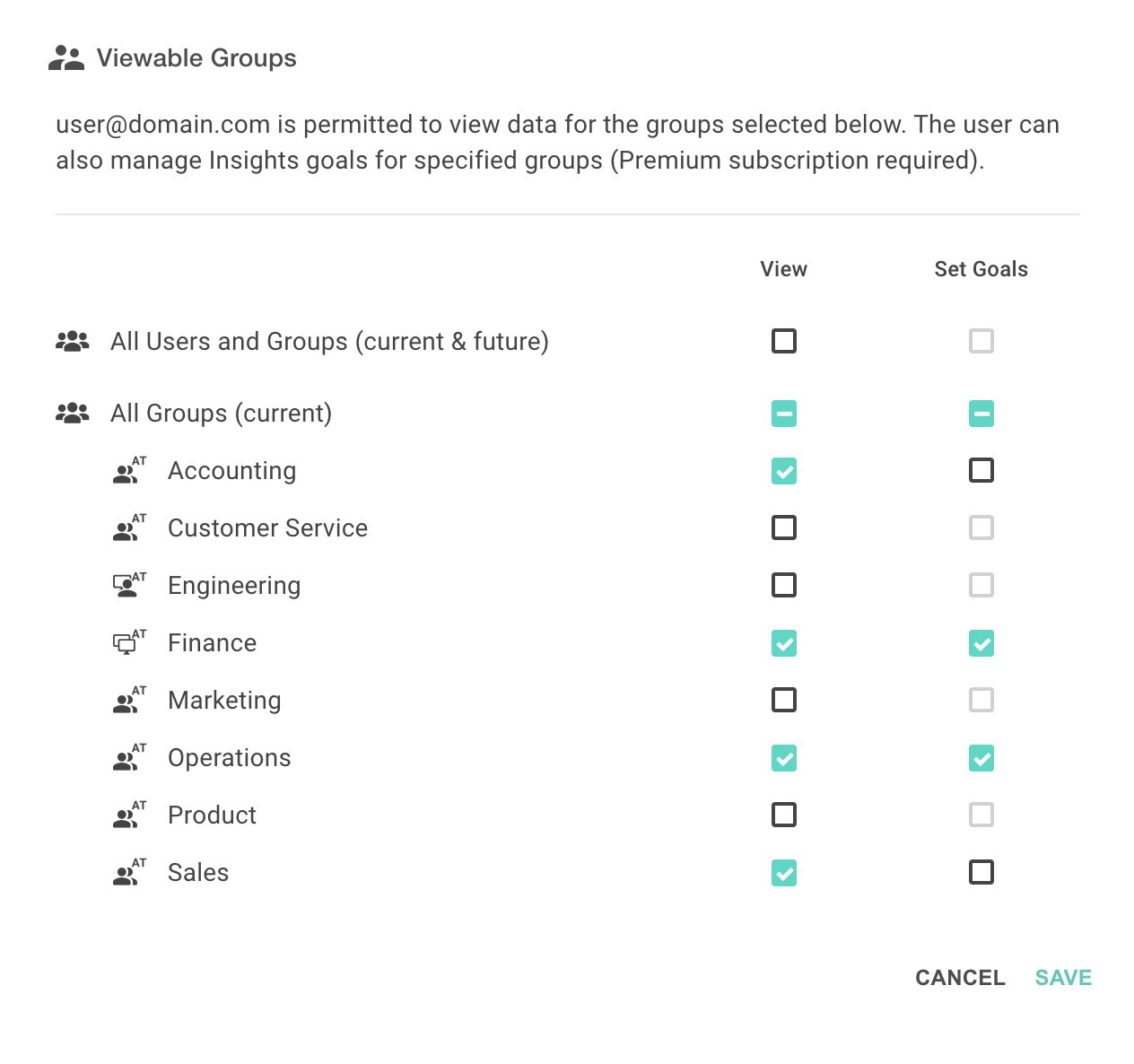 Viewable groups configuration
While Admins and Configurators can view data for all groups by default, Power Users and Viewers can only see their Viewable Groups' data.
Selecting All Users and Groups (current & future) gives a user access to all existing groups as well as groups created at a later date.
Note: Users assigned a Power User or Viewer role will not see data populated in the account until they have been assigned at least one Viewable Group. For information on creating and managing Groups, click here
Delete users or change a user's password
To delete a user or change a user's password, click the 3 dot menu in the far-right column of the row corresponding to a user.

Select "Delete" to delete the user. Select "Change Password" to change a user's password.
Note: You must enter a user's current password in order to change it.
Learn More:
Was this article helpful?
17 out of 27 found this helpful