ActivTrak for Microsoft Power BI: Setup Guide
ActivConnect Overview
ActivConnect is a powerful cloud based data warehouse that provides customers direct access to their ActivTrak user behavioral activity data for querying and connecting with other business tools. Embed ActivTrak workforce productivity data via pre-built starter templates within Microsoft Teams chat or team channels. Create personalized reports with business intelligence data visualization tools (e.g. Tableau, PowerBI, Google Data Studio, etc.). Perform any query needed — all from the simple query interface of Google's BigQuery.
ActivConnect is available to customers on the ActivTrak Advanced and Premium Plans as an add-on (contact Sales for more details) and ships with a whole host of pre-built starter dashboards and reporting templates for Microsoft Power BI, Tableau &/or Google Data Studio or you can create your own. Quickly generate detailed reports for your platform of choice in the areas of Activity & Application Usage, Productivity.
Requirements
This is a step by step guide on how to set up the ActivTrak reporting template with Microsoft Power BI. To begin, it is important that any user who publishes and those who intend to interact with any of the dashboards in Power BI have a valid Power BI license. Specifically, the following requirements need to be met:
Users have an

ActivTrak Advanced or Premium license

and the

ActivTrak ActivConnect add-on

Users who need access to the published content will need permissions to access the workspace or the published report

Power BI Pro license

for content publishers and viewers or the report is contained in a

Power BI Premium capacity

(EM or P SKU)

with a Power BI license

Users have signed into the Power BI service to activate their Power BI license
Note: Microsoft offers different Power BI plans. Below are some options to consider. However, it is recommended to contact your Microsoft representative to discuss your organization's specific needs.
Initial Setup
Prerequisite: You will need the Google Cloud account provided by ActivTrak Support to access your ActivConnect instance.
Follow the steps below to configure ActivTrak's Power BI App from the Microsoft AppSource marketplace.
Connect to Google BigQuery:

Required for new customers and to validate access to ActivConnect

.
Go to the URL provided by the ActivConnect set up team

Enter your [accountnumber]@activtrak.us email address

Enter your temporary password (you will be prompted to change it)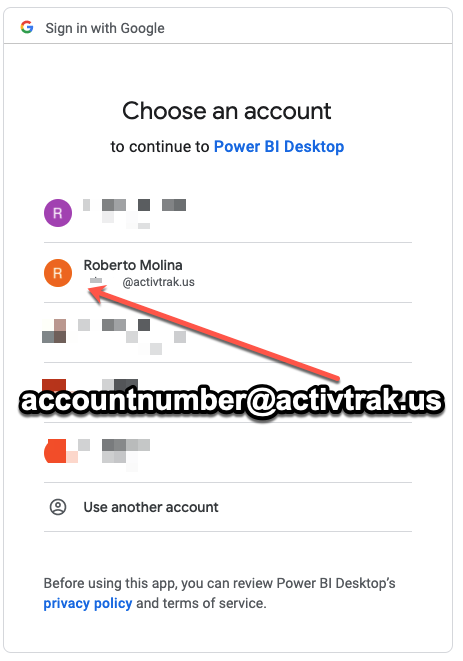 Importing your data in Power BI app:
Once you have completed the above steps on your Google Cloud Console, Navigate to https://appsource.microsoft.com and search for ActivTrak in the search bar. The ActivTrak for Power BI app should appear on the list of suggested apps. You can also click a direct link for the Advanced or Premium app listings.

Click Get it now, follow the prompts and click Install.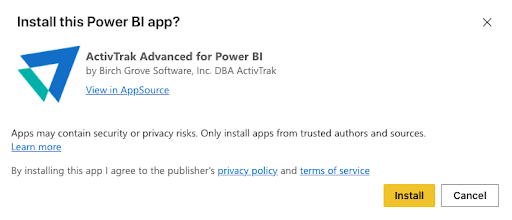 The app will load with sample data. Click

Connect your data

to configure the app with your ActivConnect dataset.

Enter the parameters relevant to your account. See

image C

for examples on where to find this information.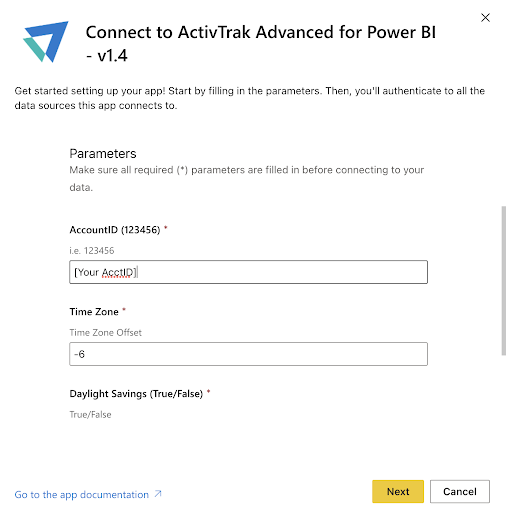 Default parameters:

Dataset Name

: (ActivTrak Account ID) Numbers only.
For other parameters:

Timezone

: Enter your relevant UTC timezone. (Numbers only. Eg: -6 is Central Time)

Daylight Savings

: This is 'False' or 'True' depending on if your location observes daylight saving time.




True

= Daylight Savings Enable

False

= Daylight Savings Disabled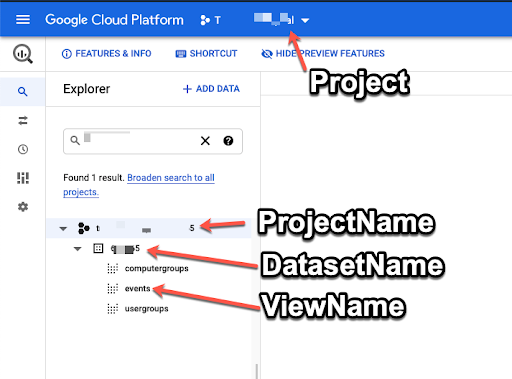 Final Step: Once you are done with the configuration parameters: click Sign in and Connect. You will be required to login with your ActivConnect account as mentioned on step 1 of the initial setup. Follow the prompts to authenticate into your ActivConnect account and select Allow when asked. Once you sign in, your data will be loaded, this could take several minutes to complete.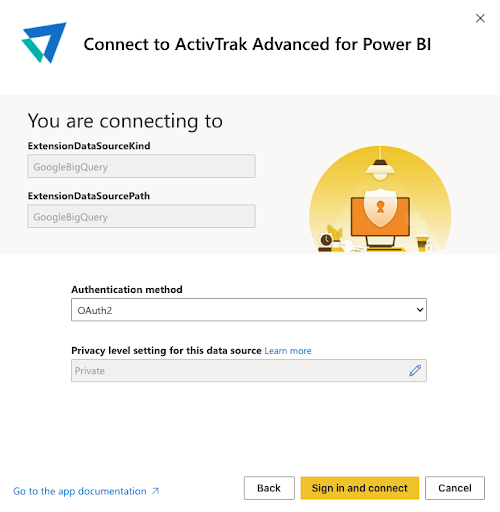 NOTE: If you would like to download the template for use in Power BI Desktop, you can do the following.
Open your Power BI Report
Go to "File" > "Download the .pbix file"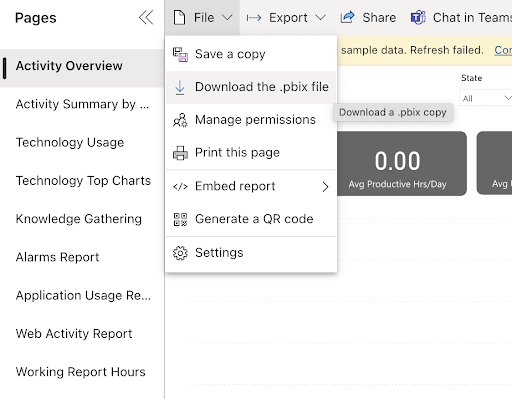 Add ActivTrak Power BI reports to MS Teams
In the main screen of the desired Team, on the upper header within the "General" section, you will have options such as "Posts" "Files" and "Wiki." Next to "Wiki," click the "+" sign.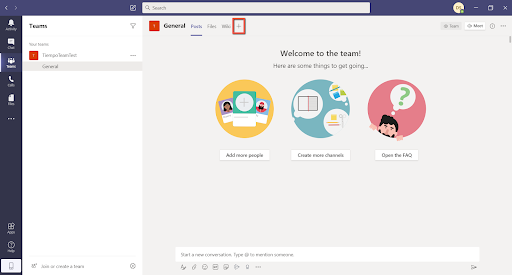 From the pop up, you can either 1) search for Power BI or 2) directly click on the icon displayed.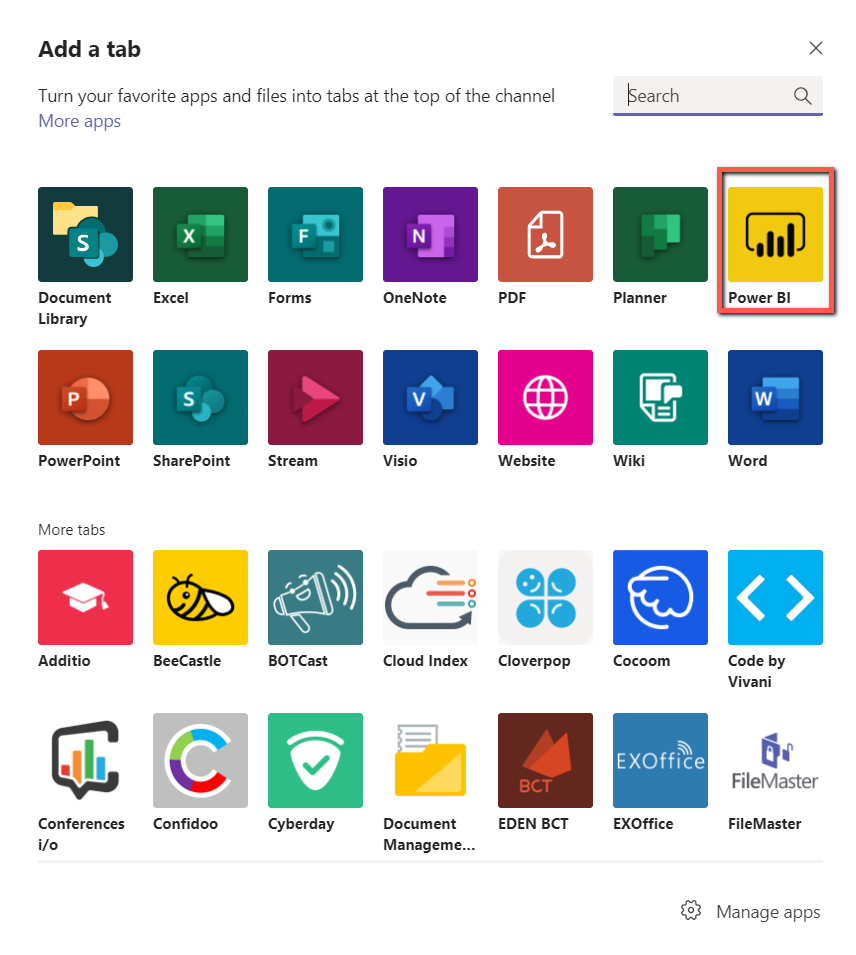 Once you click on the

Power BI

icon in the above

MS Teams

tab section, a pop up should appear showing you all the reports available under your different workspaces.

Select the report related to your ActivTrak setup.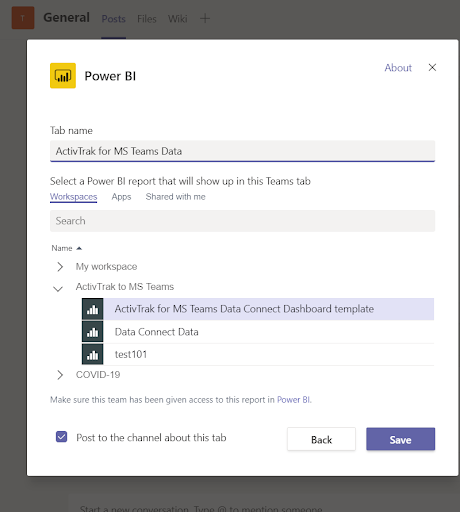 MS Teams will take you back to the main screen and now a new tab with the ActivTrak Power BI dashboard will be added to the group chat. Here, you can collaborate, share and discuss productivity metrics with your team.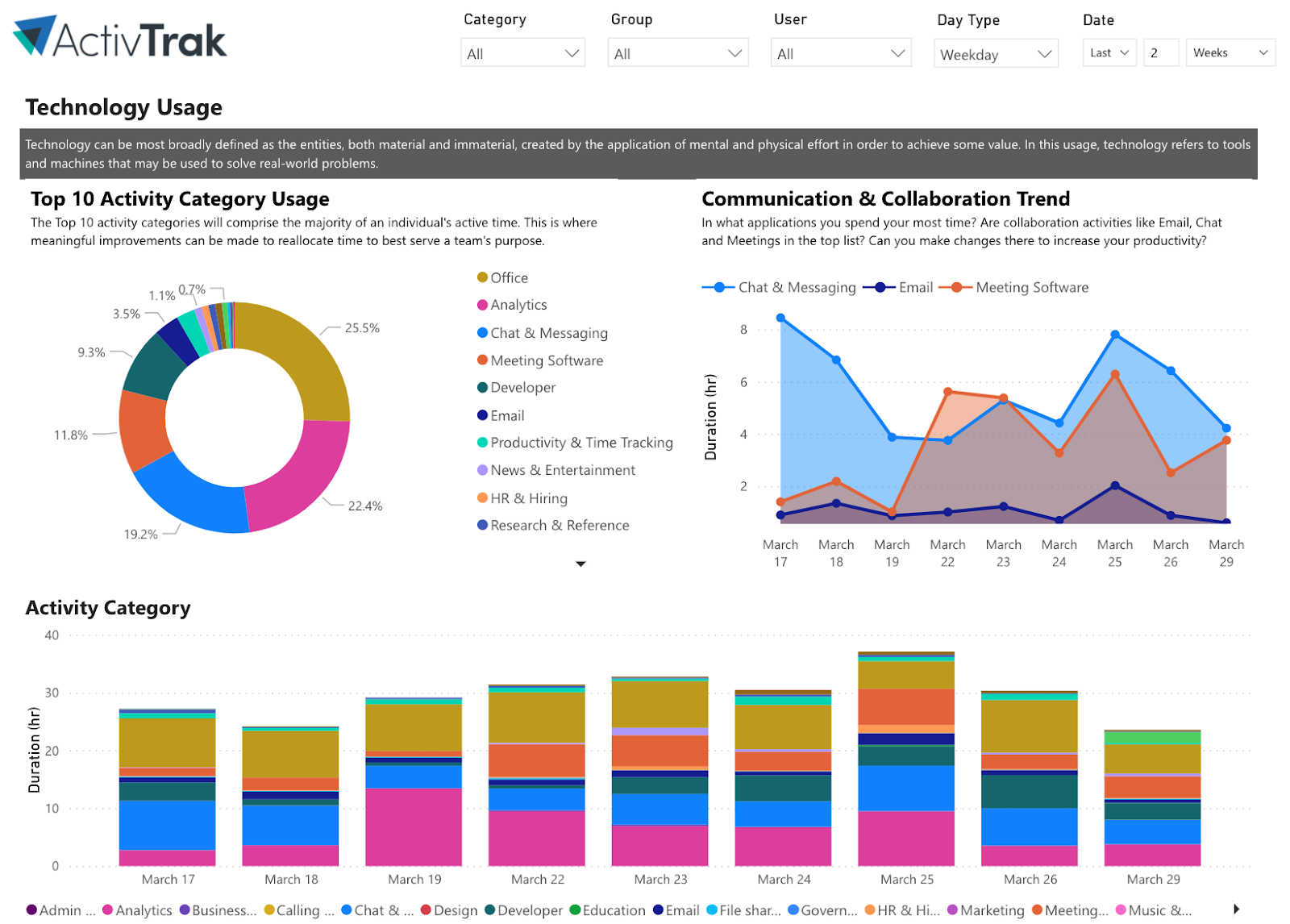 Was this article helpful?
1 out of 1 found this helpful