ActivTrak Coach Release Notes
We are excited to introduce ActivTrak Coach — an evolution in workforce analytics that helps managers translate data into action. With data-driven insights and personalized recommendations in simple language, managers can drive measurable improvement and ensure well-being across their teams.
ActivTrak Coach is designed to help managers become more effective coaches, enabling them to:
Identify and validate potential issues — like burnout risk, waning productivity, or inefficient workflows — before they become serious problems

Increase team productivity, drive employee engagement, and promote healthier work habits

Drive collaborative discussions with team members

Assess the impact of coaching on team member work habits

Stay on top of emerging trends via weekly emails
The new Coaching section in the app displays Coaching Opportunities — trends in team members' work activities that suggest an employee could benefit from manager guidance — along with actionable guidance to address employees' specific challenges.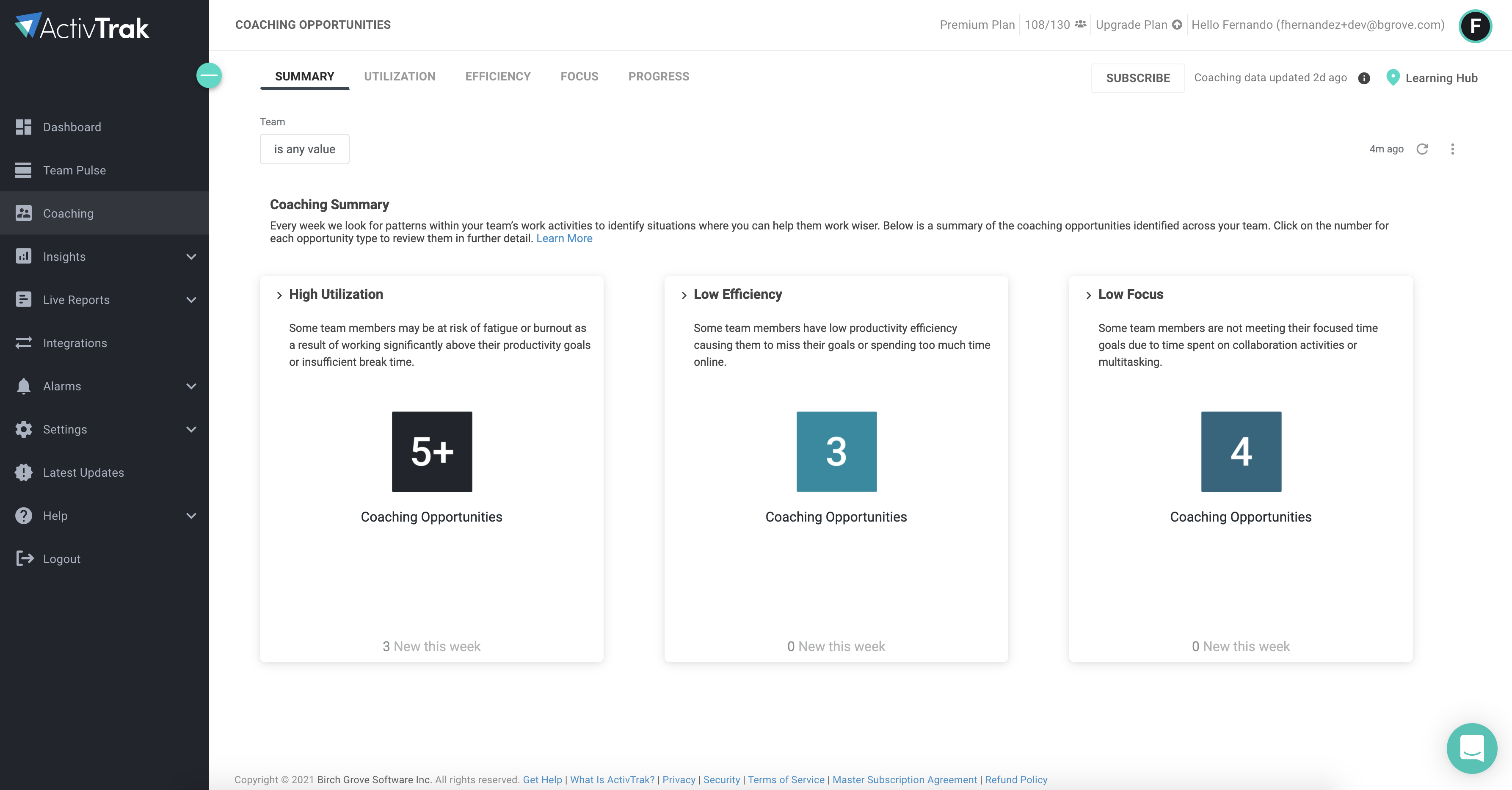 The Summary tab of the Coaching page shows the number of opportunities your team has in three categories. Drill down into each category to see which team members have Coaching Opportunities and more detail on the work habits that may need to be addressed.
Utilization:

Review detail on overutilized team members, along with Coaching Advice — specific actions a manager can take to help their team maintain healthy work habits and avoid burnout.

Efficiency:

Analyze detail on team members who may have an opportunity to gain back personal time by working more efficiently. Get guidance on how managers can remove common efficiency blockers.

Focus: Understand which team members are not meeting their Focus goals and have lower-than-recommended Focus Efficiency. Leverage recommendations to help reduce distractions and streamline processes.
The Progress tab shows trends in team member work habits to help managers assess whether their coaching is leading to improved behaviors and outcomes.

Coaching Opportunities are refreshed each week. When new opportunities are available for review, a notification will appear next to the Coaching tab within the app navigation. Managers can also create email subscriptions for Coaching dashboards to easily keep up with areas that need attention and track team member progress.
Learn more:
Was this article helpful?
1 out of 1 found this helpful