Creating and Managing Insights Email Subscriptions
ActivTrak's Insights dashboards help you make collaborative, data-driven decisions that improve business outcomes. Email Subscriptions make it easier to stay on top of updates as well as share Insights reports with your team to:
Align on and measure progress toward goals

Identify productivity blockers and appropriate actions to remove them

Have more productive coaching conversations

Optimize work schedules based on personal and team habits
Self-subscribe to Insights Reports
Application users can self-subscribe to Insights Dashboards and Coaching Opportunities to receive regular updates on a daily, weekly, or monthly basis.
Navigate to the dashboard or Coach tab that you want to subscribe to, and click the "Subscribe" button in the top-right corner. Then select your preferred delivery schedule and report format (PDF attachment or embedded png image).
You also have the option to include a personalized message in the email, as well as a link to open the report directly in the ActivTrak application.
Note: Email subscriptions will reflect the dashboard filter selections at the time the subscription was created (Activity Date, Day Type, etc.). When editing a subscription, you can expand the 'Filters' section to see the active filters. To change the filters used in a subscription, you must delete the subscription and create a new one with the desired filter selections.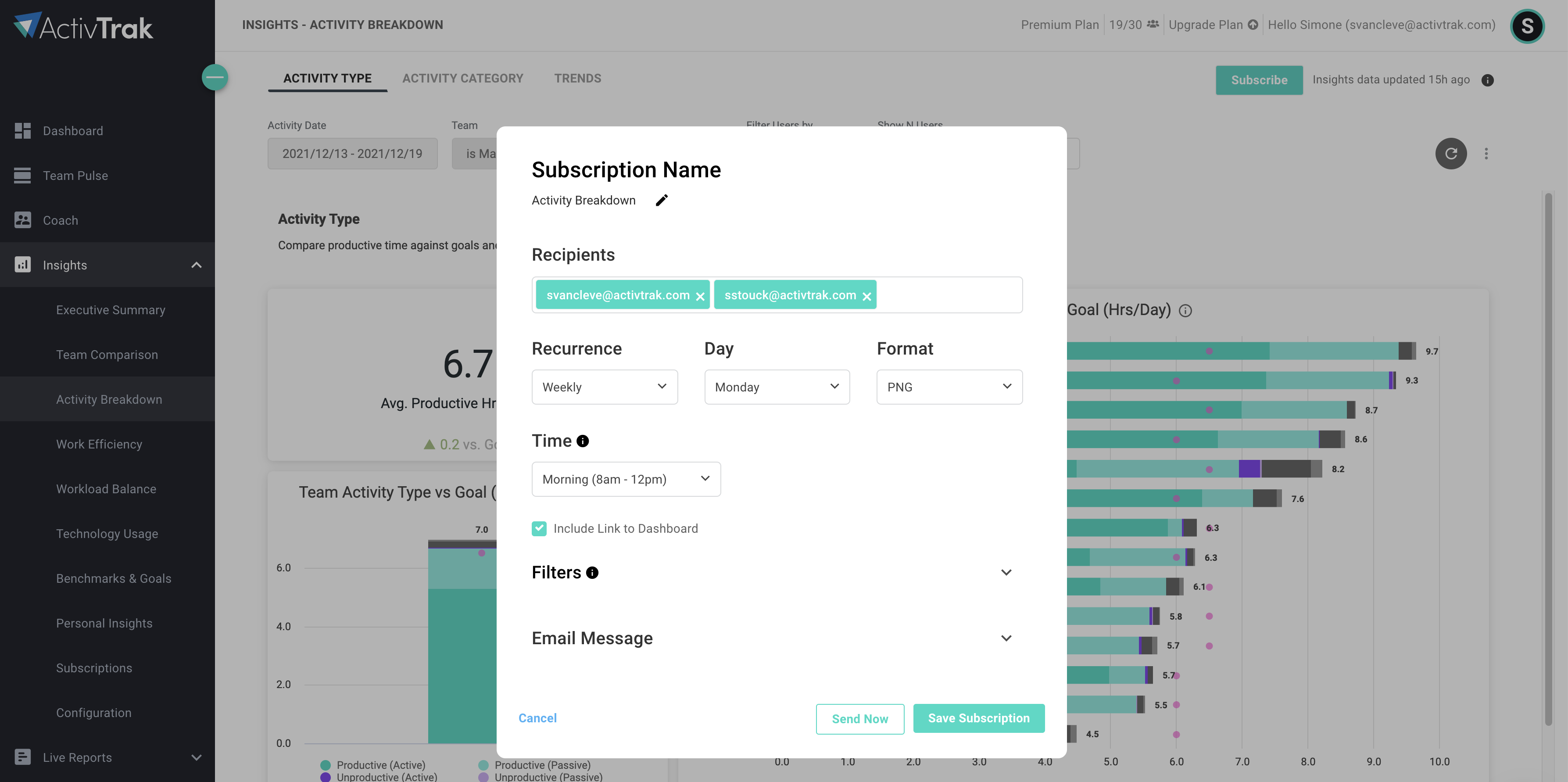 Dashboards can also be emailed on an immediate, one-time basis by clicking the 'Send Now' button when creating a new subscription or editing an existing one.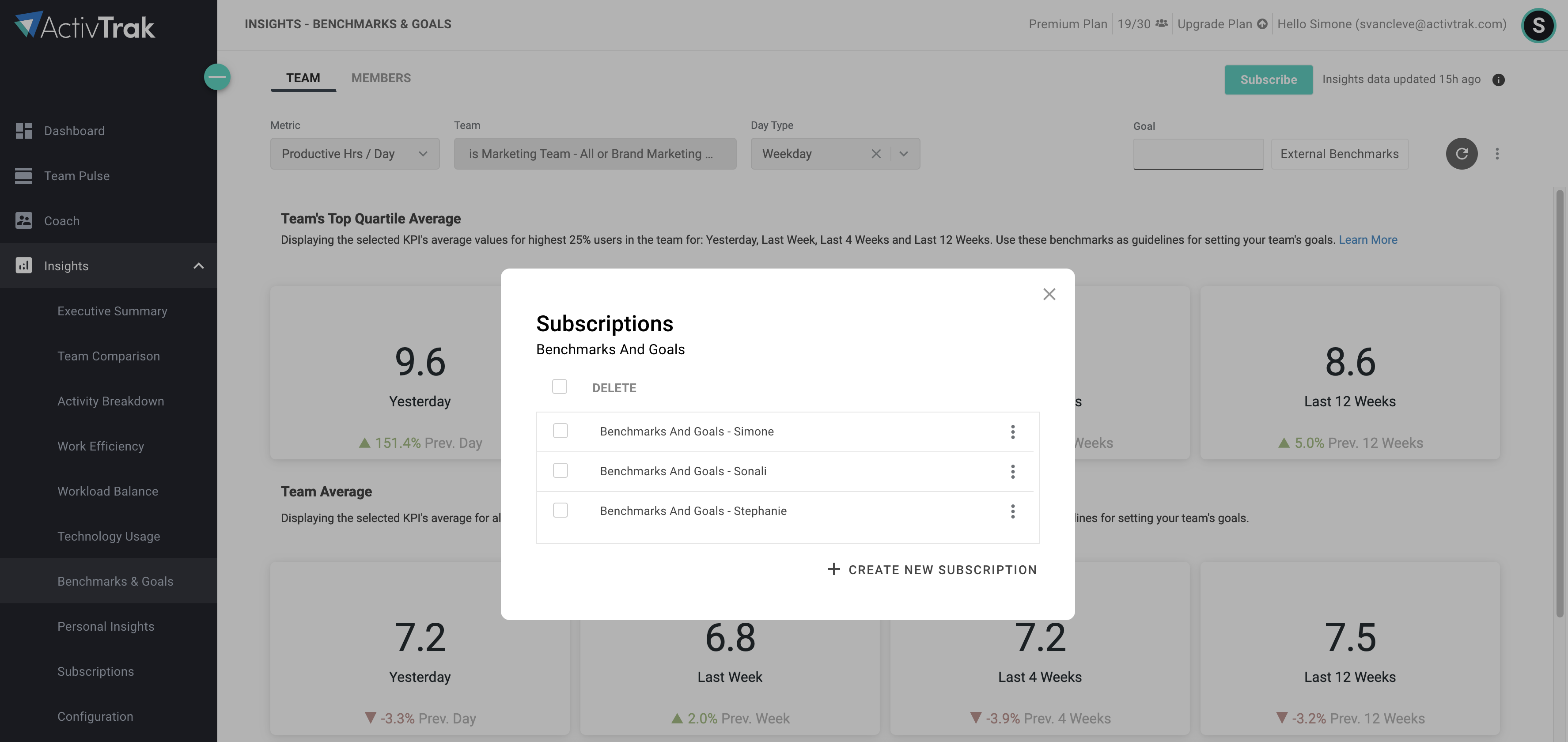 Subscribe others to
Insights Reports
Subscribe other ActivTrak users to Insights Dashboards and Coaching Opportunities to keep teams aligned and foster a culture of transparency and collaboration. After clicking the 'Subscribe' button on the dashboard you are creating a subscription for, start typing the email address of the app user you want to subscribe, and the email will auto-populate. Multiple users can be added to one subscription, so everyone receives insights on the same cadence.
Note
An Admin must enable the account-level sharing setting in order for app users to create email subscriptions for other users. From the navigation menu, select Insights > Configuration > Subscriptions. Switch on the toggle for 'Allow Users to share Personal Insights with direct reports or subscribe other application users.' This setting is not enabled by default.

This functionality is not available for Personal Insights dashboards, as t

his data is only intended to be shared one-to-one with the associated user.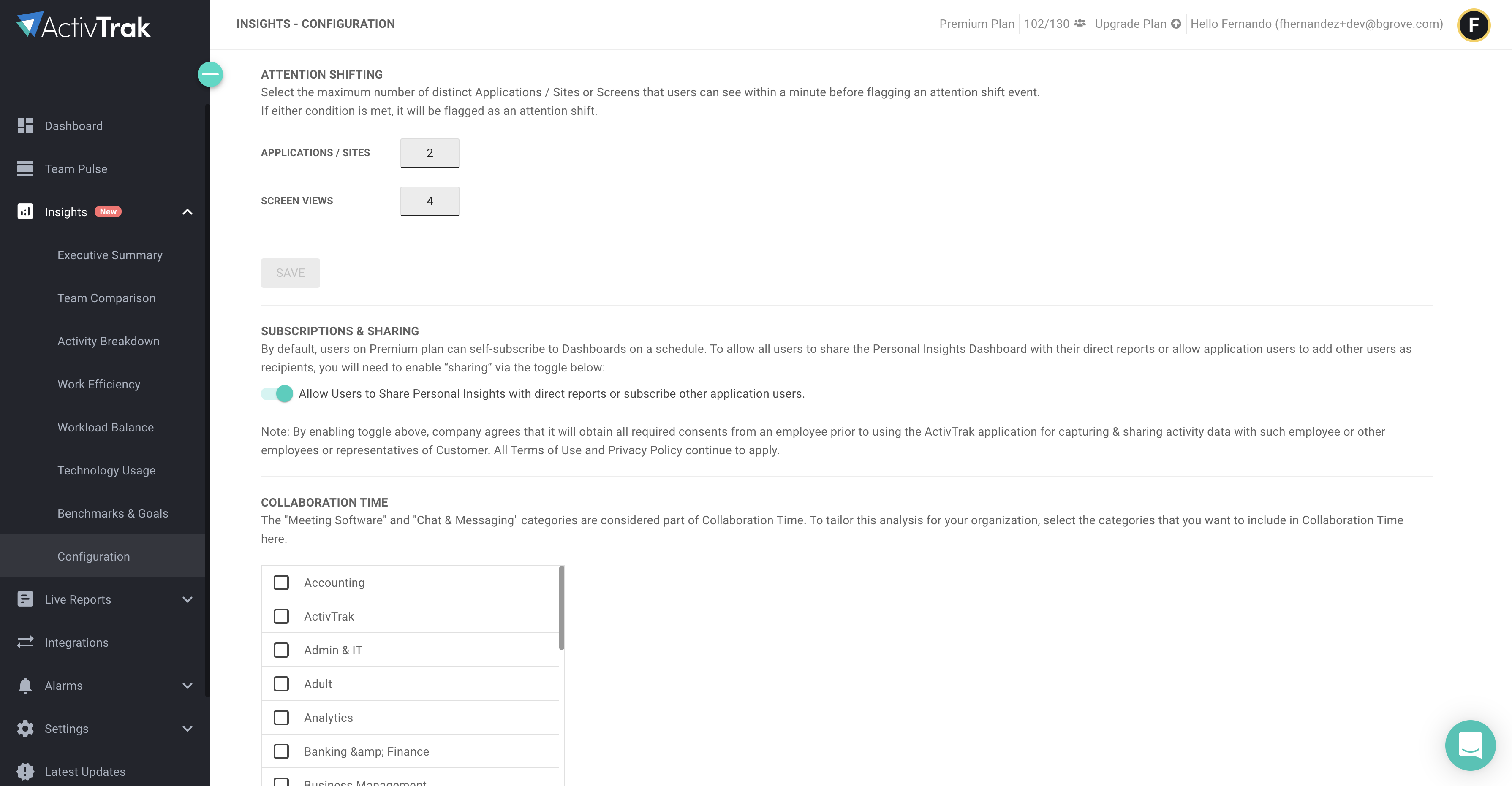 Share Personal Insights with team members
Leaders and team managers can share the Personal Insights Dashboard with employees to help them optimize their time, reduce inefficiencies, and provide a path to higher productivity and sustainable outcomes.
Subscribe your team members to receive regular snapshots of their Personal Insights via email by following these step-by-step instructions.
Manage subscriptions across your account
Admins and Configurators have the ability to view and manage Insights email subscriptions created by any app user on their account from a centralized Subscription Management Dashboard.
From this page, Admins and Configurators can:
Search and filter by subscription owner, subscription name, or dashboard name.

Delete subscriptions one by one or in bulk.

Reassign ownership to another app user, granting that user the ability to edit the email cadence and recipients, or delete the subscription altogether.

Please Note:

Subscriptions can only be reassigned to users who have permission to view the data in the associated dashboard. (The team selected in the dashboard's 'Team' filter when the subscription was created must be included in the user's Viewable Groups.) When reassigning a subscription, Admins and Configurators will see a list of users with the appropriate permissions.
Having centralized control of Insights email subscriptions is especially useful when:
An employee leaves an organization:

When an employee with access to ActivTrak leaves the company and an Admin deletes the user's account, any email subscriptions created by the user will remain active. With centralized management, Admins and Configurators can delete these subscriptions or re-assign ownership to an active user.
An employee changes roles or moves to another team:

If an employee with app access changes roles or teams, they will continue to receive existing email

subscriptions

containing their old team's data, even after an Admin or Configurator has updated the user's Viewable Groups. An Admin or Configurator can delete these subscriptions to ensure employee data privacy.
We recommend reviewing email subscriptions across your account on a regular basis to ensure employee privacy, accurate data analysis, and alignment with organizational changes. To take advantage of the Insights Subscription Management dashboard, navigate to Insights > Subscriptions, which will display all email subscriptions created by any user on the account.
Learn more:
Was this article helpful?
5 out of 7 found this helpful