Excluding Sensitive Data within the ActivTrak Platform
Data Privacy is a top priority for ActivTrak, and our platform incorporates multiple controls to ensure your account is configured to meet any organizational requirements or regulations from your industry or local government. These controls cover privacy needs across the full account, for users accessing data within our platform, and for licensed users with our software on their devices.
Sensitive Data Exclusion
The sensitive data exclusion capability (available as early access) removes certain data points and images that can potentially expose sensitive data throughout the ActivTrak platform without disrupting your workforce productivity analytics and reports. When enabled, it will remove data points from across the application including ActivConnect, all Power BI templates, and throughout any integrations you have enabled.
Data Points Removed Include:
All website and application title bars

All website subpages (like detailed URLs)

All screen images including Alarm Screenshots and Screen Views within Team Pulse

All intrusive Alarm actions such as Pop-Ups, App Terminations, and USB alarms

Website Blocking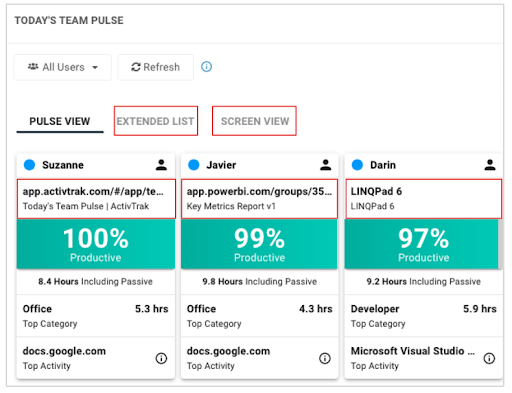 The User View in Team Pulse shows the full URLs and title bars within the Real-Time section as well as the Extended List and Screen View tabs.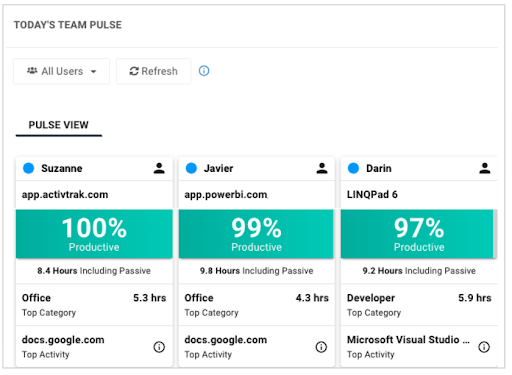 The User View in Team Pulse shows the absence of URL subpages, Title Bars, Extended List, and Screen View tabs.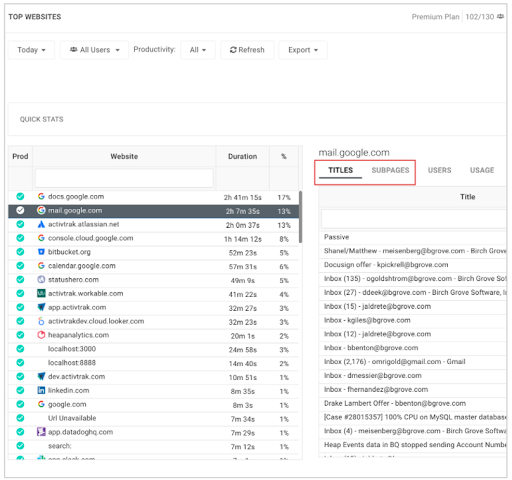 The Top Websites Report shows the full URLs and title bars.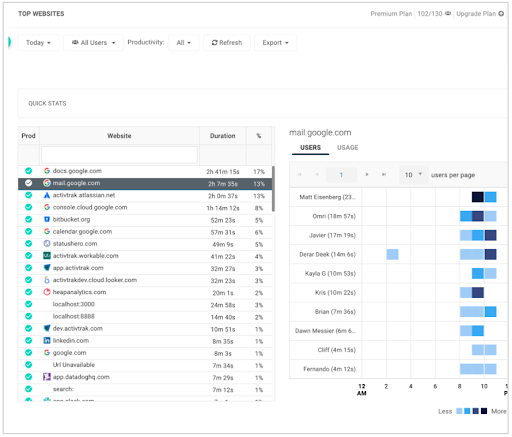 Top Websites showing the absence of URL subpages and Title Bars.
Data Hashing
When an account is set up to exclude sensitive data, you can further protect data within Title Bars and URL subpages from discovery or data breaches by enabling Data Hashing. There is no change to the standard data collection operation of the Agent when the sensitive data exclusion feature is enabled. The Agent continues to allow for calculating all the usual metrics such as Focus score found in your Insights reports. However, once those metrics are calculated, the raw data is hashed out and will no longer be accessible.
Specifically, data hashing is a method that encrypts the title bars and URL subpages and makes it practically impossible to reverse engineer the original data. (For more details on these types of encryptions, click here.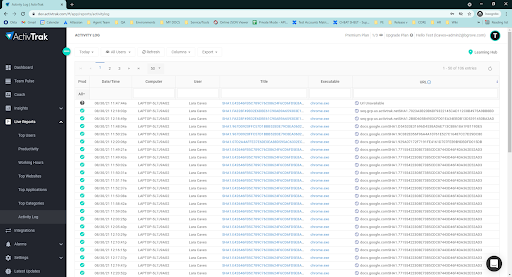 The hashing of title bars and URL subpages within the Activity Log.
ActivTrak continues to add robust privacy capabilities to its platform that safeguard users' sensitive and private data without compromising the accuracy of any valuable productivity insights. To learn more about our Sensitive Data Exclusion capabilities in ActivTrak, click here.
Was this article helpful?
0 out of 0 found this helpful