ActivTrak's ChromeOS Agent
ActivTrak's ChromeOS Agent is available for users operating ChromeOS devices such as Chromebooks. Learn more about the ChromeOS Agent in the sections below:
ChromeOS Data Collection Practices
PLEASE NOTE: ActivTrak is a privacy-first analytics platform and is committed to safeguarding your data privacy and security.
The data collected by ActivTrak is encrypted in transit and at rest. All account information is encrypted during transit and stored in a secure data center hosted by Google Cloud Platform (GCP). To learn more about our data privacy and security policies, click here. To get details about the data privacy controls within the ActivTrak app, click here.
Computer/User Information
Information collected by the ChromeOS Agent that is not tied to individual user activities.
| | |
| --- | --- |
| Computer Name | The name of the computer directly from the machine itself. |
| Computer Timezone | The timezone setting of the local computer. |
| Logon Domain | The domain portion of the user's Google ID (email address). |
| Network ID | Hashed representation of network ID for uniqueness. |
| Primary Domain | Always 'Google'. |
| Private IP | The internet protocol address within the local network. |
| Public IP | The internet protocol address used to access the internet. |
| User | The username portion of the user's Google ID (email address). |
User Activity Information
ActivTrak user activity is defined as the currently active window for mouse movement, mouse clicks and keyboard presses.
Date and Time

The exact date and time the user first accessed a specific activity.

Description

Always 'Chrome'.

Duration

The amount of time a user spends on an activity.

Executable

Always 'Chrome'.

Screenshots

Screenshots of an activity triggered by a configured Alarm.

Please Note: Screenshots are only available with the purchase of the Screen Details Add-on.

Title Bar

Content of the title bar of the window containing each user activity.

Only available with the purchase of the Screen Details Add-on.

URL

The hostname of the URL the user accessed in the Chrome browser.

Please Note: Full URLs are only available with the purchase of the Screen Details Add-on.
NOTE: For more data configuration and export options, check out our ActivConnect add-on, a set of API connectors and tools that enable access to your ActivTrak data in hundreds of external applications.
Data Never Collected by ActivTrak
Because we respect data privacy and our focus is on helping organizations improve workforce productivity and efficiency, we do not collect the following intrusive monitoring data points:
Keystroke logging

Video camera monitoring
In keeping with our commitment to safeguard data privacy, the core ActivTrak platform includes default controls to minimize exposing any sensitive data in ActivTrak reports, ensuring seamless sharing of ActivTrak reports across your organization.
Sensitive data exclusion

Exclude title bars and URL subpages by default

Disable screenshots and screen views by default

Data history limits by default

Optional data hashing

Exclude non-business activity details from dashboards

Anonymized and aggregated data options
Features Not Supported by the ChromeOS Agent
Activity Reporting
Activities in Chromebook apps besides the Chrome browser cannot be tracked
Activities not captured (not possible in ChromeOS):

ActivTrak Agent stopped, shutdown, or uninstalled
Alarms
Alarm trigger when USB device writes data (note: trigger available for USB insertion ONLY)
Alarm action to record video is not available (Note: screenshot alarms are available)
Alarm attribution to a System User → not supported on ChromeOS
Release Notes: ChromeOS Agent 6.0
The ActivTrak ChromeOS Agent 6.0 was released on March 1, 2023, with enhancements to passive time analysis – a significant advancement towards achieving cross-platform feature parity to better support our customers with multi-OS environments.
The inclusion of Passive Time analysis in Chrome replicates the feature already available in ActivTrak's Windows and macOS Agents, for consistency in productivity reporting across all three platforms. In addition, there are valuable enhancements to Alarms benefiting customers who use these capabilities.
New Features
Passive Time support, including configurable Passive Time threshold
Ability to detect USB insertion and trigger Alarm actions
New logged activities:

USB inserted
Schedule turned on/off
Activity timezone

New remote diagnostics and Agent health checks for improved support and issue resolution
Enhancements
Detection of the system clock changes to fix odd activity durations
Improved Alarms and Screenshots reliability, including support for multiple Screenshot triggers
Fixed several reporting bugs
To upgrade your ChromeOS Agents to version 6.0:
Click the blue Download button found in the upper right-hand corner of the ActivTrak Dashboard.
Download and run the latest version of the ChromeOS Agent installer.
For alternative upgrade options, please read this article.
ChromeOS Agent Troubleshooting
First, please ensure you have the latest ChromeOS Agent version installed on your device(s).
If you have the latest ChromeOS Agent version installed and still are experiencing issues with the Chrome Extension user reporting, try the below troubleshooting steps.
Troubleshooting Steps:
First, navigate to Settings > Users & Groups > Chromebook User on the dashboard.
Once on this page check to make sure the user was invited and added to the list.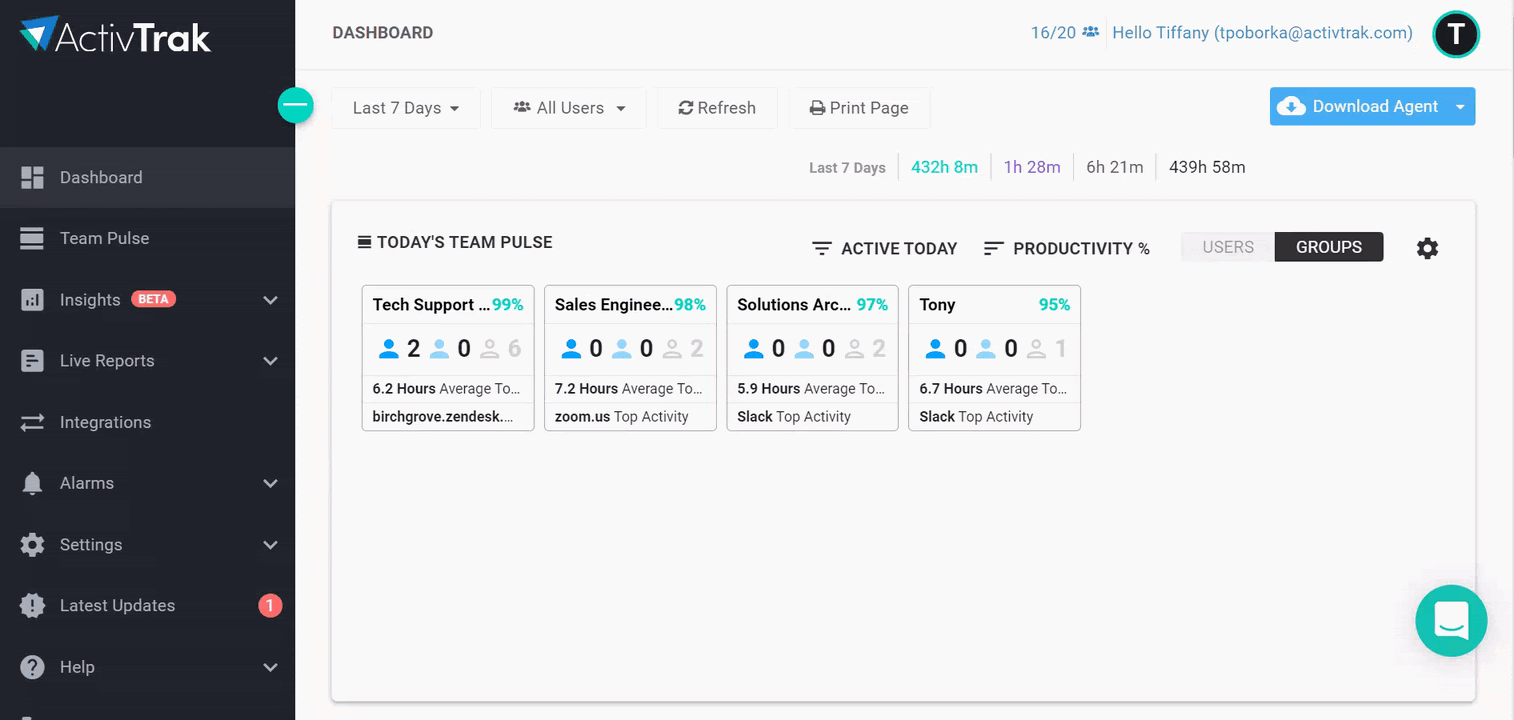 Next, ensure that the user is logged into their Chrome browser. This means they must fully log into the browser using the same email address that was registered within ActivTrak.
Follow these steps:
Open the Chrome Browser

Find the user icon in the top right of your browser and click on it

Click

sign in

and input the correct credentials

After signing in successfully, the User icon should either appear with the user's initial or their picture.
If the Agent still doesn't seem to be working, have the user sign out of their Chrome browser and sign back in after resending invites through the dashboard.
Note: To resend invites, the user must be removed from the list and then re-added.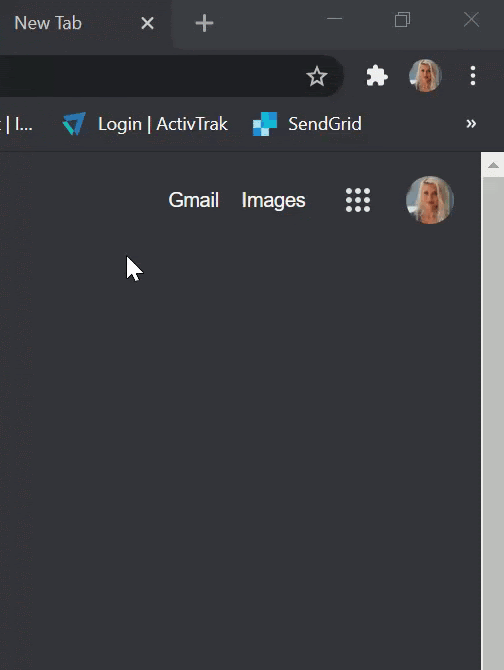 Lastly, try disabling and re-enabling the extension so that the permissions window pops back up to be accepted.
Follow these steps:
Find the extension icon in the top right of the Chrome browser and select

'Manage Extensions'

or navigate to chrome://extensions/

Once you are on the extensions page, a list of all of the extensions installed will appear

Find the ActivTrak extension and click the blue toggle button once to disable and one more to re-enable

Best Practice: It is always advisable to check and ensure that the Chrome browser version is up to date. This will keep the browser running smoothly!
After trying these steps, if you are still running into issues please reach out to ActivTrak Support for further assistance. Please note: ActivTrak provides limited support for ChromeOS.
Learn More:
Was this article helpful?
0 out of 0 found this helpful