Release Notes: Navigation Favorites
Save time accessing your most-used reports, dashboards and pages with our new Navigation Favorites feature, now generally available! Favorites is a great way for all users to build out their workflows and customize their in-app experience.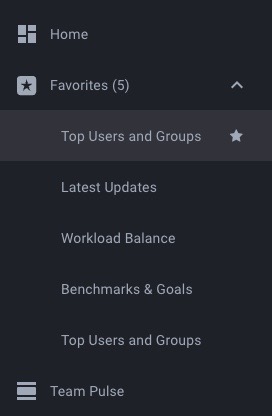 Favorites will now appear in the left navigation within the ActivTrak app, directly below "Home." Each user can create their own Favorites list — the selections you make will not impact other users' Favorites. To add pages to your Favorites list, hover over the page name within the left navigation and click the star icon to the right of the page name, or click "Add Favorite" at the top of any page. You can add up to 10 pages to your Favorites.


Note: We may have released new functionality since this release note was published. Please see this article for the most up-to-date information about UI customizations in ActivTrak.
Was this article helpful?
1 out of 1 found this helpful