Roles & Permissions for Access to Your ActivTrak Account
Overview
By default, the email used to create the account will be an Administrator role, and during this account creation process, you can invite other users to the account with optional admin access.
Roles and permissions are created and managed under Settings > Access > App Access in the navigation menu.
This page shows what role is assigned to each user, the groups that each user has access to, and who has SSO enabled for login requirements. Changing passwords and managing user access such as, inviting new or deleting users access and assigning roles can also be done here.

There are four roles inside your ActivTrak account -- Admin, Configurator, Power User, and Viewer. Admins can change roles for individuals via the Role drop-down at any time. This new column takes the place of the former Admin/No-Admin checkbox column displayed previously.
Roles Summary
These different roles are designed to provide flexibility to choose how individuals use your ActivTrak account. Each role has varying access and permission levels to product capabilities.
The Viewer role, specifically, helps provide visibility to important productivity reports and restricts access to other data and settings which may not be necessary and may slow down the app's performance. Viewer is best suited for:
Customers looking to expand logins to Frontline Managers and team/project leaders
Customers concerned with the broad level of access the User role provides
Large customers with ActivTrak application performance concerns
The roles available and their access levels are as follows:
Admin

Configurator

Power User*

Viewer*

Typical Audience

Account Owner, IT

Mid-Level, Frontline Managers

Mid-Level Managers, Executives, Analytics Teams

Frontline Managers, Employees

Access Level

FULL

Access to all data and settings within the ActivTrak account.

FULL

access to all users and groups data, settings for groups, and classification.

NO

access to Settings for Users, App Access, or Account Configuration.

READ-ONLY

Access to own personal data as well as assigned groups. Can view activity logs, alarms, screenshots, reports, and export data as needed.

READ-ONLY LIMITED

Access to own personal data as well as assigned groups, limited to views of productivity reports. NOTE: This role does not have access to user's screenshots.

Purpose

Oversee and manage the entire ActivTrak account, user access rights, and security.

Can make technical support and billing requests on the account's behalf.

Access and configure the account for teams without the risk of modifying account-wide settings, upgrade access, or agent installation and management.

View dashboards and key features, export data to share with others as needed.

View productivity reports for themselves and their team(s). Can also be assigned to team members for similar access.

Activity Level

Maintain the account. May or may not use the data or report insights.

Configures settings, alarms, access, activity classifications, etc.

Typically uses the data or report insights.

Configures alarms, groups, activity classifications, etc.

View dashboards and reports for their assigned groups. Can export data if needed.

View alarms, but can't make changes or add alarms.

Users have the ability to modify their individual ActivTrak Profile under the Account tab.

View dashboards and reports for their assigned groups. Can see group and user-level insights, but drilling down to specific activities and exporting data are restricted.

Users have the ability to modify their individual ActivTrak Profile under the Account tab.
NOTE: It is each customer's decision whether individuals are given access to view their data on app.activtrak.com. We recommend transparency and communication with employees on the access and use of ActivTrak data to get the most value. Those who do have access will be able to access their personal data and those of groups they are added to ("Viewable Groups").
Feature Matrix

To invite a user, simply click on the "New ActivTrak ID" button at the top left of your screen. By clicking on this a new invite dialog box will appear ready to be filled out and submitted.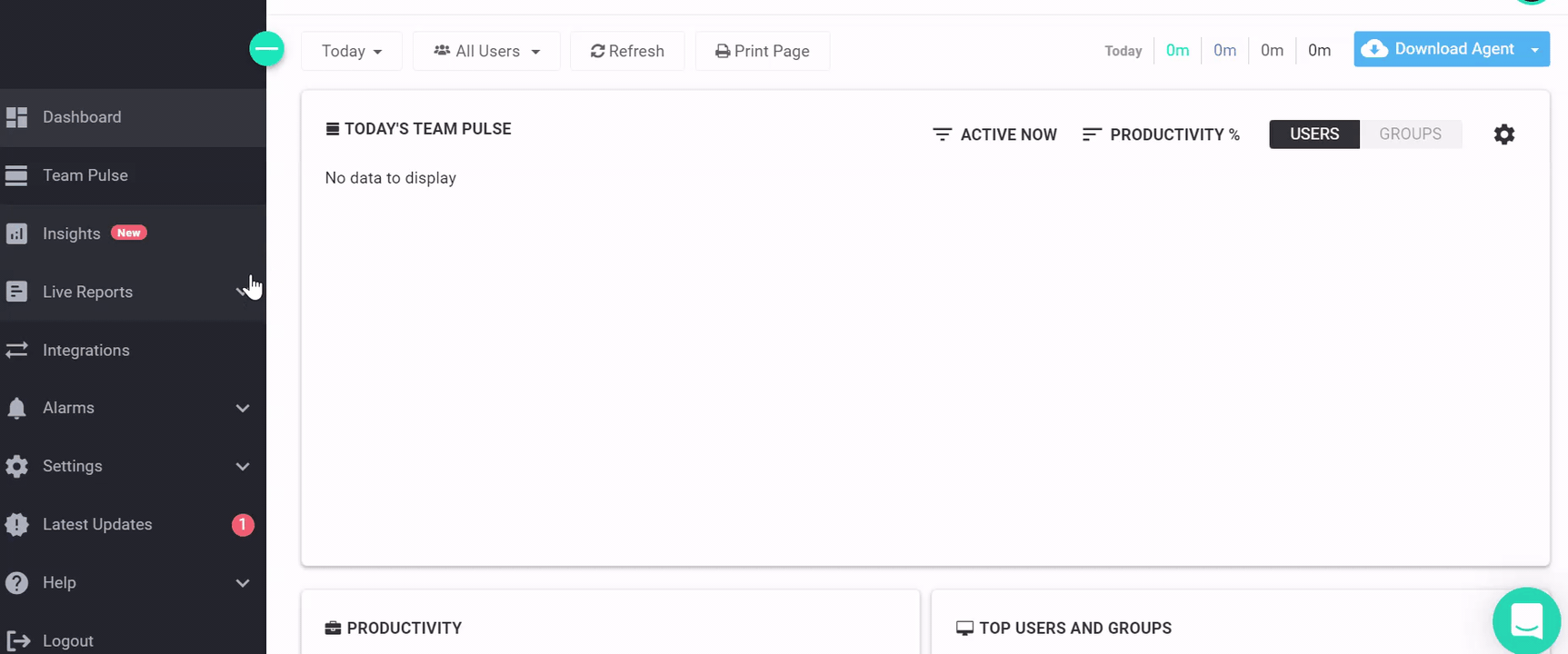 NOTE: ActivTrak provides a security audit log where everything is logged in order to ensure compliance. Also If a user is given a Power User or Viewer role, they will receive their invite, but will not be able to view any data until assigned a viewable group.
Viewable Groups
While Admins and Configurators can view all user data, Power Users and Viewers need to be assigned 'View' access to groups. On the App Access page, find a user and click their value under the "Viewable Groups" column: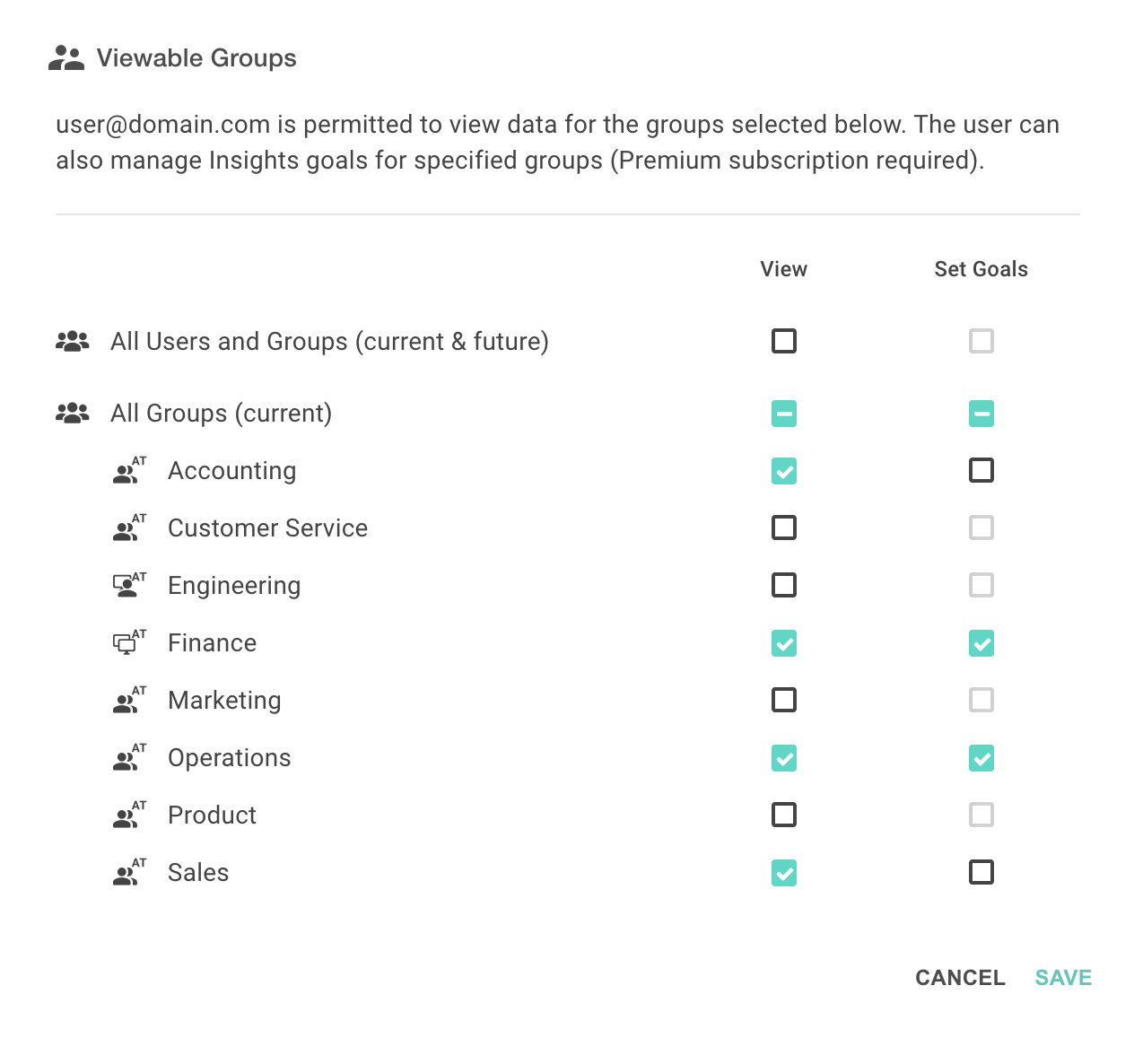 Selecting 'All Users and Groups (current & future)' ensures the user will be granted access to any current or new group created within the account - like an Admin - while 'All Groups (current)' selects all the current groups but not any new ones.
Set Insights Goals (Premium)
In addition to viewing groups, Power Users and Viewers can be assigned to 'Set Goals' in those groups. In the same Viewable Groups pop-up (above), first, assign the user 'View' access in that group and then the 'Set Goals' checkbox will be enabled.
Insights goals can be found under Insights > Benchmarks & Goals (Premium only).
Was this article helpful?
6 out of 8 found this helpful