Agents automatically upgrade themselves as long as they can reach ActivTrak servers and are running the appropriate Agent versions. Automatic upgrades are entirely silent and will not be seen by the end-user. Each time the agent starts, it will check to see if there is an available update, and if so, download and apply with no user interference.
Auto-update works for the following Agent versions:
Windows OS - 7.0 and later
Agent versions can be checked by going to Settings > Users & Groups > Computer Agents. In this view, we can see every computer that has reported back so far, their last report date, and which operating system and agent version they are running.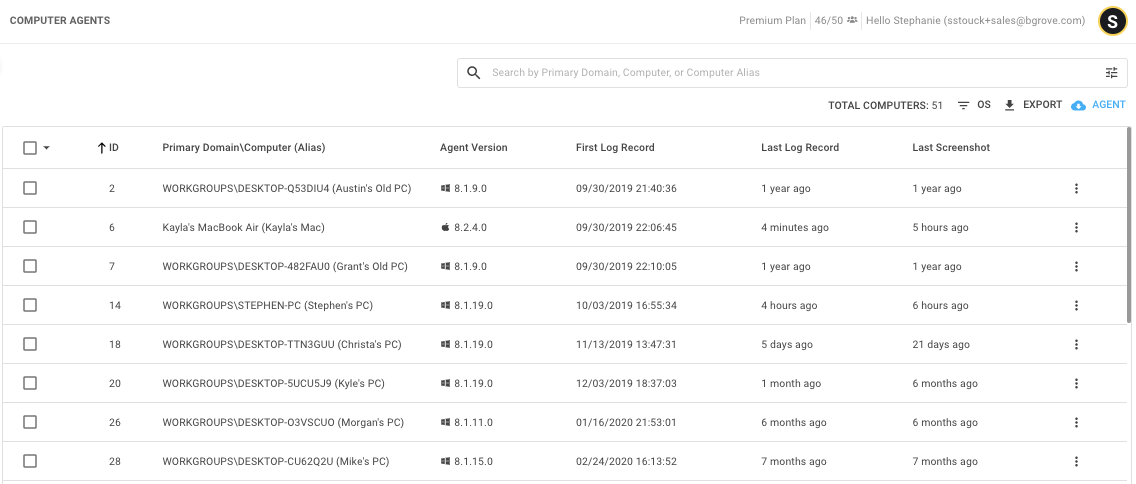 In the event that you are running an older agent or the update servers cannot be reached, it may be necessary to manually update an installed agent.
Updating the Agent Manually
In order to upgrade the agent, simply click on "Download Agent' in the upper-right corner of the page to download a new installer from app.activtrak.com.
This button is contextual, so it will download whichever ActivTrak version matches the computer you are downloading from. If you need a specific version, click the down arrow on the right side and select the version you need.
Once the agent is downloaded, use one of the installation methods outlined here and you will be prompted to upgrade rather than uninstall.
Was this article helpful?
7 out of 11 found this helpful